Left Behind: World at War
(2005)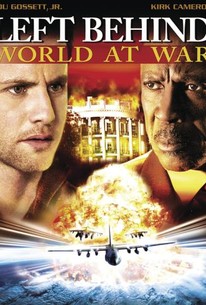 AUDIENCE SCORE
Critic Consensus: No consensus yet.
Left Behind: World at War Photos
Movie Info
The countdown to Armageddon continues as world leader Nicolae Carpathia (Gordon Currie) brings peace to the world in this installment of the popular Left Behind series inspired by the best-selling books by Tim LaHaye and Jerry Jenkins. As world peace blossoms and the citizens of the planet attempt to put the horrors of war behind them, American president Gerald Fitzhugh (Louis Gossett Jr.) ensures his country that America will not stand in the way of the historical peace pact. When an assassin's bullet misses its mark and President Fitzhugh gets a horrifying glimpse into the future, he soon realizes that he has left his country defenseless against Nicolae Carpathia's deadly deception. Now, with the future of the entire planet hanging in the balance, President Fitzhugh must place his trust in investigative reporter Buck Williams' (Kirk Cameron) Tribulation Force to battle the powers of evil and dethrone Carpathia before the horrors of the Book of Revelation become reality.
Rating:
PG-13 (for violence)
Genre:
, ,
Directed By:
Written By:
In Theaters:
On DVD:
Runtime:
Studio:
Cloud Ten Pictures
Critic Reviews for Left Behind: World at War
All Critics (3) | Fresh (0) | Rotten (3) | DVD (1)
Compared to virtually any other action thriller about fighting a crazed supernatural Romanian dictator... it's still unmistakably poor.

As far as unfortunate cheese and silliness, there are still some gems here.

I don't remember much of my New Testament, but someone might have to remind me what chapter it is where the president breaks into a top-secret bio-lab and uncovers Satan's Death-Bible gambit.

Audience Reviews for Left Behind: World at War
Do not watch! I thought it was going to be an awesome war movie, but it was not! It was cheesy, super-natural, and very religious. Do not watch!
Al Klingbeil
I don't think I have ever come across a film franchise as poor as the Left Behind series. It amazes me that despite having four damn films, with each getting a noticeable increase in budget, they have all been completely awful. And not in a fun, trashy sort of way like other low or no-budget action films I've come across. No, Left Behind has been consistently joyless, nonsensical in painfully bad ways, overly preachy, horribly acted, featuring dull action scenes to sensationalize and make Christianity look cooler, they are all poorly directed, and just well, poor at everything altogether. All four of these films have cemented themselves as being among the 100 worst films I've ever seen, with the first two finding a spot in the 30 all-time worst. This is a franchise that should have never been allowed to go past the horrible first film back in 2000 and should have died right then and there. But no. For whatever reason, despite being a flop in theaters and with critics and audiences, I guess there must have been just enough of a monetary gain for Cloud Ten Pictures and enough of a cult following of fanatical fundamentalist nutjobs to allow this abortion of a franchise to continue. The Left Behind films are also among the unforgettable bad films I've seen. They are now permanently seared into my memory, and I will forever decry them as pieces of shit to anyone who will listen, even if I live to be an old man with Alzheimer's. Not even that disease will be able to remove the foul stain this franchise has left in my memory. They will always be there, and I will go to my grave calling them pieces of shit. Do you want to know something even sadder about this franchise. This entry is the LEAST terrible of the franchise. This is the best the franchise could muster. I'll let that sink in for a moment. Nicolae Carpathia rules the world with the help of his militant Global Community force, following the events of the previous two shitty films, and is now planning an attack against Christians on a much wider scale. Meanwhile, the Tribulation Force has stolen Bibles from a Global Community facility in a daring raid, which costs the lives of some of the militia members during the raid as the rest escape with the Bibles. Meanwhile the president of the United States, Gerald Fitzhugh, and his vice-president are out on a hunting trip, when they are suddenly ambushed during a drive, which kills the vice-president and the president's guards. President Fitzhugh is rescued by members of the Tribulation Force. Then the story focuses back on the unlikable band of douchebags from the previous two films who are having a double wedding: Buck marries Chloe, and Rayford marries some chick named Amanda White, and the group is happy for the time being. But soon the lives of these characters will intersect with that of President Fitzhugh and other people, as Nicolae's sinister plan of poisoning Bibles with anthrax and the inevitable outbreak of Armageddon loom over humanity and they must join forces to stop the Antichrist. If you haven't noticed, the story is completely fucking stupid in every damn way it could be. And, as it is a Left Behind film, it takes itself far too seriously, resulting in a horrendously dull and joyless tone. There is no reason to care about the douchebag characters who possess less depth than a cardboard cutout in a clothing store, no reason to care about the thriller elements which are so utterly implausible that they may actually cause brain damage if the viewer attempts to take them seriously, religious elements that ring false and sensationalize rather than have anything meaningful to say about religion or faith, endless and unbearably smug sermonizing that will grate on the nerves of the viewer, and more. The storyline is an utter disaster, as is the vicious nature of the Left Behind franchise. If there is even something slightly interesting, if it's a Left Behind film, it is going to ruin anything that has the potential to be interesting. It also becomes quite painful to endure when it tries to be dramatic and heartfelt, which was impossible to feel as I hated these characters and wished more of them died so I wouldn't have to put up with them anymore and the film would end faster. However, I will give the film some credit by giving Kirk Cameron less screen time than the previous two films, and wisely giving the vastly superior Louis Gossett, Jr. much more screen time. The smug, narcissistic asshole, Kirk Cameron, still plagues this film like a vicious, inoperable cancer, but at least his presence is not as painful this time around. Still, Kirk Cameron's Buck Williams character is still the biggest douchebag of the characters and still isn't remotely likable and is only a major detriment to the film's quality. The only actor who is of any quality is Louis Gossett, Jr. who provides the only good performance not only in this film, but in the entire Left Behind franchise. What the hell are you doing here, Mr. Gossett?! You were in An Officer And A Gentleman, for God's sake! That was a great film! Hell, even Jaws 3 was a better career move than starring in a Left Behind film (At least Jaws 3 had the courtesy of unintentional camp value)! Despite this rather saddening career move, his performance is still surprisingly good...but that's because he's an actor with actual talent who is the presence of people who possess no acting talent whatsoever. Then we get to Kirk Cameron...dear God, Kirk motherfucking Cameron who makes Megan Fox look like Katharine Hepburn by comparison because his acting is so unspeakably bad. This man has no business being within 100 feet of Louis Gossett, Jr., let alone starring in a film with him and even appearing in some scenes with him. The aura of his smug douchebaggery and narcissism hang over this film like the worst bathroom disaster smells imaginable, and even beyond that. Much like any film he appears in, he becomes a vicious disease that inevitably kills the film. Granted, his performance here is an improvement over his role in the previous two films, but it's not a major improvement. No, he is still just as unlikable and not worth rooting for. Instead, you'll be wanting the Antichrist to kick his ass. None of the other actors are worth talking about because none of them outside of Louis Gossett, Jr. give good performances, nor do they perform quite as horribly as Kirk Cameron, thus they are forgettable and not worth mentioning. One thing that get my hopes up with this film was the inclusion of more action. I must say that I had a blast watching the scene where President Fitzhugh is ambushed which results in many exploding vehicles and even a chase scene, but that was the first and last time I felt any sense of joy watching this as an action film. As a thriller, there is nothing for a viewer to sink their teeth into as there is no suspense, no intriguing plot elements, or any reason to give a damn. As a drama there is no emotion or reasons to care about a bunch of douchebags and what their fates might be. It fails at action, it fails at thriller, it fails at drama, and it certainly fails as a religious film, as it will only end up insulting those who are not fanatical about their beliefs. Sure, this one sucked the least, but it still sucked a whole lot of ass. Only fanatics and Kirk Cameron fans need apply. No one else is going to be satisfied, not even if you enjoy stupid, low-budget turds. It's a hollow, empty, dull, and incredibly stupid film in a franchise chock-full of stupid films and ideas. Avoid this franchise at all costs.
Keenan Sullivan
Very disappointing Christian film to say the least. I only saw this once and never again because it lost just about everything that made the first movie a hit. What were the filmmakers thinking? They replace the actor who played Bruce Barnes in the first 2 movies and then put scenarios in the movie that never happened in the books. Why? Yea, I know the others did the same thing, but the creative liberties the writers took were way over the top. All and all, this movie really was a slap in the face to the epic books written by Tim LaHaye and Jerry B Jenkins. The writers should have gotten their ok on this film before releasing it to the public.
Jonathan Bonessa
Left Behind: World at War Quotes
There are no approved quotes yet for this movie.
Discussion Forum
Discuss Left Behind: World at War on our Movie forum!