The Left Hand of God
(1955)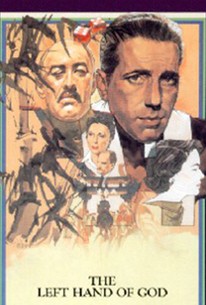 AUDIENCE SCORE
Critic Consensus: No consensus yet.
The Left Hand of God Videos
The Left Hand of God Photos
Movie Info
Humphrey Bogart stars in this improbable tale that marked Gene Tierney's return to the screen after battling mental illness for a number of years. Bogart plays Jim Carmody, an American soldier of fortune who, after crashing his plane in China, takes up with the Chinese warlord General Yang (Lee J. Cobb). Jim becomes Yang's advisor, but after watching one of the General's flunkies brutally kill a priest, Jim decides to leave. Unfortunately, Yang has declared that any deserter will be shot. Disguising himself as the slain priest, Jim sneaks out of the General's headquarters and makes his way to a mountain village where missionaries Beryl (Agnes Moorehead) and David (E.G. Marshall) take him in. Jim still is posing as the priest but his vows of celibacy are challenged when he falls in love with the attractive mission nurse Anne Scott (Gene Tierney). Anne feels ashamed because she is also attracted to him, but Jim writes to the bishop confessing that he is an impostor. At that moment, General Yang arrives, insisting that Jim rejoin his army or else he will burn down the village. ~ Paul Brenner, Rovi
Rating:
NR
Genre:
, ,
Directed By:
Written By:
In Theaters:
On DVD:
Runtime:
Studio:
Fox
Audience Reviews for The Left Hand of God
½
I deny your right to kill me A Catholic Mission in 1947 China has been waiting for a replacement priest ever since their last father died. Father O'Shea arrives to the village with a strange sense of purpose. He is a handsome man that has a sense of purpose and strength unlike most priests. When the leader of a militia threatens to invade the village, the Father O'Shea's true colors may surface. "Don't rely on that collar too much, father." "Do you want me to take it off?" Edward Dmytryk, director of The Young Lions, The Mirage, The Reluctant Saint, The Caine Mutiny, Golden Gloves, and The Falcon Strikes Back, delivers The Left Hand of God. The storyline for this picture is interesting and had the potential to be on par with Guns of San Sebastian (Charles Bronson and Anthony Quinn); however, the action was not as fierce as the previously referenced picture. "His eyes are so beautifully unhappy." This film initially grabbed my attention due to the impressive cast that includes Humphrey Bogart, Lee Cobb, Gene Tierney, E.G. Marshall, and Agnes Moorehead. I did find Humphrey Bogart impressively strong and charismatic; however, I thought the action scenes were a bit lame. The story is fairly cool and delivered well but this is far from my favorite Bogart picture. "Every man finds his own path." Grade: B-/B
Kevin Robbins
There are tons of things in this world I may never have an appreciation for and Humphrey Bogart is one of them. I just don't understand his appeal. I understand he's suppose to be the epitome of tough yet somewhere a tiny light shines within him that's soft and sensitive. I understand that he wasn't "hot" in the traditional sense. I try my best to understand every facet of his appeal yet keep drawing blanks. In the Left Hand of God, Humphrey plays Father O'Shea, a Catholic priest who's finally arrived at a mission somewhere in China. Being Humphrey Bogart, he naturally has a gun and within a couple of days ends up punching some Chinese dude.. all in all, not very priestly. All while this is happening, Gene Tierney's character is developing a big fat unCatholic crush on Father O'Shea. As hot as Gene Tierney is, she looks pained/awkward throughout the movie and her acting is dreadful. She has some nice costumes however, and they keep a decent amount of realism by giving her a limited amount of outfits to wear throughout the movie. Quite honestly, the best part of the movie are the supporting characters. Agnes Moorehead (Endora from Bewitched) and E.G. Marshall (12 Angry Men) are fantastic as a married couple, Marshall's character a doctor at the mission. As a married couple, they seem so distant yet close throughout the movie that it's almost confusing. During one scene, they're speaking very frankly with each other about the feelings between men and women from an outside perspective, and she asks for a cigarette. Instead of simply handing one to her and lighting it for her, he lights it up himself and hands it to her. I thought that was really cute and weird. Lee J. Cobb's part is brief and unbelievable. But that could just be because I'm use to him being stark raving mad ala 12 Angry Men. Though walking into this movie with my bias against Bogart, there are some decent parts. I've seen this movie more times than I care to admit, simply by accident. And if I never saw this movie ever again, it wouldn't be soon enough. I think if I was a crazy Catholic and didn't live somewhere predominately Asian, I'd show my kids this movie as some sort of family movie night type thing. But since I'm a former Catholic and I AM Asian for goodness sake, I'd pass. Funniest part: When Bogart used the term "coolies."
Grace-Monday Briles
The Left Hand of God Quotes
There are no approved quotes yet for this movie.