The Legend of Boggy Creek
(1973)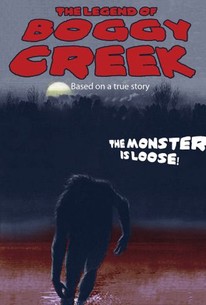 AUDIENCE SCORE
Critic Consensus: No consensus yet.
Movie Info
A sasquatch-like creature terrorizes a small Arkansas town in this presumably fact-based docudrama from Charles Pierce.
Critic Reviews for The Legend of Boggy Creek
All Critics (2) | Fresh (1) | Rotten (1)
amid all the footprints found, the livestock deaths, the sightings and close encounters, what The Legend of Boggy Creek lacks is a coherent narrative to lend urgency, or even shape, to its otherwise loosely episodic structure...
Audience Reviews for The Legend of Boggy Creek
This film is single-handedly responsible for about 90% of my childhood nightmares. Supposedly based on actual events that happened not far from where I grew up, Legend of Boggy Creek is a series of reenactments and staged interviews with eye witnesses. Here it is, almost 40 years later, and I STILL like watching this one late at night with all the lights off.
Randy Tippy
Super Reviewer
The Blair Witch Project of its time. Stories abound about Bigfoot, a huge furry manbeast that wanders the forests of the Ark-La-Tex. Lots of interviews (rumored to be fake) about sightings and "photographic evidence" all convinced 1970s audiences that the proceedings were completely real. It therefore did HUGE business and was THE movie to see.
AAAAAAHHHHH My fucking eyes and ears. This was horrible. It tried to play itself as some kind of mockumentary, but a very poorly made one. There isn't a single moment of tension thanks to the terrible acting and intrusive voice-over. Some guy literally talks throughout the whole thing. It will give interview type moments and then just a bit of normal narrative. It's a poor effort, but one that could be improved upon.
Luke Baldock
Super Reviewer
The Legend of Boggy Creek Quotes
There are no approved quotes yet for this movie.