The Legend of Gator Face
(1996)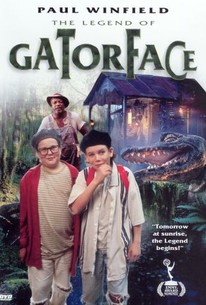 AUDIENCE SCORE
Critic Consensus: No consensus yet.
The Legend of Gator Face Videos
The Legend of Gator Face Photos
Movie Info
Two bored young practical jokers inadvertently scare up a heap of trouble in their backwater Mississippi town when they re-create the local myth, Gator Face. Their prank proves so effective that soon the town is swamped with media types. But things become serious when the real Gator Face shows up.
Rating:
PG (violence)
Genre:
, , ,
Directed By:
In Theaters:
On DVD:
Runtime:
Studio:
Hallmark Entertainment
Critic Reviews for The Legend of Gator Face
There are no critic reviews yet for The Legend of Gator Face. Keep checking Rotten Tomatoes for updates!
Audience Reviews for The Legend of Gator Face
½
This was a movie!!!!! I thought I was watching porn. I was almost done when I realized this. Oh well, I thought it was the best porno. I was full mass since the beginning.
Brett Davidson
Well it would seem as though my last review didnt work. Thats society for you. The Legend of Gator Face. A few words i would describe this movie as would be; superb, lovable, sexy, ferocious, and blubber. I first saw this movie the day it was first sold on the open market. I was as giddy as a little school girl and i rushed home ready to watch it. I watched it from beginning to end without turning my head away. When it was over i said, "Wow. Thats a good movie." I watched it 7 more times that night and the next morning. Since then i have written 174 reviews for it. I am said to be the most knowledgeable person in the world when it comes to this movie. However, as i read others reviews on this site it got me thinking... Mr. Sanchez and "The Prince" had such great reviews. The Prince gave an excellent description of the movie and Mr. Sanchez analyzed the characters so well. I agree with everything he said, except i didnt like the little fat kid. For some reason i just snapped when i saw him. It's like im suppose to hate him. Seriously though, that kid has some nerves showing himself on the big screen. Like holy cow kid. I bet he gets beat up a lot. I know id beat him up. I wanted to beat him with a pillow and make him do a 9 hour workout. That would show him! Oh dear, it seems ive started to ramble again. Im bad about that i apologize. other than that kid though everything you read in Mr. Sanchez's review is spot on. The Legend of Gator Face is mildly clever. It provides a few good laughs and remembrable characters, but it is about more than that. Its about L-O-V-E. Something that is inside everyone of us and deeply show in this film. Now, if you've ever seen GatorFace you probably have a large kind heart which is why i must ask for your help. I run a foundation in my mexican hometown called Feed These Hungry Kids God ******. Im really hungry and... i mean these kids are really hungry and need your help. Please!
Dirtey Mexicane
½
This hour and forty minute action/adventure film is one that has modernized the movie industy, indeed. This climatic movie really gets spicy when two young boys come to the aid of a legendary beast when its life falls into jeopardy. A hermit tells his young friends Danny and Phil the story of Gator Face -- a creature half-man and half-alligator. The kids don't believe the tale but decide to play a trick on the residents of their town by making believe that Gator Face is actually on the loose. The lark seems to be working pretty well but the boys get the surprise of their lives when Gator Face rises from the swamp for real. Although they are at first frightened, Danny and Phil soon realize that the beast is actually quite kind. The townsfolk, however, call in the National Guard to destroy Gator Face. Now it's up to the boys to save their new pal's life. Although I don't normally like to give away the endings to movies, i am going to have to make an exception with this film. In the end, gator face gets brutally murdered by his cousin. This perfectly sets up the movie for a sequel. Although the film was made 14 years ago, I still believe that a sequel is in the process of being made, but is being hidden from the public by the government:)
Prince Robbie Terence Jones IIIII
The Legend of Gator Face Quotes
There are no approved quotes yet for this movie.