Legend of the Bog (Bog Bodies)
(2009)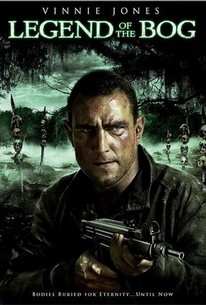 AUDIENCE SCORE
Critic Consensus: No consensus yet.
Legend of the Bog (Bog Bodies) Videos
Legend of the Bog (Bog Bodies) Photos
Movie Info
The awakening of a 2000 year old mummified murder victim strikes terror in the hearts of a group of strangers who unknowingly share a dark secret. Somewhere in the swamps of Ireland, a construction crew has unearthed a petrified corpse. But this isn't your typical archeological discovery; it's about to come back to life, and it's not friendly. Now, deep in the wilderness, a tough-as-nails hunter (Vinnie Jones) does battle with the undead "bog body" as it embarks on a supernatural mission of vengeance. ~ Jason Buchanan, Rovi
Rating:
R
Genre:
,
Directed By:
In Theaters:
On DVD:
Runtime:
Studio:
LionsGate Entertainment
Audience Reviews for Legend of the Bog (Bog Bodies)
½
Meh. Not that great of a low budget horror movie, I would say. The acting is bad, along with the effects. Theres nothing very new here, just another excuse for a classic horror-action flick.
Jacob Palacio
Super Reviewer
I'm a fan of Vinnie Jones and got this movie strictly for that reason. He is in the first and last part of the movie but all the poor acting and a bad script made the rest of this film horrid. The premise was interesting, 1000 year old bog mummies return from dead to seek revenge on those that disturbed their resting place. When it was implied that a Bog monster that looked like Tor Johnson made a pair of caveman shoes out a pair of unsuspecting pooches, that was when this film made an unreturnable detour into ridiculous. Save your money and time on this turkey.
Curtis Reynolds
½
Legend of the Bog (or Bog Bodies as it was known mere days before this films release onto DVD) is the story of bog bodies, 2000 year old murder victims whose remains are spread out all across the Irish landscapes. Since these bodies have been cursed, they are able to be resurrected via water and can exact revenge on just about anyone the come into contact with (though they need a heavy supply of water to continue). A group of people get stranded out in the woods and are taken out one by one by one particularly nasty bog body that's just been reanimated. The film features great cinematography (the lighting and colors are pure rubbish though) and an impressive case, including Jason Barry (Beyond Re-Animator), Nora-Jane Noone (The Descent; The Descent 2) and Vinnie Jones (Midnight Meat Train). However, the story and pacing is a bit below-par, not to mention the deaths and violence are fairly tame and boring (save for one in particular involving a decapitation). Overall, the movie wasn't too terribly bad, but not that great.
Jason Duron
Discussion Forum
Discuss Legend of the Bog (Bog Bodies) on our Movie forum!