Legend of the Guardians: The Owls of Ga'Hoole
(2010)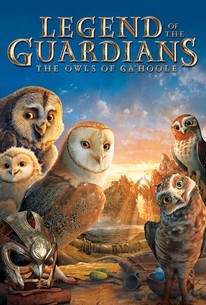 TOMATOMETER
AUDIENCE SCORE
Critic Consensus: Legend of the Guardians' dark tone and dazzling visuals are to be admired, even if they're ultimately let down by a story that never lives up to its full potential.
Legend of the Guardians: The Owls of Ga'Hoole Photos
Movie Info
Acclaimed filmmaker Zack Snyder makes his animation debut with the fantasy family adventure "Legend of the Guardians: The Owls of Ga'Hoole" based on the beloved Guardians of Ga'Hoole books by Kathryn Lasky. The film follows Soren, a young owl enthralled by his father's epic stories of the Guardians of Ga' Hoole, a mythic band of winged warriors who had fought a great battle to save all of owlkind from the evil Pure Ones. While Soren dreams of someday joining his heroes, his older brother, Kludd, scoffs at the notion, and yearns to hunt, fly and steal his father's favor from his younger sibling. But Kludd's jealousy has terrible consequences--causing both owlets to fall from their treetop home and right into the talons of the Pure Ones. Now it is up to Soren to make a daring escape with the help of other brave young owls. Together they soar across the sea and through the mist to find the Great Tree, home of the legendary Guardians--Soren's only hope of defeating the Pure Ones and saving the owl kingdoms. -- (C) Warner Bros
News & Interviews for Legend of the Guardians: The Owls of Ga'Hoole
Critic Reviews for Legend of the Guardians: The Owls of Ga'Hoole
Audience Reviews for Legend of the Guardians: The Owls of Ga'Hoole
½
Let's be honest, it's a movie with owls fighting each other while wearing helmets. Sounds horrible? I agree. But, as it turns out, the movie deserves a chance. It may be a bit too scary for the really young ones and a bit too cute for older teenagers, everyone in between and adults young at heart should have a good time with this, though. The animation is breathtakingly beautiful, as are the landscapes that give this world a sense of depth and mythology. That works great for the film's fantastic atmosphere. The characters are likable enough, the story engaging and even offers a surprise or two. That makes for a really entertaining adventure that showcases what animated films can do in terms of photorealism. I stand corrected.
Zack Snyder has stooped very low to male a film like this but there are a few good cinematics.
Scott Green
Super Reviewer
½
This is a film based on some literature (man, I've been watching, reviewing, and re-reviewing a lot of these lately) about a young owlet who yearns for adventure and ends up being a part of a great one involving epic battles, action, and the need to save the world fro mtyrrany. Zack Snyder made an interesting career turn with this one, as it marked not only his first animated feature, but his first film to not be rated R. Yes, it is about owls, and I'm sure the book are for a slightly younger crowd, but you know what? I liked this movie. It's cool. Granted, I've always liked owls and thought they were cool, but still. For an animated fantasy adventure type film, it could be a whole lot worse. The film does follow a standard formulaic plot of the domination, hero's quest, and good evrsus evil varieties, but what it lacks in original plotting and underdeveloped characters that more than just archetypes, it more than makes up for it with good direction, a great voice cast made up of a few Brits and a boatload of Aussies including Sam Neill, Geoffrey Rush, Helen Mirren, Ryan Kwanten, Jim Sturgess, and Hugo Weaving among others and, the real star of the show: an absolutely gorgeous look with some wonderfully detaied photorealistic visuals. These owls and other creatures truly come alive and look real down to the smallest details. I saw this in 2D, but I got the sense that some of the 3D probably looked great and worked well in places, but not in all of them. Also, being a Zack Snyder film, the action set pieces (complete with slow-mo) are really well done and look great. Despite being a typical genre film, this is still quite entertaining and decent. If only the way it was executed and the story/characters could have been developed more and better, then this could have been like the owl version of Star Wars to a degree, and yes I'm serious, and will discuss it further if asked. All in all, not bad. It's a little silly at times, but it doesn't insult the audience's intelligence a whole lot, so that's good. Give it a shot, you might like it.
Chris Weber
Super Reviewer
Legend of the Guardians: The Owls of Ga'Hoole Quotes
| | |
| --- | --- |
| Twilight: | I'll get you closer!! We're going to lock talons. Trust me, I know what I'm doing!! |
| Soren: | Yeah, but have you done this before?! |
| Twilight: | No... but I've always wanted to try it!! Hold on!! |
| | |
| --- | --- |
| Echidna: | The warrior!! |
| Twilight: | A poet warrior, please, thank you. |
| | |
| --- | --- |
| Twilight: | Ahah!! Danger, intrigue!! The stuff of song. |
| Digger: | Oh, no, not the lute. |
| Twilight: | But such things have no effect on me!! For I am a poet, as much as a warrior. |
| | |
| --- | --- |
| Boron: | We only seek the truth. |
| Soren: | The truth? We told you the truth. The Pure Ones exist. They will enslave us all and rule our world without pity!! I know that the only proof I have are my words... but words were the only proof I had that you existed, and still I believed. |