Legend of the Lost
(1957)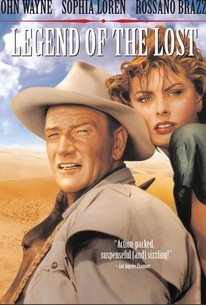 AUDIENCE SCORE
Critic Consensus: No consensus yet.
Legend of the Lost Videos
Legend of the Lost Photos
Movie Info
This Henry Hathaway adventure stars John Wayne as a soldier of fortune who vies with the idealistic Rossano Brazzi for the affections of Sophia Loren as he leads them on a search for buried treasure.
Rating:
NR
Genre:
, , ,
Directed By:
Written By:
In Theaters:
On DVD:
Runtime:
Studio:
United Artists
Audience Reviews for Legend of the Lost
Wow! This movie moves more slowly and ponderously than any of "The Hobbit" movies. And, THAT'S saying something! Sophia Loren is incredible to look at, but that's the one and only attraction in this missed opportunity of a film.
John Miller
Filmed in beautiful Libya this movie is sexy. Wayne and Loren are the best I have ever seen them. The writing is excellent.
william barkley
½
Sand and more sand. Great for Wayne fans, the only film Sophia Loren and Rossano Brazzi co-starred. The movie bears a resemblance to True Grit and why not, director Hathaway made both of these films. [img]http://t2.gstatic.com/images?q=tbn:ANd9GcQ05uT75tGD4xfJFwGcg7pPPEvxTF6eJx--8rt4F7Ng5k6bcKHDVQ[/img] No love lust here at all, just some jealousy and marketing of the film! Wayne begins drunk and in jail and in Grit he is soon shown to be a drunkard. Both films head out on a search for something or someone. The film resembles The Searchers as well, Wayne is about the same age and acts the same. [img]http://t1.gstatic.com/images?q=tbn:ANd9GcQLf-TIQmlf5sLPyoFRX5zsEIYI-0XCQJqqscffD7tG71CwR9iQog[/img] They find water I am continually amazed at how critic books and RT will devastate a movie, call it nonsense, term it unbearable... only to find the film is nothing like it at all. Oh sure, they are right many times, but a film like this one deserved a shot. I am so far, half way through it, glad I did. [img]http://upload.wikimedia.org/wikipedia/en/thumb/d/df/Legend_of_the_Lost_1957.jpg/220px-Legend_of_the_Lost_1957.jpg[/img] A marvelously photographed film in widescreen its great. Wayne finds out early in the expedition his employer is after a lost city of gold for charitable purposes. Generally sounds like Indiana Jones right (except for the motive of charity)? The difference of course is real acting ability (not that Harrison Ford crap) and a great script with serious dialog. [img]http://t3.gstatic.com/images?q=tbn:ANd9GcRmENAoyasSppNuUGLhlsnAH89SVVLo01xGTkcTRoO0xMqKO4Q8[/img] The great Sophia Loren is marvelous in this one This film has been generally lost and forgotten due to neither critical or public acclaim. Too bad, its not terrible but it was pretty weird seeing international star Rossini Brazzi picking up dried camel shit for a fire (at the 26 minute mark). He had no idea what he was touching! [img]http://t2.gstatic.com/images?q=tbn:ANd9GcTVXSt1EtKkISund52IjmyufF2vvfnTLPGKPO6D2jVAmnthtVYK6A[/img] The unlikely trio of gold seekers begin the trail http://www.youtube.com/watch?v=KjHFymb0aNU Oh, and by the way, bring plenty of water, beer, soda or what ever you like on this trip. The Sahara is a big desert and you will see lots of it. Also, bring a sense of humor, you'll need it. http://www.youtube.com/watch?v=3ZhRLDdod68&list=PL9C5D4B99079364CD&index=110 [img]http://t3.gstatic.com/images?q=tbn:ANd9GcQBax3pKU_7p_1MLqxfp7924meUm-Cq589hpNjoeNoKL-0x9xn2[/img] Legend and internationally famous Sophia Loren REVIEWS: 70% At the hospital watching this great movie in high definition! 40% Wanted to see this for several years, but last night's airing on TCM proved anticlimactic. "Legend of the Lost" is solely memorable for a male charac... [img]http://t3.gstatic.com/images?q=tbn:ANd9GcTE3G4i56ZlIOk_6048px8Z1Bd4Dq3Uh6_6xA31ERZFqigDHpH6[/img]
monsieur rick
Legend of the Lost Quotes
There are no approved quotes yet for this movie.
Discussion Forum
Discuss Legend of the Lost on our Movie forum!