Legong: Dance of the Virgins
(1935)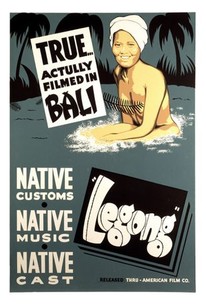 AUDIENCE SCORE
Critic Consensus: No consensus yet.
Movie Info
Best known as one of Gloria Swanson's former husbands, the Marquis de la Falaise proved that he'd picked up some show-business acumen during his Hollywood years by producing the Technicolor docudrama Legong, Dance of Virgins. Filmed on location on the island of Bali, the story concerns a benighted romance between an island maiden named Poutou and her boyfriend Njong. When he throws her over in favor of her half-sister, the distraught Poutou drowns herself. Before this happens, however, she participates in the traditional Balinese dance of the virgins (hence the film's title). Perhaps she should have remembered the ancient island prophecy "Should love enter thine eyes and go to the heart, beware, for should he whom thou choosest not return thy love, thy gods will frown and disgrace will befall thee" (Believe it or not, that line is in the picture!) Like most South Seas "documentaries" of the period, Legong, Dance of the Virgins featured enough bare-breasted females to keep the male moviegoers from dozing off.
Rating:
NR
Genre:
, ,
Directed By:
In Theaters:
On DVD:
Runtime:
Studio:
Bennett Pictures Corp.
Critic Reviews for Legong: Dance of the Virgins
All Critics (2) | Fresh (2) | Rotten (0) | DVD (4)
The dilettante filmmaker does a fine job catching the tropical beauty and exotic flavor of the island.

Ozus' World Movie Reviews
Audience Reviews for Legong: Dance of the Virgins
LEGONG: DANCE OF THE VIRGINS was one of the last silent films to be released. It did have a musical soundtrack though and was shot in two-strip Technicolor. Filmed entirely on the island of Bali (in what is now Indonesia) using non-professional actors (native Balinese). The film serves better as a time-capsule of the Balinese people rather than melodrama. I say that because as drama - LEGONG: DANCE OF THE VIRGINS is rather simplistic compared to other films of the era. I have read that during it's initial release in New York City, tickets were selling for $5 - a princely sum, really...when you consider that you could get a steak dinner (at the time) for something like $1. Why the high price? I can only think of one...err, TWO reasons why! BOOBIES ! Yes, this film contains gratuitous footage of topless Balinese women. I suppose it was allowed by the censors because of that "National Geographic" mentality. It's okay to show women topless if they happen to be natives of a third-world country. But surprisingly...there are very few of the "saggy" variety to be seen in this film. Director Henri de la Falaise preferred the "perkier" look. I guess if you are able to feature gratuitous perky breasts...well, who needs a "story"?!?...and then you can charge 5 bucks and nobody would mind, I guess. There are really only four major characters in the film. Poutou (Poetoe Aloes Goesti) is the young Balinese village girl who has the love-sickness for a young Balinese musician - known only here as "The Boy" (Njong Njong Njoman). The boy seems like a nice young man but doesn't notice how much Poutou is attracted to him. Poutou's father (Bagus Mara Goesti) - who loves cock-fighting - notices his daughter eyeing The Boy once too often and suggests she invite The Boy over for dinner. Good idea! No! Go back to choking your chickens old man, because the moment The Boy sets his eyes on Poutou's younger sister (Saplak Njoman)...well, the classic love-triangle unfolds...to rather fateful consequences. The film is relatively short: 65 minutes...and despite the bare breasts and the lurid sounding title - LEGONG: DANCE OF THE VIRGINS is a very, very tame film. If you ask me, I think something like BABY FACE (1933) is a much hotter and sexier film overall and does so without resorting to showing any uncovered female breasts. As I mentioned...the film does serve as a pretty good time-capsule of native Balinese village life in the 30's. Captured are some of the native dances and rituals which may be of some interest to some. Too bad the musical soundtrack wasn't a bit more Balinese. The censors did get wise to this film...cutting out the bare breasts footage eventually. I thought they would end up maybe with a 3 minute film...but no - it was actually more like 30 minutes. I hope they didn't charge 5 bucks for that!!! 4
bernard anselmo
½
I'll be off to DC and I won't have much net time it doesn't look like. Anyhow, the last batch of movies I've seen: [size=5][b]Legong: Dance of the Virgins[/b][/size] Directed by: Henri de la Falaise [img]http://www.henrysheehan.com/dvd/jkl/legong.jpg[/img] This supposed 'documentary' was shot in 1935, was one of the last two-color technicolor, as well as one of the last silent films I know of (it did have a music soundtrack) Anyhow, it's not really a documentary, although it does feature a cast of natives as well as real native customs and the like. Add in a cheezy love story, some neat footage of Bali and hot topless women and what more could you want? While not a great film, it's a good oen that's a piece of history and a good travel film. [size=4][i]7.5[/i][/size] [size=5][b] Point Blank[/b][/size] Directed by: John Boorman [img]http://www.violentworldofparker.com/images/pointblank1.jpg[/img] I've been meaning to see this for a loooooonnnnngggggg time. I've wanted to see this ever since I first heard of it, but none of the video stores around me had it. Then, I had it on my netflix list forever, but I kept having something else be a more pressing priority for one reason or another. Finally seeing this terriffic neo-noir did not disappoint. The film works on several levels. It's a very hard-hitting action film, an atmospheric thriller and does a great job as an ode to Los Angeles. With the exception of Michael Mann's films Heat and Collateral, no film has ever done as good of a job portraying the city. Lee Marvin annoys me sometimes, but he's really first rate here. A lot of the secondary players are good too, and are likely to make you say 'Hey, haven't I seen that guy somewhere before?' (One of the guys, I later realized, played in one of my childhood favorites, 'Ernest Goes To Camp'). Definately reccomended. [size=4][i]9.0 [/i][b][size=5]Strange Days [/size][/b][size=5][size=2]Directed by: Kathryn Bigalow [img]http://www.brmovie.com/Images/Movies/Strange_Days_Movie.jpg[/img] [img]http://www.thezreview.co.uk/posters/posterimages/s/strangedays4.jpg[/img] [/size][/size][size=2]I'm definately surprised that this film isn't more of a cult classic, especially seeming as how it's directed by Kathryn Bigalow of the cult classic 'Near Dark'. This is a predictable but well rendered action film that came about toward the end of the action film bonanza of the late 80's and early 90's, and it's one of the better ones. It's a cyberpunk themed movie about a type of virtual reality that stimulates one's brain in order to literally relive an experience, at least as far as the mind is concerned. Anyhow, the technology is addictive and dangerous and is sold underground like drugs. It's got a big messy love triangle and double crossing buddies and sleazy crimelords, corrupt cops, the ultimate new years party, and a bunch of other stuff. While a comic book or pulp novel with this sort of setup is a dime a dozen, it is very rare that these movies are attempted unless they are huge budget FX fests, which this isn't, which preserves the pulp feel of it all, which makes it a far better movie. As a piece of pulp entertainment, this fires on all cylinders. The look of the film is good, they did a great job making everything look dirty and dystopian even though it's mostly real world locations that just had the right touches to work. The acting is really good from a very good cast. It's got Ralph Finnes as a former cop-turned 'drug' smuggler, Juliett Lewis as the ultimate 'Love me and f*&k me' prostitute you can't help but try to save, Angela Basset as a badass limo driving single mom who gets caught in the middle of it all, Tom Sizemore as the sidekick/contact man and that one dude from Robin Hood: Prince of Thieves who plays the Guy of Gisborn, who plays a hell of a bad guy. The film is very graphic, both in terms of nudity and some fairly graphic disturbing sex crimes/murders, so if you can't take that sort of brutality, skip it, but it enhances the punch of the film, because for a mainstream movie, this really doensn't pull many punches in that realm. [/size][/size] If a pulpy, well done cyber punk type film sounds appealing to you, check this out immediately. [size=4][i]8.0[/i][/size]
Cliff Smith
½
As much a travelogue as a love story, this simple story of "girl loves boy, boy loves another" is memorable in that it was filmed in Bali with authentic native people in all the major roles. Examples of native dancing, customs and folklife fill the screen, made even more vivid by being filmed in two-strip Technicolor. It is also said to be one of the last official "silent" films. A sad, sweet film.
Legong: Dance of the Virgins Quotes
There are no approved quotes yet for this movie.
Discussion Forum
Discuss Legong: Dance of the Virgins on our Movie forum!