Léon Morin, Prêtre (Leon Morin, Priest) (The Forgiven Sinner)
(1961)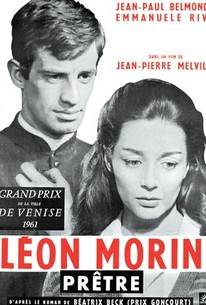 Léon Morin, Prêtre (Leon Morin, Priest) (The Forgiven Sinner) Photos
Movie Info
A richly contemplative saga of grief, this is the tale of a young war widow who is helped to work through her doubts and bitterness by a young priest.
Rating:
NR
Genre:
,
Directed By:
Written By:
In Theaters:
On DVD:
Runtime:
Studio:
Rialto Pictures
Critic Reviews for Léon Morin, Prêtre (Leon Morin, Priest) (The Forgiven Sinner)
Audience Reviews for Léon Morin, Prêtre (Leon Morin, Priest) (The Forgiven Sinner)
½
As If a Baptism Were All It Took to Save Them I am unable to find exact statistics on this and can't remember quite where I read about it in the first place, but the percentage of Jewish children killed in France during the Holocaust is truly disheartening. A substantially larger percentage of children than adults, if I remember my research correctly. Actually, the breakdown of French Jews killed is only twenty-six percent, compared with ninety percent in several other countries. Okay, that's still about ninety thousand people, compared to exactly fifty-two in Denmark, but it could have been much worse. Elsewhere, it was. And I don't know how much those statistics account for half-Jewish children such as Our Heroine's child here. What I do know is that the parents of those children did everything they could think of to protect them, and merely getting them baptized was not enough. Though I do understand why you might initially have believed it was, in that time and place. Our Heroine is Barny (Emmanuelle Riva, eighty-six yesterday and still not an Oscar winner), the Gentile widow of a Jew. She is also an atheist and a Communist. She makes arrangement with two friends to get their children baptized. For reasons I am not entirely clear on, she then decides to make life difficult for a random priest, settling on Father Léon Morin (Jean-Paul Belmondo). She is trying to shock him, trying to make him deny the church or at least speak against it. Slowly, he actually manages to convert her himself. Life in Occupied France goes on around them, and her concerns are a bit beyond the averages worries of a single mother. Whether she actually falls in love with Sabine (Nicole Morel) or not, I cannot say, but certainly there were no men her age other than Father Morin and the Germans to fall for in the village. Which, of course, inevitably means that she will end up falling for Father Morin as well. The decision was made to focus not on what life was like in Occupied France in general but on the life of Barny in particular. Even there, it's more about her relationship with Father Morin than how she handles the Occupation. It's about a woman and a man and God, basically, and everything else is just sort of on the side. Even her daughter, of course named France (first Patricia and then Marielle Gozzi), only serves to exist as a faint reflection of Barny's own actions and desires. And, of course, Barny expects things to fall in place a certain way. Obviously, she knows not everything will go her way; how could it? She's living through the Occupation, and her half-Jewish daughter must go into hiding in order to live through it. Though it isn't very clever hiding, so perhaps Barny is luckier than she knows. She also doesn't seem committed to much of anything; she lets Father Morin talk her back into Catholicism awfully easily, and I don't think it's just because she's got the hots for him. Of course, so do half the other women of the town. I don't know how much of this is tied to the aforementioned fact that all the young men of the town are dead or gone, but there it is anyway. Father Morin also seems to be a bit of a chameleon; while he is devoted to God above all, he also seems to give each woman exactly what she needs from him, at least until what Barny needs is something that violates his vows. He is personable without being entirely personal. It also kind of bothers me that he seems to speak to various of the women about the others; it's one thing if he listens, but he has told Sabine things that Barny said and felt, and Barny has come to him as a spiritual advisor. It may not fall under the seal of the confessional, but that doesn't mean he should be spreading it around that way. The women all seem to at first assume that Father Morin is seeing them alone and then decide that another woman of their acquaintance would benefit from his guidance. Even if he were allowed by the Church to marry, I'm not sure Father Morin would have done so. I'm sure half the women who went to him thought he would have married them, but to devote himself in that way to any one of them probably would have meant not being able to minister to the others in the way he felt he had to. He loved Barny, I think, and loved her daughter. Certainly he was better for them than Sabine--who I'm pretty sure was the woman who kept talking about how the only people hurt by the Nazis were Jews and Communists, as if Barny weren't both a friend of hers and a Communist--and of course the widow of a Jew. Sabine and the other women were no real support for Barny. Barny probably wasn't any support for anyone herself. Someone needed to be there for all those women, and that was the purpose Father Morin really seemed to serve. After all, he was one of three priests in that church, and there were other churches in the town. No wonder he thought there were too many of them.
Edith Nelson
½
Another wonderfully directed and filmed piece from Melville featuring top-rate performances from Belmondo and Riva. A wonderfully eerie and depraved setting set the tone of the morally challenging film and are beautifully captured by Melville and lived in by the actors. It's a very thought provoking film with many symbolic acts throughout that you may not even notice without referring to the commentary that is part of the Supplements. A great piece from wartime France that showcases the French Resistance and the way of life for the civilians. Highly Recommended, especially if you are a Melville fan!
Chris Browning
Super Reviewer
½
"Léon Morin, Prêtre" stands out in Jean Pierre Melville's body of work. Better known for his American style noir films such as "Bob le flambeur" and "Le doulos", "Léon Morin, Prêtre" comes between these but is not a crime drama, yet a thought provoking and intelligent film. Set in an occupied French town during WW2, with convincing period detail, Emanuelle Riva plays the widowed mother, who stumbles upon Jean Paul Belmondo's Catholic priest and over the course of the film starts to question herself. Melville here wears his Bresson influence on his sleeve and proves he can successfully stray from the crime drama. The fact that he chose two established stars also helped with the public point of view. The action, if you can call it that, is very much dialogue based, but the conversations between Riva's and Belmondo's characters are never boring, and between these talks we have quick glimpses of how people continued through everyday life under the Nazis. I'll just also mention the interesting cinematography with interesting shots and Henri Decaë's great photography.
Léon Morin, Prêtre (Leon Morin, Priest) (The Forgiven Sinner) Quotes
There are no approved quotes yet for this movie.
Discussion Forum
Discuss Léon Morin, Prêtre (Leon Morin, Priest) (The Forgiven Sinner) on our Movie forum!