Leonie
(2013)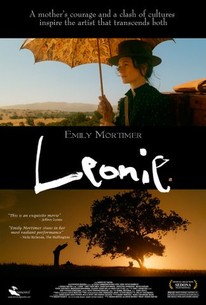 Movie Info
In the lush tradition of the glorious films of Merchant and Ivory, comes the true life story of Leonie Gilmour (Emily Mortimer), whose life crossed continents, wars and cultures, embodied with courage and passion in search of art and freedom. A tender and inspiring story of a remarkable woman who nurtures the amazing artistic talent of her son who has only one way to succeed and one person to guide him, as he grows into the world renown artist, Isamu Noguchi. (c) Monterey Media
Critic Reviews for Leonie
Audience Reviews for Leonie
In 1901, Leonie Gilmour(Emily Mortimer) is a recent graduate of Bryn Mawr University where she made some friends for life and was patronized by any number of male professors. For her first job, she becomes an editor for Yone Noguchi(Shido Nakamura) who she not only helps with his poetry but also assists in getting him published. Soon after, they fall in love and have a child together. By 1905, Japan is at war with Russia, and testestorone calls Yone back to his native country. So, with few other options, Leonie decamps with her son for Pasadena and the waiting arms of her mother(Mary Kay Place). Aided by a very good lead performance from Emily Mortimer, "Leonie" seeks to tell the story of a true life pioneer who battled the patriarchy on two separate continents. Ironically, this was as Japan was modernizing, leaving behind some of its feudal ways, but becoming just as entrenched in others. And at the same time, the movie counterintuitively tries to undermine Leonie by reinforcing her traditional role as a mother, in this case, of Isamu Noguchi, a noted sculptor and not just in a by the way sort of fashion, either.
Leonie Quotes
There are no approved quotes yet for this movie.
Discussion Forum
Discuss Leonie on our Movie forum!