Leroy & Stitch
(2006)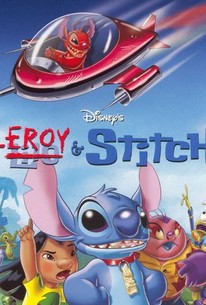 Movie Info
Walt Disney's beloved space alien finds that his adventure has only begin when Dr. Hamsterviel breaks out of prison and creates an army of evil Stitch twins in a nefarious attempt to overthrow the universe. Having been rewarded for capturing all 625 experiments by being allowed to choose precisely where they want to reside in the galaxy, Lilo, Stitch, Pleakley, and Jumba are soon troubled to discover that the devious Dr. Hamsterviel has escaped the confines of prison and forced Jumba to create Leroy -- a troublesome doppelganger of Stitch with an unquenchable appetite for destruction. When Dr. Hamsterviel begins to clone Leroy in hopes of creating a powerful army with which to rule the stars, Lilo, Stitch, and the rest of the gang must come together to conquer an enemy whose strength lies in numbers and defeat the dreaded doctor once and for all.
Critic Reviews for Leroy & Stitch
Audience Reviews for Leroy & Stitch
Leroy & Stitch is a fun straight to DVD sequel to the great original, and maybe the best straight to DVD Disney film since The Lion King 1.5.
Bradley Wright
Super Reviewer
A not so climactic ending to an not so interesting series.
Dillon Lupky
Super Reviewer
½
a great grand finale to the lilo and stitch movies and TV show
Michael Edwards
Super Reviewer
Leroy & Stitch Quotes
There are no approved quotes yet for this movie.