Les aventures extraordinaires d'Adèle Blanc-Sec (The Extraordinary Adventures of Adèle Blanc-Sec)
(2010)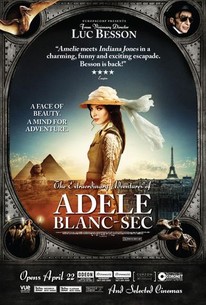 Les aventures extraordinaires d'Adèle Blanc-Sec (The Extraordinary Adventures of Adèle Blanc-Sec) Photos
Movie Info
Luc Besson directs this big-screen adaptation of the graphic novel The Extraordinary Adventures of Adèle Blanc-Sec. The movie stars Louise Bourgoin as the title character, an independent-minded writer who becomes embroiled in a mystery involving mummies, bad guys, and dinosaurs in pre World War I Paris. ~ Perry Seibert, Rovi
Critic Reviews for Les aventures extraordinaires d'Adèle Blanc-Sec (The Extraordinary Adventures of Adèle Blanc-Sec)
Audience Reviews for Les aventures extraordinaires d'Adèle Blanc-Sec (The Extraordinary Adventures of Adèle Blanc-Sec)
Not my taste at all, but okay for what it was. Far fetched French fantasy with plucky likeable heroine.
Nicki Marie
Super Reviewer
Uninspired, with odd attempts of humor and an unlikable heroine, this adventure wants to be a French Indiana Jones but fails on pretty much every level. Even for a film with fantastic elements, the plot holes are huge and the unlikeliness keeps adding up to a degree where this is merely a comedy. At least the special effects are somewhat decent, but when the entire cast of characters consists of idiots or arrogant pricks, there is little to hang on to. Disappointing.
In 1911, novelist and adventuress Adele Blanc-Sec seeks an ancient Egyptian cure to bring her twin sister out of her coma. Luc Besson's attempt to make an Indiana Jones-style blockbuster infused with French whimsy doesn't always click, but any movie that features both a pterodactyl and a mummy has something going for it.
Les aventures extraordinaires d'Adèle Blanc-Sec (The Extraordinary Adventures of Adèle Blanc-Sec) Quotes
There are no approved quotes yet for this movie.