Les Carabiniers
(1967)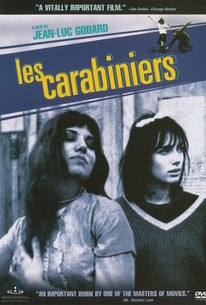 Movie Info
Jean-Luc Godard, Jean Gruault, and Roberto Rossellini adapted the Benjamino Joppolo play "I Carabinieri" for this anti-war satire in which two soldiers go off to war in the hopes of reaping a huge booty, only to wind up empty-handed and on the losing side.
Critic Reviews for Les Carabiniers
Audience Reviews for Les Carabiniers
A grim farce on war in general. It's brutality, uselessness and irreasonable nature. When two men are approached by the military to join the causes of war, they are promised great rewards and fame. Hence, they join the armed forces. What follows is a collection of scenes dealing with war in general and the way soldiers mindlessly follow their orders. The brutality of "The Riflemen" is not of a graphic nature - except for a few stills of war victims - it is rather the grotesque way how the war is presented. The soldiers are portraited as dumb and silly men who "play" war, not caring about casualties and politics at all. The "conflict" in the movie is not specified, making this picture an allegory of war in general. Throughout the move, letters from actual soldiers are quoted. The movie is not for the lighthearted and it is certainly not "entertaining" in the classic sense of American cinema. But it is a forceful rant against war and how it is absolutely dull, pretentious and useless, which is - as well all know - nothing but the truth. "Can we burn women ?" "Yes" "Can we go into a restaurant. And not pay?" "Yes. That's war."
Henrik Schunk
Super Reviewer
Linda K. T.
Super Reviewer
Les Carabiniers Quotes
There are no approved quotes yet for this movie.