Les Destinees
(2002)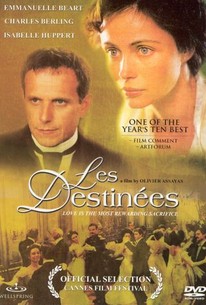 Movie Info
Acclaimed French filmmaker Olivier Assayas follows up on the international success of Fin Août, Début Septembre and Irma Vep with this sweeping adaptation of the sprawling three-volume tome by Jacques Chardonne. Set in three chapters spanning from the beginning of the 1900s to after WWI, the first section takes place in the fictional village of Barbazac, located in the Cognac region. Protestant pastor Jean Barnery (Charles Berling) learns of his wife Nathalie's (Isabelle Huppert) infidelity from the village grapevine and sends his daughter away. At the same time, 20-year-old Pauline (Emmanuelle Beart) returns to the village after the death of her father. Pauline and Jean are almost immediately attracted to each other when they first meet at a ball. Soon Jean installs Nathalie and their daughter in an apartment, files for divorce, and resigns as minister. The second chapter opens with Pauline visiting Jean, who is bedridden in a Parisian hotel from tuberculosis. Upon his recovery, they marry and live for a spell in Switzerland, until Jean's family entreat him to return to Limoges and take over the floundering family porcelain business. The final chapter opens with bombs of WWI: Jean is sent to the front, while Pauline works as a nurse. When the war finally draws to a close, Jean struggles to keep the business afloat. He raises the ire of his workers and stockholders alike by freezing wages and slashing dividends, but his fastidious attention to detail soon makes his company the finest producer of porcelain in Europe. Yet as the economic climate of the continent slowly worsens, so does his business -- and his health. This film was first screened at the 2000 Cannes Film Festival.
Rating:
NR
Genre:
, ,
Directed By:
Written By:
In Theaters:
On DVD:
Runtime:
Studio:
Critic Reviews for Les Destinees
Audience Reviews for Les Destinees
[center][font=Times New Roman][size=4][img]http://4.bp.blogspot.com/_3mCOm4wxK3M/SQ8VSoyYQxI/AAAAAAAABB4/BCd1_FFlYq0/s400/senti2.jpg[/img][/size][/font][/center] [font=Times New Roman][size=4][/size][/font] [font=Times New Roman][size=4]Summary (from IMDB): Jean Barnery is a young Protestant cleric in Barbazac in 1900 when he divorces his severe wife after falling in love with Pauline, the independent-minded niece of an upper-crust parishioner. Jean's also an heir to a high-end porcelain factory in Limoges. He gives his fortune to his wife to assuage his guilt over the divorce. He pursues Pauline; they marry and live idyllically in Switzerland. Then, duty calls: his family asks him to come to Limoges to run the business. He accepts, ignoring Pauline's wishes. His new responsibilities, as well as his fighting in the Great War, change him and his relationship with Pauline.[/size][/font] [font=Times New Roman][size=4][/size][/font] [center][img]http://1.bp.blogspot.com/_3mCOm4wxK3M/SQ8VVKOjnOI/AAAAAAAABCA/Rjmnspx54cg/s400/senti.jpg[/img][/center] [font=Times New Roman][size=4][/size][/font] [font=Times New Roman][size=4]This is the second period piece from the year 2000 by a well-respected director I've seen in the last couple of weeks - and it's purely coincidental. Anyway, after seeing this less than stellar effort from a director I know I love, I'm definitely willing to give Terence Davies another chance after not really caring for The House of Mirth.[/size][/font] [font=Times New Roman][size=4][/size][/font] [font=Times New Roman][size=4]Sentimental Destinies suffers from being too long. At the same time, though, it felt like everything was moving at far too rapid a pace. I would have preferred a slower first 2/3s and a much briefer conclusion. Spoiler: [color=black](The main character is given an overly long (especially after two and a half hours) 'death bed' scene.)[/color] Where this film triumphs is in the first 2/3's cinematography. Assayas rarely lets the camera sit still as it moves with the characters, perhaps mirroring their extremely busy lives. Much of the framing and lighting is impressive too. Unfortunately, as hour number three rolls around, even the cinematography quality starts to fade. Definitely my least favorite Assayas.[/size][/font]
Chris Weseloh
½
[font=Century Gothic][color=blue]"School of Flesh" starts out with a wealthy fashion executive, Dominique(Isabelle Huppert) who wanders into a nightclub with a friend one night and meets a bisexual hustler(Vincent Martinez). She returns a couple of nights later and returns home with him. Now, I can understand why that would happen but why honestly continue the affair with somebody as shallow as he is, if it is only physical? Also, is this something that Dominique does on a weekly basis or is it part of a midlife crisis? I think, director Benoit Jacquot's conclusion might be something more negative, considering the movie's ending. This might be a statement on how a successful businesswoman cannot commit to a relationship. "School of Flesh" is a curiously flat movie about an affair that goes on too long.[/color][/font] [font=Century Gothic][color=#0000ff][/color][/font] [font=Century Gothic][color=red]"Les Destinees" is an epic drama that starts in 1900 with a funeral(for the 19th century?) and continues until 1930. It focuses on a protestant minister, Jean Barnery(Charles Berling) who is in exile from his prosperous family of porcelain makers and his relationship with a young woman, Pauline(Emmanuelle Beart). At the start of the movie, Barnery is in the process of separating from his wife, due to an unspecified scandal. The movie tries to be a sprawling epic but we never learn much about any characters except for Jean and Pauline. All the other characters just seem extraneous and come and go as they please. But on the other hand, we did learn a great deal of how to make pottery and bourbon.[/color][/font]
Les Destinees Quotes
There are no approved quotes yet for this movie.
Discussion Forum
Discuss Les Destinees on our Movie forum!