Les Girls
(1957)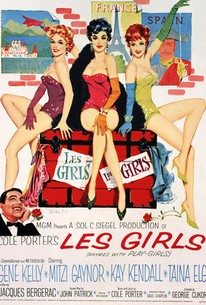 Movie Info
Les Girls is the Rashomon of MGM musicals. The film is told in flashback, as Mitzi Gaynor and Taina Elg, two-thirds of a popular cabaret trio, attempt to legally block the third, Kay Kendall, from writing her memoirs. Each of "Les Girls" has her own interpretation of the group's previous professional and amorous escapades. To make sense of these wildly diverse recollections, the court must rely upon a fourth party to straighten things out. Enter Gene Kelly, the dancing star who organized "Les Girls" in the first place. But can Kelly be believed? The "truth" of the many reminiscences in Les Girls is secondary to the dazzling beauty of its female stars, and to the delightful musical numbers, the best of which is an extended Marlon Brando parody titled "Why Am I So Gone About That Gal?" This was Gene Kelly's last musical effort for MGM, the studio he joined way back in 1943; the film was the inspiration for the short-lived 1963 TV series Harry's Girls, which starred Larry Blyden, Susan Silo, Dawn Nickerson and Diahn Williams.
Rating:
NR
Genre:
, ,
Directed By:
Written By:
In Theaters:
On DVD:
Runtime:
Studio:
MGM Home Entertainment
Critic Reviews for Les Girls
Audience Reviews for Les Girls
Oscar winning, a rousing tribute to girls absorbed with men and vice versa, a mix of stage and screen performance with high quality cinematography. If you care at all about fifties musicals, this one isn't too bad. Gene Kelly is at his dancing best. The trio of girls he manages on stage are fast talking room mates. Les Girls, also known as Cole Porter's Les Girls, is a 1957 musical comedy film made by Metro-Goldwyn-Mayer. [img]http://upload.wikimedia.org/wikipedia/en/thumb/8/85/LesGirls1.jpg/300px-LesGirls1.jpg[/img] Les Girls won the Academy Award for Best Costume Design for Orry-Kelly and was nominated for two other awards, Best Art Direction (William A. Horning, Gene Allen, Edwin B. Willis, Richard Pefferle) and Best Sound (Wesley C. Miller) STORY: "After writing a tell-all book about her days in the dance troupe "Barry Nichols and Les Girls", Sybil Wren (Kay Kendall) is sued for libeling her fellow dancer Angele (Taina Elg). A Rashomon (1950)-style narrative presents the story from three points of view. Sybil accuses Angele of having an affair with Barry (Gene Kelly), while Angele insists that it was actually Sybil who was having the affair. Finally, Barry gives his side of the story." Written by Azure_Girl [img]http://t2.gstatic.com/images?q=tbn:ANd9GcS4PgyHpuLIpDSyD3ivm-iPXJKvd6kx0SHloDSb3URtj_1UG0uKbg[/img] NOTES: The last musical and movie Gene Kelly made for MGM under his contract. It wasn't until the documentary That's Entertainment! that he would appear in another MGM musical. REVIEWS: 100% Stylish, chic, clever. 70% The thing I don't get about this movie is that these cannot be three tellings of the same story. 80% This movie was not bad at all. For WWII Boomers it is really enjoyable and there is actually a story! SEE the entire film here: http://www.youtube.com/watch?v=WS2XRdjH3LY [img]http://t0.gstatic.com/images?q=tbn:ANd9GcTtuYDtr0MQK7s1t8E_sl51fKyzMD25njfAUqkH2yY1GIMvauva[/img] Directed by George Cukor Produced by Sol C. Siegel Saul Chaplin (associate producer) Written by John Patrick Vera Caspary (story) [img]http://t3.gstatic.com/images?q=tbn:ANd9GcQbaVP5m9s00GxRiDg6vmboEBdfTGBNioM8t1k2kMcgLiEk7crGDQ[/img] Cast Gene Kelly - Barry Nichols Mitzi Gaynor - Joy Henderson Kay Kendall - Sybil Wren Taina Elg - Angele Ducros Jacques Bergerac - Pierre Ducros Leslie Phillips - Sir Gerald Wren Henry Daniell - Judge Patrick Macnee - Sir Percy Stephen Vercoe - Mr. Outward Philip Tonge - Associate Judge Barrie Chase - Dancer [img]http://t3.gstatic.com/images?q=tbn:ANd9GcSODba1hyJxZg_T6j2FH0G4kgCAsO12bHEKcvSMeo1VtuchJ2TtWQ[/img]
monsieur rick
½
Like [i]Rashomon[/i], but With Dancing The thing I don't get about this movie is that these cannot be three tellings of the same story. The details don't overlap. There can be no wacky misunderstandings, because this isn't a mere seeing the same details different ways. The three stories we are told here are completely and totally different; for example, only one seems to mention at all that the characters in question ever left Paris. We are told that the reason for the dramatic changes between the first story and the second is that the tellers didn't know some additional information, and it's true that certain information has a spin put on it because of that, but certain things cannot merely be spun away. I mean, either a character is fooling around with Gene Kelly on a boat or she is not. Either a character is a hopeless lush or she is not. Though it is interesting to note that neither woman claims to have had her own romance with Gene Kelly. Gene Kelly is charming as always as Barry Nichols. Some time before the movie begins, he was putting on a stage show in Paris called [i]Les Girls[/i]. One of its former stars, now Lady Sybil Wren (Kay Kendall) has written a tell-all memoir, and she is being sued by former colleague and roommate Angèle Ducros (Taina Elg). Though both are now married, at the time, they were single girls sharing a Paris garret with Joy Henderson (Mitzi Gaynor) and dancing lead in the show. Lady Sybil tells a tale of Angèle's romance with Barry, despite the fact that she is engaged to Pierre (Jacques Bergerac). The climax of the story is a shocking suicide attempt. So then Angèle takes the stand and tells instead of Sybil's alcoholism. She claims that the girls agreed to get Barry to fake a romance with her which somehow ended with Sybil's marrying Sir Gerald Wren (Leslie Phillips) after a shocking suicide attempt. And then a Mystery Witness is summoned to the stand and tells what really happened. You see. Angèle says Barry was involved with Sybil, and Sybil says Barry was involved with Angèle. (It doesn't take a rocket scientist to work out that he is in fact in love with Joy.) And if hints and intimations were all there was to it, you could get a plausible story out of it. But some of the details are completely contradictory in ways that cannot be explained away. Each woman was supposedly watching her roommate have a full-blown romance with Barry, either openly or not. Yes, I realize that a Gene Kelly movie really only needs a plot to have something to string the dance numbers together, but I still wish someone had thought about this a little more. Joy says at the end that her former roommates couldn't have made their stories up out of whole cloth, but two people must have been. Perhaps not the whole time, but there was very clearly invention going on somewhere. There is a lot of debate when it comes to Gene Kelly versus Fred Astaire. Someone I read a review from once wrote in high dudgeon that no one could actually think Gene Kelly was better. That person was wrong; I do. Or at any rate, I like him better. I do not feel I know enough about dance to really judge the men on the quality of their dancing, but I would much rather watch Gene Kelly. The difference is that Gene Kelly really seems to enjoy what he's doing. Both men were doing hard work. Dancing is hard on your body, and these men weren't just waltzing. But when I watch Gene Kelly, I get the feeling that he loved what he was doing. He would dance all the time if only people wouldn't look at him funny when he did it. Whereas Fred Astaire always seemed to be pleased with himself because of his technical ability at doing something difficult. Gene Kelly didn't want you to know that what he was doing was difficult at all. He didn't want you to see the strings. Funnily enough, this movie beat out a Fred Astaire movie for its only Oscar--for costume design. What's even funnier is that it was [i]Funny Face[/i], which was about high fashion. So there's that. I don't remember much feeling one way or another about the costumes--and certainly no one ever won awards for just costuming Gene Kelly, who seems to wear the same outfit no matter what movie he's in. But I hated [i]Funny Face[/i] and like this well enough. I also think there's something kind of pleasing to Gene Kelly's being in an Oscar-winning movie as he headed into the tail of his career. And there must have been a lot of complicated costumes in this, given the nature of the show-within-a-movie. Barry says at one point in the movie that, if he went back to America, he'd be just another American dancer, but in Europe, he was Barry Nichols. I think he was wrong in that, however; no matter where he went, he was Gene Kelly, and that was a great person to be.
Edith Nelson
It has a pretty uninteresting script, but Gene Kelly rocks it as usual. Kelly and Mitzi Gaynor give us some sweet dance and song numbers, with Kelly looking super sexy as he always did.
Manny Casillas
Les Girls Quotes
There are no approved quotes yet for this movie.
Discussion Forum
Discuss Les Girls on our Movie forum!