Les Misérables
(2012)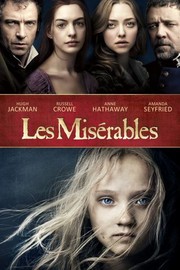 TOMATOMETER
AUDIENCE SCORE
Critic Consensus: Impeccably mounted but occasionally bombastic, Les Misérables largely succeeds thanks to bravura performances from its distinguished cast.
Les Misérables Trailers & Photos
Movie Info
Set against the backdrop of 19th-century France, Les Misérables tells an enthralling story of broken dreams and unrequited love, passion, sacrifice and redemption-a timeless testament to the survival of the human spirit. Jackman plays ex-prisoner Jean Valjean, hunted for decades by the ruthless policeman Javert (Crowe) after he breaks parole. When Valjean agrees to care for factory worker Fantine's (Hathaway) young daughter, Cosette, their lives change forever. In December 2012, the world's longest-running musical brings its power to the big screen in Tom Hooper's sweeping and spectacular interpretation of Victor Hugo's epic tale. -- (C) Universal
more
Cast
News & Interviews for Les Misérables
Critic Reviews for Les Misérables
Audience Reviews for Les Misérables
I just can't seem to get into this. The close-ups are just too much and somehow singing in this movie does not enthrall me at all. The way this was done did not translate well into film.
Well, certainly an epic undertaking, seemingly an attempt to kick opera back to life as nearly every line is sung, and that's what you need to know first: its all singing, oy. Its a gargantuan story who's bottomline's about looking on the bright side of life (Monty Python succinctly made the same point in about 3 minutes ...) howbeit with very high production values, phenomenal sets and costumes, a full orchestra and a cast of thousands, all as a bread thief is hounded by some droll official - for his entire life. (What, was there no other crime going on in France at that time more worthy of attention? Or I underestimate the value of bread to the French? Maybe it was really good bread? "And tonite on the news ... the monstrous bread thief is still at large!") Anyway, shaky cam and CGI cannot make up for the underlying problem: nearly every line is sung. I was tired of the conceit early on and only wished for them to stop it, stop singing. No one did. Jackman carries the sucker practically on his own and does surprisingly better than you think he will, while Crowe's presence is okay, and Hathaway does well with her short time onscreen. Carter and Cohen yuck it up as the comic relief. Who are the rest of these people and what are they doing? They're singing.
Les Misérables Quotes
Inspector Javert: Unless you learn the meaning of the law.
Marius: Life without Cosette means nothing.
Enjolras: I am agog! I am aghast! Is Marius in love at last? I've never heard him I've never heard him 'ooh' and 'aah!'
Discussion Forum
Discuss Les Misérables on our Movie forum!
News & Features