Les temps qui changent
(2004)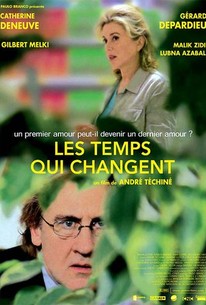 TOMATOMETER
AUDIENCE SCORE
Critic Consensus: A restless mix of cultural and emotional turmoil provides the backdrop for this exhilarating and uncomfortable story about the consistancy of long lost love.
Les temps qui changent Videos
Les temps qui changent Photos
Movie Info
Thirty years after their romance ended, a Antoine tries to win back the first love of his life. When he finds her again, he discovers she has changed much more than he could have imagined.
Rating:
NR
Genre:
, ,
Directed By:
Written By:
In Theaters:
On DVD:
Box Office:
$178,065.00
Runtime:
Studio:
News & Interviews for Les temps qui changent
Critic Reviews for Les temps qui changent
Audience Reviews for Les temps qui changent
[font=Century Gothic]"Changing Times" starts with Antoine(Gerard Depardieu) arriving in Tangiers to oversee the building of a broadcast facility of a moderate Muslim satellite network. He is also in town to see his old flame, Cecile(Catherine Deneuve), who he has not seen in more than thirty years and still pines for. Cecile who works as a DJ for a radio station has moved on and is now married to Nathan(Gilbert Melki), a doctor. Her grown son, Sami(Malik Zidi), has just arrived from Paris along with his girlfriend, Nadia(Lubna Azabal), and her son, Said(Idir Elomri). Sami goes off to have sex with his old lover, Bilal(Nadem Rachati), a caretaker, while Nadia seeks to repair the rift between her and her estranged twin sister, Aisha(Lubna Azabal).[/font] [font=Century Gothic][/font] [font=Century Gothic]"Changing Times" is an interesting but unfocused movie about a postcolonialist world where there is less separating Eastern and Western cultures as time goes on. For example, Aisha is a devout Muslim but works at a McDonald's. But it is very hard to take one's eyes off the two stars(who still have it after all of these years) and when Deneuve and Depardieu are not onscreen, their presence is deeply missed.[/font]
[color=black]Cecile (Catherine Deneuve) is this 60ish radio show host living comfortably in Tangiers (a city in northern Morocco, in case you're geographically challenged) with her doctor husband Nathan. Her grown son Sami has just arrived for a visit from Paris along with his Moroccan girlfriend Nadia and Nadia's 9-year-old son.[/color] [color=black]Meanwhile, this guy named Antoine (Gerard Depardieu, badly in need of a haircut), a French engineer working on a large local construction project, has also just arrived. Cecile was his one true love thirty years earlier and Antoine has never actually gotten over her. In fact, his contract in Tangiers is no coincidence; he orchestrated it solely for the purpose of reuniting with Cecile.[/color] [color=black]The first time Antoine and Cecile bump into each other, she agrees to vague future dinner plans to be "polite" and then promptly forgets all about him. Antoine, however, isn't the sort of guy who's easily discouraged. Despite a chilly reception from Cecile, he shows up uninvited at both her house and her radio studio, coming clean on the purpose of his trip and telling her he intends to get her back. Not leaving anything to chance, he even buys a sorcery video and tries to cast a love spell on her. (The video shows someone placing multi-colored fabrics and a rooster on top of the victim's head; Antoine merely slips an old photo under Cecile's mattress. This seems like a bit of a shortcut to me.)[/color] [color=black]I'm not quite sure how we, the audience, are supposed to view Antoine's behavior but I found it to be pathetic and downright stalkeresque. He hasn't even spoken to Cecile in over thirty years and he just shows up out of the blue and expects her to run off with him? How can anyone be so desperate and so arrogant at the same time?[/color] [color=black]Besides the main Antoine and Cecile story, there are a bunch of little subplots all related to multiculturalism. It turns out that rich kid Sami is really bisexual and has a secret Moroccan boyfriend who works as a groundskeeper. And Sami's girlfriend Nadia, who's addicted to prescription painkillers, has a devout Muslim hijab-wearing twin still living in Tangiers who refuses to see her westernized sister for superstitious reasons. The twin works at McDonalds (which the characters all refer to as McDo's), which I'm sure is supposed to present some sort of startling cultural juxtaposition, but I was too preoccupied with the McDo's nickname to give this much thought.[/color] Michael Wilmington, the critic for the Chicago Tribune wrote, "if [i]Changing Times' [/i]last shots don't touch you, your heart may be frozen." Apparently it is. [color=black]Depardieu and Deneuve may be great actors, but I didn't find their characters to be the least bit believable. By the time the movie ended, my frozen heart wasn't even watching anymore, having long since been relieved of its duties by my cynical brain.[/color] [color=black]I saw this movie in a great big almost empty theatre and I sat way up front in the third row, far from the rest of the crowd. But wouldn't you know it, just as the movie started, this tall guy with a gigantic head plops down in the front row almost directly in front of me. At first it wasn't an issue as he almost immediately dropped into a slouch, but then about three quarters of the way thru the film he suddenly developed good posture, causing his oversized head to block out large portions of the subtitles. I tried leaning left for a while but eventually gave up and moved one seat over.[/color] [color=black]Using the preceding anecdote as an illustration, I've got another bit of sage advice to add to my ongoing list of tips for the considerate moviegoer: [/color] [color=black][/color] [color=black]If you're built like Mayor McCheese, you might want to consider not sitting smack dab in front of another person if you can at all avoid it. Especially once the movie has already started. Thank you in advance for your cooperation.[/color]
v h
½
A bit of an emotional puzzle but I really enjoyed it. The ending was quite sweet.
Sunil Jawahir
Super Reviewer
Les temps qui changent Quotes
| | |
| --- | --- |
| Bilal: | Moitié marocain, moitié francais, moitié homme, moitié femme. Tu dois avoir du mal a t'y retrouver. |