Les Visiteurs du Soir
(1942)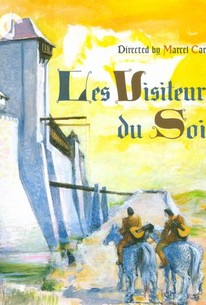 Movie Info
Supposedly a metaphor for Hitler's occupation of France, on the surface this is a fairy tale about Satan's determined interference between two lovers in fifteenth century France. Of course, like all fairytales, true love will always find a way. If Hitler had realized that this was meant to signify his inability to blunt the spirit of the French, he undoubtedly would have squelched its release, which happened after the Nazis occupied France.
Rating:
NR
Genre:
, , ,
Directed By:
Written By:
In Theaters:
On DVD:
Runtime:
Studio:
Criterion Collection
Critic Reviews for Les Visiteurs du Soir
All Critics (5) | Top Critics (2) | Fresh (5) | Rotten (0) | DVD (2)
The dialogue gets increasingly lachrymose, and the slow pace begins to take its toll. Wonderful performances, though, and graced with an undeniable visual splendour.

Chicago Reader
Top Critic
Audience Reviews for Les Visiteurs du Soir
My favorite movie. Without color, without special effects, it is the most magical romance I've ever seen. I know most people haven't seen it, and wouldn't want to, but it is a masterpiece of cinema.
Anna Delon
A bit odd at first as these Middle Ages have a strong 1940s taste and the dialogs often sound artificial, but the story is beautiful. There are several good scenes even though it is often border line mushy. Special mention to Jules Berry who is a wonderful devil.
Ben Gui
[center][font=Times New Roman][size=4][color=white][img]http://www.scifilm.org/museimages2/devilsenvoys.jpg[/img][/color][/size][/font][/center] [font=Times New Roman][size=4][color=white]Summary (from IMDB): At the end of the 15th century, two minstrels Gilles and Dominique come from nowhere into the castle of Baron Hugues. Gilles charms Anne, Hughes' daughter, while Dominique charms both Hugues and Ann's fiance. Gilles and Dominique are sent by the Devil to desperate people. But Ann is so pure that Gilles is caught to his own trap... How will they fight against the Devil?[/color][/size][/font] [font=Times New Roman][size=4][color=white]When I read this synopsis at IMDB, I thought this film sounded very interesting and original. While it was rather original, it was not all that interesting. The first 45 minutes or so showed much potential and I was cruising along with it pretty well, but at about the halfway mark, I started to lose interest fast. We kept revisiting the same type of scenes over and over again. And Dominique's character kept going back and forth between the Baron and the fiance, doing the same things over and over. It was a very draining film. Had it just involved Gilles and Anne, it might have been a tight and consise enough story to be enjoyable, but there was too much else going on to really appreciate it. Lastly, the costumes were awful.[/color][/size][/font]
Chris Weseloh
Les Visiteurs du Soir Quotes
There are no approved quotes yet for this movie.
Discussion Forum
Discuss Les Visiteurs du Soir on our Movie forum!