Lesbian Vampire Killers
(2009)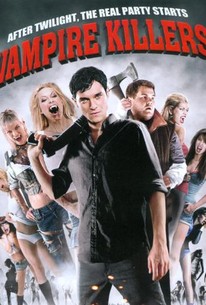 Lesbian Vampire Killers Photos
Movie Info
One instance where the title says it all, Lesbian Vampire Killers finds screenwriters Stewart Williams and Paul Hupfield and director Phil Claydon plunging headfirst into guilty pleasure territory with an unrestrained, sex-laden horror comedy. The picture stars Mathew Horne and James Corden of the UK series Gavin and Stacey as (respectively) Jimmy and Fletch, two buddies who wind up in a British village with dozens of women caught up in a Sapphic vampire curse - driven by a lust for each other's bodies and an insatiable craving for human blood. ~ Nathan Southern, Rovi
People Who Like this movie also like
News & Interviews for Lesbian Vampire Killers
Critic Reviews for Lesbian Vampire Killers
Audience Reviews for Lesbian Vampire Killers
[img]http://images.rottentomatoes.com/images/user/icons/icon13.gif[/img] It's not as gleefully cheesy as i'd hoped but neither is it as bad as it could have been. I laughed more than I thought I would. But it's extremely daring title is basically the whole tone of the film because it unfolds as something offensive as opposed to a horror comedy with some raunchy humour thrown in for good measure. Shaun Of The Dead it is not. It has weaker jokes and less wit, offered with a dull and sometimes gut crushingly badly written script. I'll probably get plenty of thumbs down for this however I do believe James Corden has some genuine comedic talent. Him doing the fat guy comedy shtick was the best thing about this film, but it was completely unoriginal and done better in Shaun Of The Dead. I liked it to the extent of a few good jokes and visually breathtaking set pieces, otherwhise in fairness it's not that much good at all. But I did laugh at the gay werewolf gag which was unnecessarily stretched, but honestly quite hilarious. Although it's not saying much, I probably liked it a lot more than most people who saw it. But narratively, it's a failure, and when it comes to the lesbians, even if your okay with the offensiveness that comes with it, you dont get much action.
Directors Cat
Super Reviewer
An occasionally funny horror comedy from the guys in Gavin & Stacey. Not that gory, sexy and most of the time that funny. Has a few good moments but had potential to be a lot better. A disappointment.
In the tradition of Shaun of the Dead and An American Werewolf in London (the two films that this movie draws heavily upon), Lesbian Vampire Killers (AKA Vampire Killers in the U.S.) is a fun horror action comedy without being overly amazing. The ending doesn't live up to the rest of the movie, but the movie has a good pace that just steamrolls on. There's a lot of T&A (naturally), some fun gore (not red for a change) and a lot of silly dialogue to please. It's not particularly witty, per se, but it works for what it is. Believe me, this a far more fun vampire movie than anything adapted from Stephanie Meyer... but then again, most vampire-related movies are better than anything adapted from Stephanie Meyer.
Tim Salmons
Super Reviewer
Lesbian Vampire Killers Quotes
There are no approved quotes yet for this movie.