En Lektion i Kärlek (A Lesson in Love)
(1954)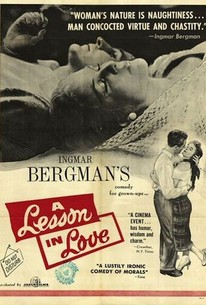 En Lektion i Kärlek (A Lesson in Love) Photos
Movie Info
This early Ingmar Bergman film is a comedic effort from the Swedish master. Told in a string of flashbacks, it stars Gunnar Bjornstrand as David, a gynecologist whose affair with his young patient is discovered by his wife Marianne. As a result of David's infidelity, Marianne too begins an affair.
Rating:
NR
Genre:
Directed By:
Written By:
In Theaters:
Runtime:
Studio:
Criterion Collection
Critic Reviews for En Lektion i Kärlek (A Lesson in Love)
Audience Reviews for En Lektion i Kärlek (A Lesson in Love)
½
I suppose the right category for this movie would be romantic-comedy, but it's done so well by Ingmar Bergman and has so many nice touches, that it seems to be more than that. The premise is that after a gynecologist strays and has an affair with a young patient, his wife to go back to her old lover, and he wants her back. Eva Dahlbeck is great as the wife, and delivers empowering lines like "A woman wants to feel she's a woman - not a wife", and "A man can be immoral and he's only a 'he-man', but a woman who satisfies her instincts is a strumpet." Yvonne Lombard is very sexy as his mistress, and Andersson, who starred the previous year in the title role of 'Summer with Monika' as well as a bombshell in 'Sawdust and Tinsel', displays great range in playing his tomboy daughter who wants an operation to become a man so that she's not "dependent on a man". Gunnar Björnstrand is the gynecologist, and reminded me of Edward Norton, while Åke Grönberg plays their boisterous old friend who she goes back to. The story is cleverly told out of sequence in flashbacks, including Bergman taking his time in the middle of the movie to reveal to us that the woman he's met in a train car is actually his wife. The movie is light and has great dialogue, but at the same time has the touches characteristic of Bergman, and asks some deeper questions. Is 'the marital bed is the death of love', as the man says? Is to 'wallow in physical love to be like baboons', and do affairs burn out, eventually, into boredom? And lastly, as the teenage daughter talks to her grandfather in a nice scene, does God exist, and what does it mean to die? This movie has it all - a beautiful and talented cast, effortless direction, and a great script. Definitely recommended.
Antonius Block
Super Reviewer
Bergman and comedy don't quite go together. Some of his comedies are so naff you almost wince. This film has the odd naff moment - the last 30 seconds being the nadir, but on the whole this is a charming (rather than funny) piece, enjoyable throughout. Bergman casts several of his usual suspects who perform well. There is a great scene on the train between David, Marianne and an uncouth salesman which will stick in the memory. Some of the marriage material is typical, cynical Bergman, but this is Bergman in a light rather than dark mood. This film has its moments and is worth the 90-odd minutes. Not one of his classics and not the place to start if you want to fall for Bergman
Cassandra Maples
Super Reviewer
The best parts are the give-and-take quarrels between Bjornstrand and Dahlbeck (recalling their roles in Secrets of Women). That's where most of the humor lies. The other attempts at comedy aren't very successful, but they have a certain charm to them. At its low points (the goofy music cues, the "okay it's all over now" bit at the end of the wedding fight) it's a little bit stupid, but for the most part the worst you can say is it just isn't all that funny. But it's decent.
Martin Teller
En Lektion i Kärlek (A Lesson in Love) Quotes
There are no approved quotes yet for this movie.