Lessons For an Assassin
(2001)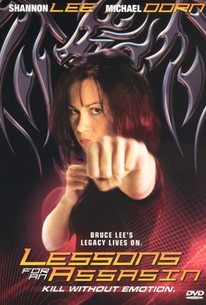 AUDIENCE SCORE
Critic Consensus: No consensus yet.
Lessons For an Assassin Videos
Lessons For an Assassin Photos
Movie Info
Oversexed, drug-dealing thug Gavin Matthews (Robert Vitelli) is abducted by The Corporation, run by ominous executive Quinn (Michael Dorn), and is put through a comprehensive and compulsory training program to become an assassin. Apparently The Corporation objects to how justice is meted out in the courts, so they take punishment into their own hands. Gavin is trained by comely Fiona (Shannon Lee), but when the pair discover what Quinn and his cronies are really up to, they rebel and try to quit. But, of course, no one can quit this Corporation without dying first. But wait -- how did Gavin's dead girlfriend return to the scene? There must be more to this than meets the eye.
Rating:
R
Genre:
Directed By:
Written By:
On DVD:
Runtime:
Studio:
MTI Home Video
Cast
Critic Reviews for Lessons For an Assassin
There are no critic reviews yet for Lessons For an Assassin. Keep checking Rotten Tomatoes for updates!
Audience Reviews for Lessons For an Assassin
½
It's been awhile since I've ventured into the low-budget action flick territory. After watching a number of artsy, classic, and other great kinds of films, Lessons For An Assassin helps to fill a void in my other needs for trashy entertainment as it fit those needs like a glove. I can understand why many others hate this kind of film, but they're the ones missing out on all the fun of watching these kinds of films. The plot follows a former drug dealer named Gavin, who, along with several other people are kidnapped by a company known as "The Corporation" for their skills to be trained as assassins on the basis of vigilante justice. They are given training in hand-to-hand combat, weapons, being psychic (Um...okay?), computer technology, and more. Gavin is the rebel of the group who refuses to listen to instructors, gets into fights with his instructors, destroys things, and even tries to escape which ends in failure. Finally, "The Corporation" becomes annoyed with him and threatens him with death if he doesn't start to comply with them. After this threat and seeing no way out of his prison, Gavin follows his training and becomes a skilled assassin, though he still questions what his employer/captor's motivations really are. When he begins to discover what their motivations are, he and another instructor must do everything in their power to take down "The Corporation." The plot, while it has a lot of interesting ideas, is rendered utterly ridiculous by the low-budget nature that surrounds the film. Characters do many stupid things and rarely act like actual people and the scenarios that play out are at times downright hilarious (Like how overly abusive the people who work for the company are when they beat the shit out of Gavin via low-budget fight scene when he refuses to get out of bed). Rather than having any sort of tangible drama, the whole film becomes an unintentional comedy, especially with how much it tries to take itself seriously. The acting, as expected from this kind of film, is terrible. However, it is terrible in a way that is entertaining and funny to watch. At least it seemed like the actors knew what they were in, as it seemed like they were having fun with their ridiculous characters. Their performances were always a lot of fun to watch because they were having fun with the material and seemed to revel in every ridiculous scenario they were put into. As crappy action film entertainment, Lessons For An Assassin works very well. You've got a lot of cheesy hand-to-hand scenes, awesomely cheesy gun battles near the end of the film, a wise-cracking main character, explosions, some T&A, and more. It's pure giddy crap-tastic entertainment a B-movie fanatic would want for a breezy 84 minutes. There's plenty of hoots to be found in this hilariously awful film. Lessons For An Assassin is no masterpiece and downright terrible in actual quality. But, if you have a fondness for low-budget action films, like me, you'll find some pretty good laughs and overall crappy entertainment here.
Keenan Sullivan
Lessons For an Assassin Quotes
There are no approved quotes yet for this movie.