Leviathan
(2013)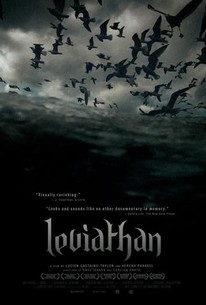 TOMATOMETER
AUDIENCE SCORE
Critic Consensus: It moves to its own inscrutable rhythm, but for filmgoers willing to immerse themselves, Leviathan proves a one-of-a-kind viewing experience.
Movie Info
in the very waters where melville's pequod gave chase to moby dick, leviathan captures the collaborative clash of man, nature, and machine. shot on a dozen cameras - tossed and tethered, passed from fisherman to filmmaker - it is a cosmic portrait of one of mankind's oldest endeavors. (c) Official Site
News & Interviews for Leviathan
Critic Reviews for Leviathan
Audience Reviews for Leviathan
An attempt to be a fly on the wall of a fishing vessel will make you never eat seafood again. It's purpose is unsure and scenes are slightly sickening.
John Ballantine
Super Reviewer
½
To a fault, 'Leviathan' (2013) is a visual tour de force with EXTREMELY prolonged scenes of the deep-sea, severed fish, and seagulls. With that stated, I cannot recommend this film for how repetitive it is. Go watch the trailer because you will not be missing one single intriguing aspect that isn't shown in those three minutes.
Noah Nemeroff
Super Reviewer
½
Leviathan is technically a feature-length documentary, though it is unlike any documentary out there. The film, which reveals itself to be about a fishing vessel over time, lets the image and sound speak for itself without any explanation from a narrator or interviewees. There is no non-diegetic soundtrack, no main characters, and no discernable plot or subject. As such, Leviathan challenges audiences by forcing them to put together the pieces, bit by bit: where are we, and why are we there? It throws audiences into a world of images and sounds that slowly shift from something dark and mysterious to something still dark, yet more familiar. Audiences are immediately disoriented as the film opens at a strange angle (where it is hard to know what is up or down) in complete blackness, a body of water somewhere in frame. The closest things to "characters" during this extended opening segment of the film are chains, which are seen being pulled into and out of a body of water. In extreme close-ups, which are repeated throughout the film for the same effect, audiences get to know the texture of the chains intimately. Given that there is nothing else to make sense out of, each familiar object becomes a godsend, something to cling on to in order to assure that this is in fact our world. If the chains are the actors, than the orchestral score is made up of rushing wind, the crashing waves, and distant birds (a visual motif of freedom throughout the film). Only once it becomes clear that we are indeed at sea and on some sort of vessel, the camera operator moves to his next position, clearly having a job to do. Yet in the black of night, the machinery of this ship looks futuristic or extraterrestrial. When the people communicate, the voices are distorted to sound equally alien, and they are hard to hear over the sound of pipes and pistons. Audiences soon learn that all they can do is give in to the strange, esoteric imagery and hope that something comes of it all. After this jarring opening, the camera movement changes with almost every cut. One moment it is floating in a murky pool on the steel floor, bumping uncomfortably into dead fish, the next it is flying high above the ship on some sort of crane. In one of the most cacophonous scenes, the camera is pulled through the water below. Due to the high speed, the sound of the water morphs into a clicking, growling sound that could easily be mistaken for some sort of otherworldly beast. And the only visual companion to these grotesque, yet natural noises are the patterns of the dark, apathetic waters. High-angles, low-angles, close-ups, and long shots - the film tries to show this boat from every possible view, the familiar and the foreign, the dark and the light. Yet, it ends up being the more familiar images that are the most haunting. In the middle section, with no warning, the film suddenly becomes a blood-drenched holocaust film, the victims being fish, the perpetrators being blue-collar fishermen. From terrifying angles that put viewers right alongside the fish, they see their aquatic brethren ripped apart mercilessly and chaotically by seemingly gigantic humans. The most disturbing image in the entire film is that of manta rays having their two pelvic fins hacked off and then the middle section being thrown on the ground by the camera, still alive, its human-like mouth still moving. Yet while these fish get cut to shreds, when it comes to the editing, the cuts are few; when a new cut occurs, one can expect to spend a good amount of time in that newly introduced environment. The slow pace and lack of editing allows views to explore every detail and texture in a given image. By the end of the film, the layers have been peeled back, so what could have been mistaken for an alien ship at the start concludes as a shockingly clear vision of a fishing boat. While it would be easy to assume from the more shocking images that this film is a condemnation of the fishing industry, it should be noted that there are also scenes of immense beauty and wonder, and even a moment or two of humor when we finally focus on the workers themselves. From the manic camerawork, to the minimal editing, to the complete lack of narration, the film clearly has a more complex goal than simply to get viewers to stop eating fish. The filmmakers are making a statement about how something as big as a boat or as small as a fish can be perceived differently just by looking at it close enough, or from a different angle.
Sam Barnett
Super Reviewer
Leviathan Quotes
There are no approved quotes yet for this movie.