L'Homme qui ment (The Man Who Lies)
(1968)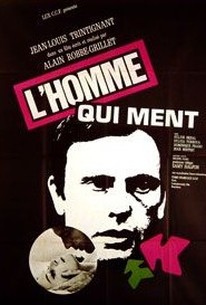 AUDIENCE SCORE
Critic Consensus: No consensus yet.
L'Homme qui ment (The Man Who Lies) Photos
Movie Info
This enigmatic, plodding story concerns a man who may or may not have betrayed a resistance fighter in his hometown during World War II. He has supposedly been shot down by the Nazis and wanders into town. Mourning the death of an unseen comrade, he is taken in by the family of the dead rebel. He engages in a superfluous affair and witnesses the lesbian relationship between the man's sister and a female servant. When passions subside, the family has doubts about the reliability of the man's stories. This avant garde feature leaves the viewer to decide if the downed airman is telling the truth or covering up for his deeds leading to the death of the heroic resistance fighter. ~ Dan Pavlides, Rovi
Rating:
NR
Genre:
Directed By:
Written By:
In Theaters:
On DVD:
Runtime:
Critic Reviews for L'Homme qui ment (The Man Who Lies)
There are no critic reviews yet for L'Homme qui ment (The Man Who Lies). Keep checking Rotten Tomatoes for updates!
Audience Reviews for L'Homme qui ment (The Man Who Lies)
I'm assigning a 3 Star rating more for the cinematic curiosity that is THE MAN WHO LIES. The film itself is quite bad. The plodding and silly surrealism and camera work goes from odd to annoying fairly quickly. However, there are some interesting ideas at play here. Robb-Gillet does not have enough skill to pull it off, but he does get an interesting performance from Jean-Louis Trintignant. Trinignant is the main reason to see this film. Also is an interesting example of how artists managed to create their work by bending it into "fetish/KINK/erotica" genre to secure distribution in the Grindhouse cinemas. Not good, but certainly unique,
Matty Stanfield
½
"The Man who Lies" is all about fantasy and the effect it might have on reality. It starts off with a standard adventure sequence wherein Boris eludes half the German army while dodging bullets and climbing trees. At one point, we assume he has finally had it but then wakes up the next morning, brushes himself off and walks to a town where he not been in a long time, although he is not really sure how long.(To confuse matters further, the fashions are more 60's than 40's.) As also part of his fantasy, Boris greatly resembles Jean-Louis Trintignant in his prime. So, maybe we should not believe everything he says, as Boris seems to be the father of all unreliable narrators. For example, he claims to know Jean Robin(Ivan Mistrik), a legendary resistance fighter, who has been missing for two years. Laura(Zuzana Kocurikova), Sylvia(Sylvie Turbova) and Maria(Sylvie Breal) wait patiently at home for him while playing pin the tail on the donkey in a typical heterosexual male fantasy with sapphic overtones. So, while we get an idea as to what really happened through all the different versions offered, it really does not matter. What we are concerned with here really is the behavior of survivors after the end of a war. A lot of people see this as a time to reinvent themselves, which is where Boris comes in, especially if they were on the wrong side in the first place.
I'm not sure what to make of this. A man wanders into a Polish village occupied by Nazi's, claiming to be a local borne soldier who was thought to be dead. Yet his true identity remains impenetrable, as he constantly invents and reinvents his past. One of the most confusing movies ever.
X. T. C.
L'Homme qui ment (The Man Who Lies) Quotes
There are no approved quotes yet for this movie.