Lianlian fengchen (Dust in the Wind)
(1986)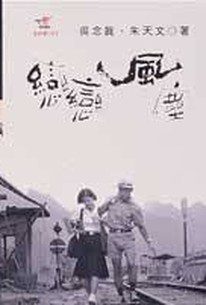 AUDIENCE SCORE
Critic Consensus: No consensus yet.
Movie Info
Master filmmaker Hou Hsiao Hsien directs this wistful story about lost love and lost innocence among Taiwan's working class. Wan (Wang Chien-wen) and Huen (Hsin Shu-feng) are high school sweethearts living in a down-and-out mining community of Jio-fen in Taiwan's backwaters. Too poor to continue their education, the two drop out of school and move to Taipei to find employment. When Wan's father learns of his son's decision, he simply says, "When you are willing to make yourself an ox, there will always be someone with a plow." Huen finds work as a seamstress. Wan becomes a printer's assistant and then a motorcycle delivery boy. The time passes as they work all day, pursue their studies at night school, and spend their scant free time drinking with their friends -- all working similarly menial jobs. One friend is beaten with an iron bar by his abusive boss; another has his finger chopped off in a machine. One by one, these friends are called up for their obligatory two years of military service. One day, while taking Huen shoe shopping, Wan has his bike stolen. Furious and out of a job, Wan wanders around the streets of Taipei until he contracts bronchitis. Huen lovingly nurses him back to health. Then he gets called up for military service. ~ Jonathan Crow, Rovi
Audience Reviews for Lianlian fengchen (Dust in the Wind)
(****): Thumbs Up A well-acted and intriguing film. Another great film from Hou Hsiao-Hsien film.
TTT C
[center][font=Times New Roman][size=4][color=white][img]http://www.xialala.com/images/upload/2007/05/25/232458.jpg[/img][/color][/size][/font][/center] [font=Times New Roman][size=4][color=white]Summary (from IMDB): Ying and Huen are both from the small mining town of Jio-fen. In the city, Ying is an apprentice by day and goes to night school, and Huen works as a helper at a tailors. Everyone thinks they are meant for each other, so do they. They fail to see time and fate are beyond their control.[/color][/size][/font] [center][img]http://bp0.blogger.com/_3mCOm4wxK3M/R6oIROTsrUI/AAAAAAAAAFY/4uANVAzaDYM/s320/dust.jpg[/img][/center] [font=Times New Roman][size=4][color=white]What a great movie. Everything from the amazing opening sequence to the subtle finish is just about perfect. Hou does almost everything I loved about the first third of Three Times here. Yet, obviously, it's sustained throughout the entire movie. Let me start by saying that Hou and cinematographer Pin Bing Lee (hopefully I didn't screw that up) make trains and tunnels look about as fascinating as I've ever seen them here. [img]http://ymdb.forumcircle.com/forumdata/data41/ymdb/images/smiles/th_notworthy.gif[/img] Anywho, the relationship between the two main characters felt unbelievably real, as did their relationships with other characters, such as family. In some ways, this movie seemed like everything Atonement wanted to be story-wise, only this was done much better character-wise.[/color][/size][/font]
Chris Weseloh
½
I liked this one, but as usual with Hou, didn't love it. It took me a while to figure out the characters and their relations to each other (Hou is never very helpful in that regard) but once that became clear I started getting more into it. At least it sort of had a point to it.
Martin Teller
Lianlian fengchen (Dust in the Wind) Quotes
There are no approved quotes yet for this movie.
Discussion Forum
Discuss Lianlian fengchen (Dust in the Wind) on our Movie forum!