Liars All
(2013)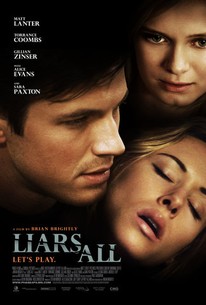 AUDIENCE SCORE
Critic Consensus: No consensus yet.
Movie Info
On New Year's Eve in London, a group of friends play a provocative game that spins out of control and ends in murder. With a killer on the loose, survivors of this catastrophic evening will learn how far some will go to win a game. (c) Phase 4
Rating:
R (for language, drug use, violence and sexual content)
Genre:
Directed By:
Written By:
In Theaters:
On DVD:
Runtime:
Studio:
Phase 4 Films
Critic Reviews for Liars All
There are no critic reviews yet for Liars All. Keep checking Rotten Tomatoes for updates!
Audience Reviews for Liars All
½
The story was not an original concept, but the way the evening's events kept changing with each new witness statement was very intriguing.
Heather Metzger
½
A morose and monotonous thriller, Liars All is pointless dribble. The story follow a London police detective who most uncover how a young woman died during a private New Year's Eve party with a group of her friends. The characters aren't really that interesting and the acting doesn't help any. At times the murder mystery is intriguing, but it's poorly written. Lacking in craft and the talent, Liars All is a shallow film that doesn't tell a very engaging story.
Dann Michalski
Super Reviewer
One line summary: Sour romantic relationships end badly. Three stars of five. Lukewarm all the way. ----------------------------------- An American film set in London, UK. The film starts at a police station where a pregnant detective reviews what went bad at a party. During the interrogations there are many flashbacks. On New Year's Eve, there's a party at a flat in London after some time at a public house. Attendees are: Dennis (soccer, very successful), Billy (soccer, team mate of Dennis, not as successful), Tanya (a waitress), Mike and Katie (American students), Kim and Brenda (friends traveling together), and Missy Dembree (an American studying in London). Early on, we see that Missy did not survive the New Year's Eve game, which was a variation on Truth or Dare. They start with ritual bloodletting (a drop or two), followed by a second ritual of smoking recreational illegal drugs. At this stage, the director has advised me of context, but my probability of liking the film is about 10%. Idiots on drugs and booze, doing Truth or Dare, a version with no prizes, but only penalties? Hm...how can this turn out well? Which characters should I find engaging? Next stop, breaking and entering plus burglary; they film it for the sake of the party. Hardly worth the downside risk. That is where Missy gets shot. More flashbacks. Mike knew Missy in LA, then Missy became attached to Dennis. More of the Truth or Dare. Still more flash backs, with a touch more clarity. Mike loves Missy, Missy loves Dennis, Dennis has left Missy and is engaged to Casey. Missy cannot take this. Mike is discouraged. The Detective has all sorts of motivations for someone causing Missy's death, and different accounts of how it happened. The interrogation-flashback-interrogation cycles continue. The detective finds more nooks and crannies of motivation and fact. How many go to jail? Does anyone get away without charges? -------Scores-------- Cinematography: 7/10 Terrible in the introductory music video; hand-held nonsense. Otherwise competent. Sound: 7/10 OK, though the incidental music seems to just fill time when nothing is happening onscreen. Acting: 5/10 No one was particularly good or bad. All of them portray knee-jerk followers of modern conventions for wastrels with money. If you are looking for a study in drug-using herd animals, here it is. Matt Lanter had the most screen time and the greatest number of lines; fortunately, he was almost competent. Screenplay: 5/10 There are zero characters to root for, zero to despise, zero to embrace. The level of choppiness is too high. Linear exposition would have been more effective.
Ed Collins
Liars All Quotes
There are no approved quotes yet for this movie.