The Libertine
(2006)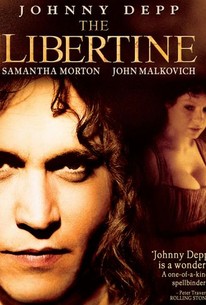 Movie Info
The film follows the second Earl of Rochester's adventures in London, from his passionate romance with a young actress, Elizabeth Barry, to the writing of a scurrilous play which blisteringly and bawdily lampoons the very monarch who commissioned it, Charles II, leading to the Earl's banishment and eventual downfall.
People Who Like this movie also like
News & Interviews for The Libertine
Critic Reviews for The Libertine
Audience Reviews for The Libertine
I waited a year for this movie from Netflix, what a dissapointment. The worst Johnny Depp movie I have ever seen, Filty from start to finish. Not worth the wait or the effort. 1/2 star
Bruce Bruce
Super Reviewer
A squallid period piece mired in the mud of historical accuracy and a meandering direction. Wasting a very good performance from J Depp, Samantha Morton and John Malkovich, the film treds unevenly over the cobblestones of its debauchery - too graphic - yet not shocking, as the "love" scenes often become too long, too artsy, and too pointless. The hedonistic aspect of the film is intriguing, and somewhere within there is a message pondering acts for self versus the selfless act. - I believe that the script would have been better if it had adhered more towards these ponderings instead of concerning itself with minor charactors, historical detours and dramatic non-sequitors. Samantha Morton's charactor comes across as beguiling, and yet we remain unsure of her motivations, as so much appears to get glossed over by a simple "he is my lover" - but what does that mean? What is the context and why the later appearance of nonchalance? Was there something implied in the king's request that she be a spy against Depp that would lead her to detach herself from him? So much could have been mined here. The introduction and conclusion are a nice touch, and the speach before the house of lords a wonderful tour de force by Depp (and almost worth viewing the rest of the film for), but even when the film does it right, ie. said scene in the house of lords, it squanders the dramatic credit by almost throwing away the subsequent meeting between Depp and Malkovich, tossing aside the true theme of the film just as easily as Depp's depraved charactor throws away the respect of his king and the adoration of his followers.
paul sandberg
Super Reviewer
Throughout this movie I kept saying to myself. "underneath the vulgarity there is a good movie with good story." I am still not sure if I was right or not! I really just dont know. Johnny Depps opening Monalogue was spectacular. Very Very well done. And of course, its Johnny Depp so you know the entire performance with be amazing and He did not fail. Now I know that his movie was pretty much HATED by the critics but I was very surprised that Johnny was not nominated for an oscar! He was completely immersted in his character wich, I guess he is in all of his movies, and I really beleive that the Academy should honor him more often then they do.
Morgan Salem
Super Reviewer
The Libertine Quotes
| | |
| --- | --- |
| John Wilmot Second Earl of Rochester: | You will not like me. |
| | |
| --- | --- |
| King Charles II: | Anyone can oppose, it's fun to be against things, but there comes a time when you have to start being for things as well. |
| | |
| --- | --- |
| John Wilmot Second Earl of Rochester: | Ask yourself what you want from the theatre. |
| Elizabeth Berry: | I want the passionate love of my audience. I want when I make a sweep of my arm to carry their hearts away and for when I die for them to sigh for never seeing me again, until the next afternoon. |
| John Wilmot Second Earl of Rochester: | There is your answer - I want to be one with that multitude, I wish to be moved. I cannot feel in life. I must have others do it for me here in the theatre. |
| | |
| --- | --- |
| John Wilmot Second Earl of Rochester: | "In my experience, those who do not like you fall into two categories: The stupid and the envious. The stupid will like you in five years time. The envious, never." |
| John Wilmot Second Earl of Rochester: | In my experience, those who do not like you fall into two categories: The stupid and the envious. The stupid will like you in five years time. The envious, never. |