License to Drive
(1988)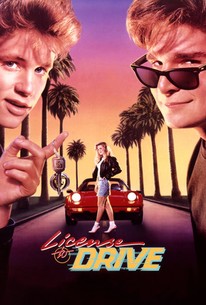 Movie Info
Les (Corey Haim) is embarrassed when he fails his driving test in this routine teen comedy. His buddies are depending on him to provide the wheels for the weekend, but Les is more interested in his Saturday date with Mercedes (Heather Graham). Les secretly steals his grandfather's immaculate 1972 Cadillac for the adventure. The dream date soon turns into a nightmare when Dean (Corey Feldman) bothers Les with camera flashes and cigar smoke, and his sloppy-drunk date dances on the hood of the car with high heels. The car is towed when he parks illegally, and later the teens are chased by revved-up motorheads who challenge him to a race. Carol Kane and Richard Masur play Les' parents. ~ Dan Pavlides, Rovi
People Who Like this movie also like
Critic Reviews for License to Drive
Audience Reviews for License to Drive
Some guys get all the brakes! Good 80's classic movie! License to Drive is a movie about taking chances, though you can probably figure out from beginning to end how the movie is going to go. No less, it's good 80s fun. Les Anderson (Haim) has turned 16 and is desperate to get his driver's license. Over-confident, it is no surprise that he flunks the exam. But he figures no one would notice. So, he lies to his folks and friends about the whole thing, expecting everything will be smooth sailing until he can retake the exam. 'An innocent girl. A harmless drive. What could possibly go wrong?' For sixteen year old Les Anderson, plenty can go wrong when you have a night like his. He's an adolescent American with dreams of getting his hands on his first driver's license, so he can hit the town cruising with his friends Dean and Charles, but ultimately to impress the girl of his dreams, Mercedes Lane. Unfortunately for Les, his worst nightmare hits home hard when she fails his driving exam and his parents put him on probation for trying to hide the truth, so now his chances of being able to drive are squashed badly. However, Mercedes, who has just broken up with her old boyfriend who's a rich snob, is bored and wants to keep the date that she promised with Les and the youngster's heart skips a beat when she calls him up asking to go out for a night on the town. Les knows he's risking big-time punishment, but he decides that if he's gonna go down, he may as well have some fun with the girl of his dreams. When he takes his grandfather's prized Cadillac on his date with Mercedes, hilarity ensues with him, his friends Dean and Charles and his drunken date as they do all they can to get the Caddy home in one piece as comical disaster roars down the fast lane.
If you love the two Coreys, you'll enjoy this movie. It's a fun and exciting little teen comedy. It's very funny and entertaining, and the supporting cast is great, I really liked it.
I like the 80's, boy do I hehe but this is really kinda lame even for that. There's no real point to it really, simply a Corey vehicle with very basic plot, effects and acting. A few nice spots but nothing to shout about, Heather Graham is very cute :)
Phil Hubbs
Super Reviewer
License to Drive Quotes
There are no approved quotes yet for this movie.