Life After Tomorrow
(2006)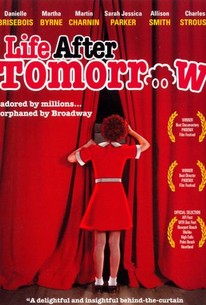 AUDIENCE SCORE
Critic Consensus: No consensus yet.
Life After Tomorrow Videos
Life After Tomorrow Photos
Movie Info
Join filmmakers Gil Cates Jr. and Julie Stevens as they set out to speak with over 40 women who appeared in the hit musical +Annie as young children while simultaneously exploring the benefits and drawbacks of entering into show business at such a tender age. As a child, co-director Stevens portrayed an orphan in both the Broadway production of +Annie and the national tour. Years later, she would set out to see what became of the dozens of women who played orphans in the Broadway production between 1977 and 1983. From their performances in the production to the effect that the hectic schedule had on their childhoods, family lives, and future career prospects, this film offers an intimate look at a major production that helped thousands of children launch their careers in show business. In addition to interviews with +Annie creators Martin Charnin and Charles Strouse, actresses Sarah Jessica Parker and Martha Byrne, recording artist Joanna Pacitti, songwriter Danielle Brisebois, and MSNBC anchor Dara Brown all discuss what it was like to appear as orphans in the beloved, long-running production.
Rating:
PG-13
Genre:
, ,
Directed By:
In Theaters:
On DVD:
Runtime:
Studio:
Critic Reviews for Life After Tomorrow
There are no critic reviews yet for Life After Tomorrow. Keep checking Rotten Tomatoes for updates!
Audience Reviews for Life After Tomorrow
This was a very interesting documentary that explored not only the musical Annie but growing up as a child theater actor. Annie was one of my favorite muscials as a little girl so it was especially intriguing to me.
Katie B
"Life After Tomorrow" is an exceptional, well-edited reality check on the "facts of life" of a child actor. It is interesting that the two most famous Annies -- Andrea McCardle (Broadway) and Aileen Quinn (movie) chose not to appear in this documentary speaks volumes of the pain they must have endured as they grew out of the iconic comic book role. The backstage stories told in the film are very moving and tinged with sadness. The film is quite an eye-opener. Theatre buffs must see it!
Jerry Kane
½
Sometimes, the Sun Doesn't Come Out Once again, in the system twice and I'm going with the IMDB date. I learned how to play the viola in third grade. Mom refused to have beginning violinists in the house, and one of the music teachers in our district suggested viola. This is because violists, especially at that age, are rare, and if all three of us learned to play, that was nine years of violists working their way through the school system guaranteed, at least until high school. This was satisfying to everyone--I don't even know what other elective options there were in junior high, because it was taken for granted that I'd just be in the orchestra. Which suited me fine; I really did love thinking of myself as a musician, which I don't anymore. However, yeah, stage moms. To a lesser extent, I think, but when I was in the Pasadena Youth Symphony Orchestra, I don't think all of us wanted to be there. Though I think for a lot of us, our parents would rather have not hauled us to rehearsal every Tuesday. Certainly Tim Harris, who came in from Burbank, took some doing for getting there and back. It depends a lot on the parent and the kid. Similarly, not all of these women were forced into it. However, this is the story of various women who, as children, played orphans onstage. Or, a couple of them, in the movie. There was perhaps a five-year window where they could do it. At maybe seven, they could walk out there and be orphans, possibly including that most famous of all, and around about twelve, they started being too tall or too busty or both, and off they went, kicked out into the real world with no preparation. There are no stories of drug addiction or suicide, though I've no doubt they could have found them had they dug a little deeper. However, there's a horrifying image of the girls at Studio 54, which ought to be a violation of some law or another. And, yes, the inevitable stories of stage mothers, at least one of whom was banned from backstage. There are stories of parents' marriages which ended during the show; it is acknowledged that a lot of those were probably not on the sturdiest ground going in, though. Honestly? I really dislike [i]Annie[/i]. I don't think the songs are good, and I think it's trying to recapture a saccharine, sanitized image of an era that was really a lot less charming. I can understand why, of course; Annie was originally one of those escapist things which were so big in the '30s, when people really needed the escapism. And the '70s had their difficulties, too, so bringing it back must have been a way of trying to recapture an artificial cheer. However, the combination of bad songs and bad history has always bothered me. Some friends of mine were in a production in junior high, and that was funny--especially my friend playing Daddy Warbucks, bald cap and all. Which when you're thirteen, yeah. I know for a fact that he didn't look at his mother during the performance, because I was sitting next to her. If we'd made eye contact, it would have been all over for that show. Several of the women--I am fighting very hard not to call them girls--say they would have liked therapy to see them out of the show. They weren't prepared. Especially for the Annies. They went from being these huge stars to being basically no one. Some of them kept working--one of these women is Sarah Jessica Parker--but a lot of them were at loose ends. They talk about being kind of lost on leaving the show. They certainly weren't prepared for high school. And, yeah, two of the ones not interviewed for this movie were Alyssa Milano and Molly Ringwald. But several of them are left with only a wish to return to Broadway--and a fear that they'll turn out to be That Mother to their own children. They seem okay now, all of them, but on the other hand, they only interviewed a couple of dozen women, and there were far more than that over the original run of the show and into the movie. I find myself more curious about those stories, but that may be my ordinary morbid thought processes than actual concern for the others. And by "may be," I mean "probably is." But I do find it interesting what happens to those who were famous at an early age. As I pointed out last night, we can't all be Jodie Foster, who made five movies in 1976, including one bona fide masterpiece for which she received, at the ripe old age of fourteen, for which she received her first Oscar nomination. About the time the first of these women were stepping onto the stage as orphans for the first time, in fact. Kurt Russell did pretty well for himself, though of course not as well as Jodie Foster. Some successfully move behind the camera, or of course backstage, and do pretty well there. I can't now find which one, but I hear one of the [i]You Can't Do That on Television[/i] kids is producing Canadian TV. Several of them are still acting, too, and of course there's Alanis. There's also no shame in the women who have gone on to private lives not involving show business in any way, of course. In some ways, I admire that even more. It's certainly better than beating your head against the stone wall of Hollywood. Or Broadway.
Edith Nelson
Life After Tomorrow Quotes
There are no approved quotes yet for this movie.
Discussion Forum
Discuss Life After Tomorrow on our Movie forum!