Life Partner
(2009)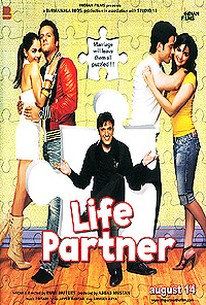 AUDIENCE SCORE
Critic Consensus: No consensus yet.
Movie Info
Divorce lawyer Jeet (Govinda) vows never to wed as Karan and Sanjana ponder marriage and doubtful Bhavesh considers tying the knot with his life partner Prachi. ~ Jason Buchanan, Rovi
Critic Reviews for Life Partner
There are no critic reviews yet for Life Partner. Keep checking Rotten Tomatoes for updates!
Audience Reviews for Life Partner
There are different types of comedies. What the audience has been subjected to for over a year now has been the inane slapstick comedy that causes irritation, instead of evoking laughter. Subtle humor has been the hallmark of Kishore Kumar, Amol Palekar and Vinay Pathak's films. Then there are those comedies which may be witty, yet silly and genuinely funny at the same time. If your taste in such comedy could devour Partner and No Entry among recent examples, then acclaimed writer Rumi Jaffrey's 'Life Partner' will tickle your funny bone while also providing you with some rational drama that often jumps to melodramatic levels. Nevertheless, the film is better than one would expect….. Karan (Fardeen Khan) plays the lover boy whose love marriage turns him into a house-man of sorts, Bhavesh (Tusshar Kapoor) plays the orthodox Gujju who will abide by the archaic customs established by his conventional father (Darshan Jariwala) while Jeet (Govinda) plays a relentless divorce lawyer to whom marriage is the biggest mistake that one can make. In a turn of events, Karan marries his spoilt rich girlfriend, whose father's negligence in training her led to her disastrous experiments in the household. Bhavesh goes to Gujarat to find a suitable bride but ends up marrying his father's childhood friend's daughter Prachi and Jeet disappears from the screen momentarily. Genelia's disasters at home and excessive indulgence with inactivity frustrate Karan who is working hard to maintain their lifestyle. Prachi's father (Vijay Gokhale) is an open-minded rich Gujarati businessman who is deeply rooted to the culture but respects the independence and choices of his daughter. His principles are in direct conflict with those of Bhavesh's father and it leads to some realistic and likeable scenes. While the film doesn't clearly take sides for or against marriage per se, it is Govinda's witty dialogue that makes you want to do so. The film is well written by Rumi Jaffrey and he successfully breaks away from the stereotypes of inane slapstick comedies to give us something more to reflect upon. The screenplay and editing truly hammer the film but the appropriate usage of witty dialogues draw correct emphasis on situations rather than those double meaning retarded jokes we have been subjected to. Pritam's musical score consists of a garba melody, Aage Aage that reminds us of some hit folk song and Kouke koyaliya which has been rendered in such a horrifying manner by Shreya Ghoshal that it bec0mes enjoyable for a while…. Only for a while. Govinda has not had been able to replicate Partner's success over the past couple of years but when it comes to a comic interpretation of society's stresses, there is hardly a better actor for Jeet's role. His performance comes with his trademark style of hilarious expressions, distinct dialogue delivery, one-of-a-kind dancing and exemplary comic timing that elevates a funny dialogue to a higher level. Fardeen Khan gives one of his best performances in the type of role that he is becoming increasingly comfortable with. Tusshar does not give one much to write about but he does justice to his character and he takes the joke on his sister and father in good humor! Anupam Kher and Vijay Gokhale are maestros in their business and therefore, as reliable as always. Among the ladies, Prachi Desai stands out with her convincing performance as a modern housewife yearning to break apart from the strange traditions that threaten to destroy her married life. While Life Partner may not be the best comedy of all time but surely, it is, of recent times. Worth a watch to rid the mind of all the hyped concoctions of the so called 'new cinema' and totally unlike many 'leave the brains at home' type Govinda movies that we have seen before. - 6.52 on a scale of 1-10.
KUNAL KHANDWALA
OMq!!!!!!!!!!!!!!!!!!!!!!!!! love dis movie it waz madddddddddddddddddddddddddddddddddddddd nice nd funnii.i luv Fardeen khan.nd OMq i luv prachi she act maddddddddddddd nice.i luv tht song poorza poorza wid amirt rao.i luv her maddddddddddddddddddddddddddddd much nd she can dance madddddddddddddddd nice 2.she look maddddddddddddddddddddddddddddddddddd nice 2
shaliza wahab
½
I liked it actually. It was way better than Kaminey. Though the story was yet another Govinda style - fast and shouting dialogue delivery. But it was a good time pass.
Anurag Bansal
Life Partner Quotes
There are no approved quotes yet for this movie.
Discussion Forum
Discuss Life Partner on our Movie forum!