Life & Crimes of William Palmer
(1998)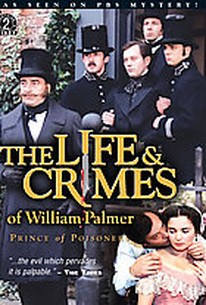 AUDIENCE SCORE
Critic Consensus: No consensus yet.
Movie Info
Rating:
NR
Genre:
Directed By:
Written By:
On DVD:
Runtime:
Critic Reviews for Life & Crimes of William Palmer
All Critics (1) | Fresh (1) | Rotten (0)
... certainly enjoyable enough to watch if you're a fan of historical dramas and/or British television.
Audience Reviews for Life & Crimes of William Palmer
Workman-Like Telling of a Dark and Sordid Tale It should come as no surprise that I have known the evil Doctor William Palmer (Keith Allen) of old. That thin, sensationalistic little book about poisoners which I borrowed from Caitlin several times and since purchased for myself talked about him. Therefore, nothing really came as a surprise to me. I had him confused with another murderous doctor whose case appears in that same book (I don't remember his name, and I certainly don't know where the book is right now) in one sense. That doctor had a servant with whom he was believed to have had an affair as well; his servant died in a "mysterious" fire. The fact that I was thinking about someone else was kind of surprising. However, as is the case in "based on a true story," this just meant that I was watching to see how it was done, not if it was done. Palmer was a doctor in the town of Rugeley in Staffordshire, England. He had married a pretty young wife, Ann Thornton (Jayne Ashbourne). She was the illegitimate but acknowledged daughter of a wealthy man. Her mother, Mary (Linda Bassett), was a drunken and abusive woman who didn't trust Palmer as far as she could throw a gin bottle. Of course, she was quite right. He was a gambler and bad at it, and he murdered her in the hopes that she would leave money to her daughter so he could pay his debts. Only it turns out that the whole "illegitimate" thing was important, and the money was not forthcoming. Annie kept getting pregnant, and Palmer held her in her grief as each of four children died, leaving only one. (In fact, in the movie, I'm pretty sure all their children die, but one survived into the '20s.) And then Annie died. Palmer had an affair with Eliza Tharm (Chloe Newsome), originally hired to look after Annie and the children. Shortly after having a life insurance policy taken out with William Palmer listed as the beneficiary, Walter Palmer (Matthew Devitt) died. The fact is, everyone Palmer murdered was killed for money. Even the infant children, who were of course uninsured. Killing them, of course, was cheaper than supporting them. It's kind of a wonder that he [i]didn't[/i] kill Eliza. Especially when she first became pregnant. He was convicted of killing John Parsons Cook (Richard Coyle), his partner in horse-racing enterprises. Cook had a rich stepfather, William Vernon Stephens (Stephen Moore), and he wasn't willing to just believe his stepson had just died, for all he considered the fellow a wastrel and had cut him off almost entirely. (Palmer forged Cook's signature on all sorts of paperwork to do with securing loans.) He still cared about his stepson, certainly enough to find out if Palmer had murdered him. The film implies that the insurance company, which wouldn't pay out on Walter on the grounds that it was too soon after the death of Annie and they shouldn't have insured Walter anyway (certainly true), would have insisted on an inquest had he seriously pursued collecting on the policy. Actually, there are several places in the film where various people come off as more than a little seedy. It isn't that I have a problem with Palmer's relationship with Eliza, at least not the bits of it after Annie died, but it was shocking at the time, and yet of course it was Eliza who suffered, not Palmer. Upon further reflection, it seems William Brookes Palmer (I'm not sure) must have survived in the movie, for though I don't remember seeing it, Eliza's own son, Alfred, died on or about the same day as Cook. Since Palmer's mother (Judy Cornwell)--whose name Palmer also forged--called a boy inside the gate at the end of the movie, and taking a brief look at the chronology, that must have been the older boy. Anyway. There was some whispering about how Alfred was born pretty much exactly nine months after Annie's death, but it's almost certain that Palmer's practice didn't suffer more over that than it did over the fact that he neglected it in exchange for his gambling. No word I can think of sums up Palmer better than "evil." He killed people for profit. It seems improbable that he did not kill more people than those officially suspected. The film makes it pretty clear that, so far as they are concerned, there's one simple explanation as to why five of six Palmer children died before their first birthday. Annie tries valiantly to protect John, her youngest. She tries to keep anyone else from touching him. However, when she falls asleep, Palmer is at last allowed to hold his son. And the film shows us dipping his finger in something then putting his finger in his son's mouth. Did the real-life Palmer really kill those five children? All things considered, it seems likely. It certainly isn't beyond the realm of possibility that those children died natural deaths; it was, after all, the 1850s. Annie's death wasn't deemed suspicious at first because she died in the middle of a cholera epidemic. Given their station in life, though, the natural cause is the less likely.
Edith Nelson
Discussion Forum
Discuss Life & Crimes of William Palmer on our Movie forum!