A Life Less Ordinary
(1997)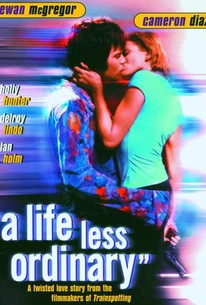 A Life Less Ordinary Photos
Movie Info
The acclaimed Trainspotting trio (director Danny Boyle, producer Andrew Macdonald, scripter John Hodge) reunited for this update of '30s screwball comedies and '40s fantasies, such as Here Comes Mr. Jordan(1941), Angel on My Shoulder(1946), Down to Earth(1947), and the 1946 Stairway to Heaven (co-directed by Macdonald's grandfather, Emeric Pressburger). Tossed together for $12 million, the result is a combination salad, a surreal salmagundi with an added animated sequence for lagniappe. In Heaven, Gabriel (Dan Hedaya) sends angels O'Reilly (Holly Hunter) and Jackson (Delroy Lindo) down to Earth to make two people fall in love. If the angels fail, they must remain on Earth. The target couple: well-to-do Celine (Cameron Diaz) and impoverished, aspiring novelist Robert (Ewan McGregor), a janitor at the corporation owned by her wealthy father, Naville (Ian Holm). Robert loses his job, kidnaps Celine, and the two retreat to a mountain hideout where they discuss splitting the ransom. O'Reilly and Jackson plan to make Robert and Celine love each other by putting them in jeopardy, so the two angels get hired on by Naville as bounty hunters. Although Robert and Celine argue, they also sing and dance together at a local karaoke bar, a scene evocative of both Dennis Potter's Karaoke and the memorable karaoke performance by Cameron Diaz in My Best Friend's Wedding. The angels make few gains, but when Jackson is on the brink of killing Robert, Celine comes to his rescue. Naville cancels Celine's credit card, so she robs a bank. Robert is shot during the robbery, and Celine has dentist Elliot (Stanley Tucci) remove the bullet. Robert awakens, finds the two together, and knocks out Elliot, prompting an argument that leads Celine and Robert to separate. Plagued by their own problems, the angels kidnap Celine themselves, and as complications mount, Gabriel eventually has God intervene. Filmed in Utah, although Hodge originally planned the story to take place in France and England. ~ Bhob Stewart, Rovi
People Who Like this movie also like
News & Interviews for A Life Less Ordinary
Critic Reviews for A Life Less Ordinary
Audience Reviews for A Life Less Ordinary
½
Not charming enough to completely make its celestial plot work and a roughly hewn script in general, Boyle's 'A Life Less Ordinary' is still helped along by a good performance from McGregor and an original idea of a film, even if it's not completely executed well.
Kase Vollebregt
Super Reviewer
½
This may be harsh to another's opinion, but this was a giant letdown in so many ways. Director Danny Boyle, who has thrilled with such enigmatic films as Trainspotting, 28 Days Later, and Shallow Grave, decided to make a film that tries to be a plethora of things and fails at all of them. Billed as a comedy, I find none of this humorous, eccentric at best and a general misfire in all. The only hint that this was a Danny Boyle films lies in the strange sequence changes, the odd surrealism, and the presence of his favorite actor to work with Ewan McGregor. It's obvious that this was supposed to be quirky cute with a hindrance of thriller, but it comes off stagnant and clichéd throughout. The agents or angels from heaven are the oddest placement within the storyline as they meander through, being wretched and saying eerily prescient things to, mostly, themselves. I liked their give and take, their queer sounding dialogue, but they needn't have been in the film at all. The entire angle of heavenly intervention and fate would have rung true if the stakes weren't so high. Why did they need this impossible couple to get together, and why were there a shortage of happy couples in the world? There are just as many happy people as sad (at least I hope that's true.) Beside that disgustingly clichéd decision there is the romantic entanglements between kidnapper Robert (McGregor) and Celine (Diaz). It would have been excusable if the two people that the film is actually based around were engaging, funny, lighthearted, even cute and cuddly in some respects. There is just zero chemistry between our two leads. Celine is supposed to be a broad with a penchant for slipping into the role of femme fatale, when really she's a lost, pandering nothing of a character, whose motives are at the whim of the plot. Robert is boring and slow, and is only existent to be a romantic lead, clumsy and bumbling as well as poor. The supporting cast was decent, but otherwise I found nothing redeeming in this other than seeing how Danny Boyle progressed as a director.
Spencer S.
Super Reviewer
MisterYoda ?
Super Reviewer
A Life Less Ordinary Quotes
| | |
| --- | --- |
| Celine: | How much are you asking for? |
| Robert: | Half a million. |
| Celine: | Half a million dollars is not a lot of money for a woman like me! |
| Robert: | I didn't mean it as a reflection of you as an individual! |
Discussion Forum
Discuss A Life Less Ordinary on our Movie forum!