The Life of Oharu (Saikaku ichidai onna)
(1952)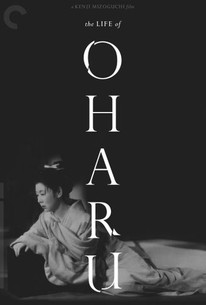 The Life of Oharu (Saikaku ichidai onna) Photos
Movie Info
Life of Oharu features Kinuyo Tanaka in the title role. Oharu is a middle-aged prostitute in 17th century Japan. As she prays before a statue of Buddha, Oharu reviews her past. Her road to degradation began when, as a teenager, she disgraced her family by falling in love with a samurai (Toshiro Mifune). Oharu became the mistress of a prince, who cast her off after she bore his son. She was then sold into prostitution by her father, and thus began a catch-as-catch-can existence alternating between brief happiness with those she genuinely loved and servitude to those she despised. A potential happy ending, reuniting her with her royal son, is dashed by the much-maligned Oharu herself, who opts for the life of a beggar. Directed by Kenji Mizoguchi, a lifelong advocate of equitable treatment for Japanese women, Life of Oharu was adapted from a novel by Saikaku Ibara.
Critic Reviews for The Life of Oharu (Saikaku ichidai onna)
Audience Reviews for The Life of Oharu (Saikaku ichidai onna)
Cripes. Can't anything go right for this woman. Here we have the rags to riches to rags to rags to riches to rags to rags story of poor Oharu who just can't catch a break. Great cinema and a very memorable performance from Kinuyo Tanaka.
John Ballantine
Super Reviewer
½
After recently seeing "Sansho the Bailiff" and the spectacular "Ugetsu," I was disappointed with Mizoguchi's "The Life of Oharu." Elegantly made but tedious, it's an overlong, episodic tale of a good-hearted woman who is born into privilege but eventually becomes a common prostitute (alas, not even a successful one). The film's stilted, melodramatic structure just sends her lurching from one living situation to another, while inevitably turning every promising development tragic. What's more, the lead actress doesn't seem pretty enough for the role -- was she really the only woman worthy of bearing a royal child? The filmmaking is much more impressive than the script.
Eric Broome
Super Reviewer
[font=Century Gothic]In "The Life of Oharu," Oharu(Kinuyo Tanaka) is a fifty-year old prostitute of noble birth who once upon a time lived at the Imperial Court. It was there that a lowly young retainer, Katsunosuke(Toshiro Mifune), fell in love with her. At first, Oharu resisted due to societal pressures, but eventually gave in. One day, they were accidentally discovered at an inn by the authorities. For the crime of associating with someone of low birth, Oharu and her parents were banished from Kyoto. Katsunosuke suffered an even worse fate by beheading. His last words were a message to Oharu, advising her to marry for true love.[/font] [font=Century Gothic][/font] [font=Century Gothic]Directed by Kenji Mizoguchi, "The Life of Oharu" is a quietly devastating portrayal of a deeply hypocritical society. Everybody who condemns Oharu for her past actions is also partially responsible for her downfall. It is strange how money is so important in a society that prizes status so much. And the movie is also a timely reminder of how all of us in this day and age are so close to falling off the ledge that we are living on.[/font]
The Life of Oharu (Saikaku ichidai onna) Quotes
There are no approved quotes yet for this movie.