Life of the Party
(2018)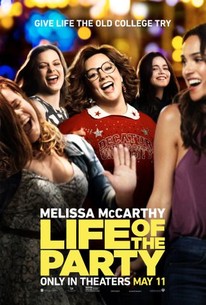 TOMATOMETER
AUDIENCE SCORE
Critic Consensus: Life of the Party's good-natured humor and abundance of onscreen talent aren't enough to make up for jumbled direction and a script that misses far more often than it hits.
Movie Info
When her husband suddenly dumps her, longtime dedicated housewife Deanna (McCarthy) turns regret into re-set by going back to college...landing in the same class and school as her daughter, who's not entirely sold on the idea. Plunging headlong into the campus experience, the increasingly outspoken Deanna-now Dee Rock-embraces freedom, fun and frat boys on her own terms, finding her true self in a senior year no one ever expected.
News & Interviews for Life of the Party
Critic Reviews for Life of the Party
Audience Reviews for Life of the Party
½
The third time's a charm for writer/director Ben Falcone and his wife/collaborator Melissa McCarthy. After making the abysmal Tammy together and the more competent if not still narratively flawed The Boss, the husband/wife creative team have finally delivered a movie that has not just a fun enough comedic presence, but characters that really click and who are put in situations that we can't wait to see them thrive or hysterically try to survive in. Low expectations may have played a role, but from the get-go we are aware of who McCarthy's Deanna is; we've met someone like her in our own lives. Her sweaters are beyond glorious. The supporting cast of Gillian Jacobs as Coma Girl, Debby Ryan as the token mean girl, Jessie Ennis as this completely weird, but totally endearing fellow sorority sister to Deanna's daughter, Maddie (Molly Gordon), are each fantastic in their own well-defined way. That's not mentioning SNL's Heidi Gardner as Deanna's agoraphobic new roommate, Chris Parnell as a corny archaeology professor, Matt Walsh as the tool bag ex-husband and Julie Bowen as his new bride-to-be who are each provided their moments to shine. Think that's all? Nope. Maya Rudolph steals every scene she's in, Stephen Root and Jacki Weaver are adorably clueless as Deanna's parents, and Luke Benward who initially seems he will serve no purpose other than eye candy turns in a strong comedic turn and whose role in the story sets up one of the best and most surprising scenes the movie has to offer. The "80's party" and oral presentation scenes solidify just how much fun this movie is to experience if you're not already on board with everything going on by the time we get into these sequences, but even better is the fat Life of the Party is consistently hilarious. I can't wait to watch this again and share it with more people.
Philip Price
Super Reviewer
½
Best pairing of McCarthy and husband Falcone in a sweet- natured funny comedy that highlights her talents. One plot mechanism almost knocks it off track but it recovers for a sensible ending. A enjoyable film just to entertain! 05-13-2018
Christopher Oakley
Super Reviewer
½
Just in time for Mother's Day weekend comes two eminently bland, safe, and unmemorable movies that generally waste their female stars. Melissa McCarthy has proven herself one of the most funny and dynamic performers in comedy, but Life of the Party is a listless and groan-inducing back-to-school comedy that feels tonally off, adopting the persona of its tacky, talky, and awkward middle-aged mother. You would think the premise would lead to plenty of R-rated shenanigans, but instead the film adopts a very sedate PG-13 atmosphere, dulling the wild collegiate experience into something so predictable and safe as to be completely inoffensive. It feels like a caricature reminiscent of a feature-length rendition of a Saved by the Bell: The College Years. McCarthy falls back on tired, corny jokes that don't attempt to be anything else, and the supporting cast is left to gasp and grasp for anything to spark laughs (special credit Gillian Jacobs for doing everything possible as "coma girl"). McCarthy is best when given room to improvise and discover interesting odd angles for jokes, but she also needs a stronger comedic vision, and that's not going to come from husband/co-writer/director Ben Falcone (Tammy). It feels like they had a general outline for a comedy and, in grand collegiate tradition, pulled an all-nighter and sloppily finished a serviceable draft. I chuckled about four times, mostly involving an exuberant Maya Rudolph and the one clever structural payoff revolving around a much younger fraternal hookup. Mostly, Life of the Party lacks a sense of stakes, credibility, surprises, development, and laughs, though the middle-aged mothers in my preview screening lapped it up, so take my opinion with a grain of salt if the trailer seemed moderately appealing for you. Nate's Grade: C-
Nate Zoebl
Super Reviewer
Life of the Party Quotes
There are no approved quotes yet for this movie.