Life the Way It Is
(1978)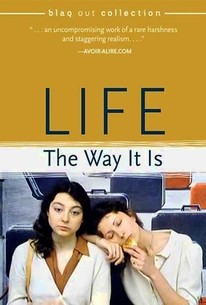 AUDIENCE SCORE
Critic Consensus: No consensus yet.
Movie Info
As a protégé of New Wave giant Eric Rohmer, Jean-Claude Brisseau sought, from the very beginning of his career, to explore sociocultural issues in a head-on, unflinching manner that never shied away from sensitive or uncomfortable details. Brisseau's feature debut, the 1978 La vie comme ça, was shot on 16mm for French television and thus relies on a gritty, unpolished aesthetic. Topically, it plunges into women's rights and labor concerns and thus anticipates the following year's Norma Rae, but incorporates none of that outing's soft-pedaling of issues or sentimentalizing. Maria-Luisa Garcia stars as Agnes Tessier, a young woman who leaves her school to work in a ghetto-set chemical factory with her girlfriend Florence; once there, she runs headfirst into such calamities as unsafe and unsanitary working conditions, sexual harassment, and nasty employers. Never one to take such indignities sitting down, Agnes signs on as the factory's chief union representative and vows to fight valiantly for improved conditions, exuding a level of unparalleled anger on behalf of the female working class. ~ Nathan Southern, Rovi
Critic Reviews for Life the Way It Is
There are no critic reviews yet for Life the Way It Is. Keep checking Rotten Tomatoes for updates!
Audience Reviews for Life the Way It Is
½
Jean-Claude Brisseau's first film, "La vie comme ça", is a radical view on working women (women's rights, sexual harassment) and on the violence in the banlieue parisien in the end of 70's caused by working-class conditions and a lack of better perspectives. There aren't movie theaters, there aren't storefronts too take a look at. There are no streets. That's what Florence says when her dad invites her and Agnes to take a walk around in the neighborhood they are living in. Similar reality can be found in any suburb in any country, but all that violence seems to be beyond any limits. Of course there's a sort of black humor in these scenes, but were things really like that? Young people killing to prove themselves, not even afraid of being caught? The lost of humanity, well shown when neighbors look the body of a suicide woman, is disturbing. Social problems, life in concrete jungles, its consequences. "Life The Way It Is'' aesthetically resembles to Eric Rohmer's films, but Brisseau - discovered by Rohmer, one of his favorite filmmakers - has a more tragic view of life. In a Woody Allen's vision (Melinda and Melinda), Rohmer would be the playwright Sy with his comic tale and Brisseau would be Max, but really tragic and any melodramatic.
Rubia Carolina
Super Reviewer
Life the Way It Is Quotes
There are no approved quotes yet for this movie.