Life Without Principle (Dyut Meng Gam)
(2011)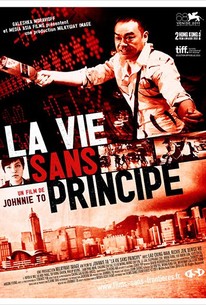 AUDIENCE SCORE
Critic Consensus: No consensus yet.
Life Without Principle (Dyut Meng Gam) Photos
Movie Info
A handful of characters in Hong Kong find themselves caught up in the fallout of a global economic meltdown in this drama from director Johnnie To. Cheung Jin-fong (Richie Jen) is a police detective whose wife Connie (Myolie Wu) has her heart set on buying an expensive condominium; she's convinced it's a shrewd investment, but he's not so sure. Teresa (Denise Ho) works at a bank and has been ordered to boost her sales of investment products if she wants to keep her job, and she finds herself pitching risky financial schemes to people who are not in a position to lose their money. And after low-level mobsters Panther (Lau Ching-wan) and Lung (Philip Keung) lose a large sum of money in a loan sharking scheme gone wrong, their pal Yuen (Lo Hoi-pang) agrees to lend them $10 million, but a mishap at the band causes half the money to go missing, and the crooks are understandably eager to find it. These characters find their lives interacting in unexpected ways after an economic crisis in Greece causes the European markets to tumble, with Hong Kong's financial structure seemingly poised to follow. Duo Mingjin (aka Life Without Principle) received its North American premiere at the 2011 Toronto International Film Festival. ~ Mark Deming, Rovi
Rating:
NR
Genre:
, ,
Directed By:
Written By:
On DVD:
Runtime:
Studio:
Indomina Releasing
Critic Reviews for Life Without Principle (Dyut Meng Gam)
All Critics (2) | Top Critics (1) | Fresh (2) | Rotten (0)
[To] wants to get us thinking about morality, and our survival instinct, and what's really important in life - conversation starters with value the world over.
You might be surprised at who bends, breaks, or in some cases upholds morals in this dramatic comedy of human greed.
Audience Reviews for Life Without Principle (Dyut Meng Gam)
Meditations in a financial crisis... It doesn't matter who you are or where you come from, when the economy of Greece collapsed, you were affected. In Johnnie To's film, "Life Without Principle," we are shown the fictional story of how the collapse ruined and often corrupted the lives of interrelated people in Hong Kong. This film made the shortlist for "Best Foreign Film" at the Oscars last year, but unfortunately missed the cut. In the film, we are first introduced to a police officer who is called into investigate a dead body. We shortly find that he has a wife who is desperate to find a posh place for them to live together. He is dedicated to his job and ignores his wife's suggestions as she is concerned about their future. The high rise apartment of her choice is priced in the millions and she decides to take out a sub-prime loan (mortgage) at her local bank to cover the expenses. Her accountant is a beautiful woman overwhelmed by the responsibilities of her job. Not only is she not good at it, you can tell by the look on her face that it's destroying her moral center. She must sucker people into taking risky investments in order to beat her co-worker's monthly quotas and ultimately keep her job. She gets rejected over the phone by numerous clients because her pitch lacks any real conviction. She even tries to convince a flirtatious loan shark in investing, but he's steps ahead of her and knows the bank will only end up stealing his money. The loan shark, in sharp contrast, has many clients and is very good at his job. He is also ugly on the inside and out. He asks the accountant for five million dollars-- stored in the bank--which a client needs for his own protection. The shark is revealed to have a hand in the local mob and often bails their members out of trouble. He tacks on high interest fees and makes lots of money off them. With the five million in hand, he goes to his car, and the account later finds him dead and bloodied. After this, the film flashes backward and explores the sharks ties to a specific brotherhood. The brotherhood holds special gatherings in local restaurants where we meet a kindhearted and loyal gangster who is trying to do right by three men: The first, his boss, trusts him greatly not to embezzle the brotherhood's money. The second, the boss' relative, relies on him to keep him out of jail. The third, a financial consultant who lands in hot water when the economy goes to shit, and needs his resources. As the film flashes forwards to the present, we begin to see how and why all of their stories intertwine. The global economy is collapsing and many people have adopted a "natural selection" mentality in order to survive. Our characters all want something and as the economy collapses, they are all the more desperate to get it. How far they go is an amazing spectacle to witness. The moral of "Life Without Principle" is an important one and Johnnie To does well at conveying it through the fates of the film's characters. To is trying to tell us that in the end, there must be more important things than money. Our lives, our moral values, and our loved ones are the things that should be cherished, and we at times, must do away with inherit greed because it will ruin us. Characters die in the film because greed consumes their every decision. The characters who make it out are able to look themselves in the mirror and see the brighter sides of life. To, in a fairly subdued crime thriller, really makes this film work thanks to a brilliant script. He takes the time to develop the story, the characters, their moral viewpoints of the world and why their important to the audience. To isn't afraid to punish his characters and only rewards them if they can see past their often fruitless quests for greed. This is To's most important and unique film to date, and it has a strong social message we all can adhere to. Grade: B+
Christopher Powell
½
This is a pretty damn good and it's certainly a very timely film dealing with the European market collapse that then trickles down to affect Hong Kong too. I think the movie does a great job at incorporating this very real event into this story and the stories interconnect in a believable and intelligent manner. The cast is very good as well and the story is strong. I think it covers a lot of moral issues and what a person would do in the same situation and it deals with them, again, in an intelligent manner. Johnnie To's direction has always been great, so no problem there. Really it's just a very good film about a very interesting subject, pulled off exceptionally well. I think there are some pacing problems but, for the most part, this is a damn good film.
Jesse Ortega
Super Reviewer
In Hong Kong, a bank teller reluctantly financial adviser, a career criminal, and a police inspector attempt to weather, navigate, survive, and maybe even benefit from a crisis in the financial markets. A well made "street level" experience that would make a fine double feature with the penthouse level "Margin Call".
Michael Harbour
Life Without Principle (Dyut Meng Gam) Quotes
There are no approved quotes yet for this movie.