Like a Dragon
(2007)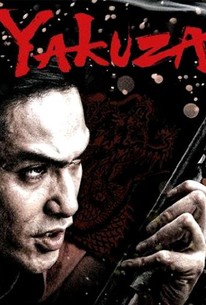 AUDIENCE SCORE
Critic Consensus: No consensus yet.
Movie Info
Cult Japanese director Takashi Miike draws inspiration from the popular !Playstation 2 title *Yakuza for this unhinged tale of underworld violence in Tokyo starring Goro Kishitani and Kazuki Kitamura. It's summertime in Tokyo, and as the temperature rises, two undercover cops stake out a high-profile bank robbery while complaining about the air conditioning. When the masked gunmen make their way into the vault only to find that the Tojo gang's ten-million-yen deposit has mysteriously vanished, an already complicated situation gradually starts to spiral out of control. Meanwhile, in another part of town, psychotic yakuza Goro Majima (Kishitani) strikes out on his own to pay a visit to rival gang leader Kazuma Kiryu (Kitamura) and track down the missing mother of adorable youngster Haruka (Natsuo). It seems that Haruka's mother has some valuable information, and Majima is determined to find her at any cost. Now, as Majima makes his way through the neon-lit streets of Tokyo, Satoru (Shun Shioya) and his girlfriend, Yui (Saeko), embark on a bold robbery spree, and South Korean hitman Park (Yoo Gong) prepares to locate and terminate the thieves who absconded with the Toho gang's money. Later, after Majima and Kiryu engage in a series of fights all across the city, a confrontation at the top of Tokyo's Millennium Tower finds the true criminal mastermind finally stepping out of the shadows.
Rating:
NR
Genre:
, , , ,
Directed By:
Written By:
In Theaters:
On DVD:
Runtime:
Critic Reviews for Like a Dragon
There are no critic reviews yet for Like a Dragon. Keep checking Rotten Tomatoes for updates!
Audience Reviews for Like a Dragon
When done correctly, Takashi Miike can give a truly enjoyable movie experience like 13 Assassins. Unfortunately this isn't one of those movies and is a mess of a movie. Like A Dragon is about a former Yakuza underling Kiryu Kazuma, who has recently been released from prison, who's trying to find Haruka mother. The story of Like A Dragon is very poorly done despite the great material from the video game they could have worked on. It has to many characters that serve no purpose for the story and most of it story-lines go nowhere. Occasionally we do get some stupid dialogue and there are some pointless scenes in the movie itself. That's not the only problem as it has a weak build up to a boring climax. Clearly these people missed many opportunities to tell a thrilling stories, to bad they went in this direction. Now since this movie material is from the great video game franchise Yakuza, I'm surprised the violence is weak. There's not one enjoyable action scene in this movie. The special effects work against the movie as it makes it look very cartoonish. What's worse than that is the actors are really bad. Not one of them give an convincing performance and even some of the more emotional scenes are delivered heartlessly by it cast. What it does right is the attention to detailed they put to make it look exactly like the game and they do a pretty good job. Like A Dragon will definitely will disappoint fans of the series and it won't gain any new ones because of this movie. It's a missed opportunity to make a great movie from a great series, and that's what's most disappointing about this movie for any fan.
Caesar Mendez
Super Reviewer
½
Takashi Miike's loose adaptation of the PS2 game "Yakuza" is definitely an odd duck. I've never played the obscure game it's based on, much less owned a PS2 (PC fanatic at the time). After seeing the movie, though, I highly doubt anything in the game is as intriguing as some scenes in this bad mothertrucker. First of all, it defies most formula conventions and delivers a uniquely Miike experience. That usually goes without saying but it applies doubly here. Reminiscent of City of Lost Souls before it and Crows Zero after it, Like A Dragon has as many laughs as it does bullets. Hollywood rarely succeeds in making action movies with the right amount of humor, unless Shane Black is a part of the proceedings. Luckily, Miike is firmly on the other side of the galaxy when it comes to Hollywood. Combining bombastic action with a violent sense of humor, the film almost seems to want you to hate it, but for me it was hard not to like what ends up being one of the most twisted action comedies in recent memory. If your sense of humor swings toward the conventional, you probably won't laugh at all. If you're like me, though...well... The characters are all a hoot and a half. A gangster fresh out of jail, his bat-wielding and bugnuts crazy arch-nemesis, a lost little girl, two Bonnie and Clyde posers, a pair of idiot bank-robbers, a mysterious Korean hitman, a bunch of sweaty cops, a sadomasochistic video store owner who also happens to be an arms dealer and plenty of other characters inhabit one hot night in a fictional district of Tokyo with two missing women and ten billion yen at stake. Too many characters? Not with Miike at the helm. He just introduces them, sets them in motion and sits back with you to watch them collide. Again, if you're expecting a deathly serious action fest, you had better look elsewhere. Relying on vicious physical gags and some truly inspired comic timing, Miike mixes in dynamic camerawork with colorful imagery to continuously rebel against traditional action conventions. This is definitely not one of Miike's most profound works, but it is certainly one of his most undeniably fun. The best thing about Miike is he can go from a freaking stage play (Demon Pond) to a videogame adaptation and have a dozen crazy films inbetween. The man has a serious shot at making Roger Corman's output look like Terence Malick's in comparison. lMC
Nathan Ludwig
½
Leave it to Miike to go and make the only worthwile movie based on a videogame to this day. The script is all over the place, yet, it's faithfull to the source material in the most unique way possible, and it just happens to be a lot of fun to watch. Goro Kishitani pretty much steals the whole movie.
Tsubaki Sanjuro
Super Reviewer
Like a Dragon Quotes
There are no approved quotes yet for this movie.