Lillian Russell
(1940)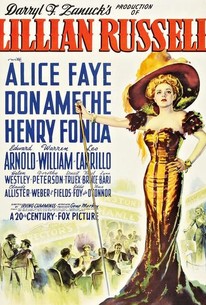 AUDIENCE SCORE
Critic Consensus: No consensus yet.
Movie Info
This lavish musical offers a fictionalized account of the life and loves of Lillian Russell, the singer who wowed crowds in turn-of-the-century New York.
Rating:
NR
Genre:
, ,
Directed By:
Written By:
In Theaters:
On DVD:
Runtime:
Studio:
20th Century Fox Film Corporation
Critic Reviews for Lillian Russell
There are no critic reviews yet for Lillian Russell. Keep checking Rotten Tomatoes for updates!
Audience Reviews for Lillian Russell
Heavy on the drama, which is unfortunate since Alice Faye was never a very good actress; the film only comes alive during her singing sequences.
Michael Troudt
Predictable but Pleasant Really, any biopic ought to be predictable. That's kind of their nature. Of course, in this era, one of the things you can predict is that they'll leave some things out if they don't quite fit the Code. Even today, they'll throw out things which don't fit the story they want to tell. None of the stories of Lillian Russell (Alice Faye) and her romantic life here are quite what they were in reality except, possibly, her relationship with the two men in the movie who want to marry her but don't. They existed. It is believed that they wanted to marry her. They didn't. Indeed, the Henry Fonda character is, at best, a complete exaggeration of her real fourth husband. Better yet, her most predictable relationship in the entire film is the fictional one. It almost makes you wonder why they bother at all. Helen Leonard, Lillian Russell to be, wants to be a star. A music instructor tells her that she'll never be an opera singer, but Tony Pastor (Leo Carrillo) hears her singing and puts her in his music hall. She knows that her mother doesn't want her on the stage, so she changes her name. Her grandmother (Helen Westley), however, knows and supports her. One day before Helen becomes Lillian, she and her grandmother are in a carriage which runs away with them. They are rescued by Alexander Moore (Henry Fonda), a would-be reporter. He falls in love with Helen, and she likes him well enough. However, once she's the belle of the music hall, she is courted by the Famous J. L. (Warren William), or Jesse Lewisohn, and Diamond Jim Brady (Edward Arnold). She becomes fabulously successful, and Moore is just kind of there. What interests me is that they left in the fact that Russell's mother, Cynthia Leonard (Dorothy Peterson), was a famous suffragette. They even left in the fact that her mother ran for mayor of New York City. Oh, she lost spectacularly, but that was, at the time (1888), hardly the point. She hadn't expected to win. She might have expected to get more than about a hundred votes, but the point was to make the point. This is actually featured in the movie. I don't know why; it's nothing to do with the plot. They left out Russell's stormy relationship with her mother, but they left out the husband, and the elopement was what caused the trouble. Even had they kept the estrangement in and changed the cause, that still isn't really a reason to leave in the suffrage bits. I'm not complaining, mind, and it might be an interesting story to tell in its own movie, but I'm still confused. All in all, I'm not sure how much the story of Lillian Russell comes across unscathed. She eloped at eighteen--because she was pregnant. Yes, she did marry Edward Solomon (Don Ameche)--a year after their daughter was born and five years after her son had died. Yes, she married Moore--fourteen years after divorcing her third husband. Also, far from collapsing at his piano while writing a wonderful song for Russell, Solomon and Russell divorced seven years after his arrest for bigamy. It is generally agreed that she was often a companion of Diamond Jim Brady, but how close their friendship was is still a subject of historical debate. By cutting off literally at the minute she and Moore get together, the movie avoids the fact that Russell's recommendation that there be a moratorium on European immigration for five years pretty well got passed into law in 1924, arguably costing many European Jews their lives. But you know. This movie was nominated for Best Art Direction (Black-and-White) and lost to [i]Pride and Prejudice[/i]. This makes me think two things. Number one, if it had to be nominated for an Oscar, I'm glad it was Art Direction and not Costume Design. The costumes are period-appropriate, but in general, they're the bad ones. This is not the height of fashion from 1879 to whenever the movie ends, though Russell's own clothes aren't generally terrible. And, really, Henry Fonda's problem is more his hair than his clothing. When Gwen came in to talk to me about something, she expressed great horror at Grandma Leonard's ensemble and demanded to know why Henry Fonda had Eddie Munster's hairdresser. At a fashionable dinner a bit later, I myself became confused as to what exactly Russell had on her head. The other thought I had was that [i]Pride and Prejudice[/i] must be awfully pretty to have deserved to beat [i]Rebecca[/i], nominated the same year.
Edith Nelson
Enjoyable musical biography of famed star Lillian Russell. Alice Faye is great in the lead. Stellar supporting cast with Edward Armold giving a memorable performance as Diamond Jim Brady.
James Higgins
Lillian Russell Quotes
There are no approved quotes yet for this movie.