The Limping Man
(1953)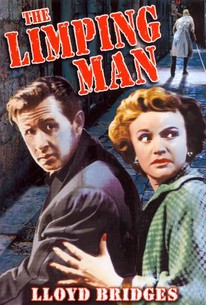 AUDIENCE SCORE
Critic Consensus: No consensus yet.
Movie Info
His Hollywood career temporarily in the doldrums in 1953, Lloyd Bridges headed to Britain to star in The Limping Man. Bridges plays an ex-GI who arrives in London to visit his wartime amour (Moira Lister). Before anyone knows what's happened, our hero is mixed up in a murder case. The victim was killed by a mysterious "limping man," who is also an expert sharpshooter. Just when it seems that events have overwhelmed the GI and his lady love, the story suddenly. . .well, that would be tattling, wouldn't it? The Limping Man was released Stateside by Lippert Productions.
Critic Reviews for The Limping Man
All Critics (1) | Fresh (1) | Rotten (0)
It's about a bad, a disappointing and a phony ending as I ever witnessed to a movie.

Ozus' World Movie Reviews
Audience Reviews for The Limping Man
½
This is a romance story that becomes a Twilight Zone crime story. While flying to England to see a woman lost to him for 7 years, Lloyd Bridges (yes, Jeff Bridges father) is about to meet her at the airport as they agreed. That's when the "fun"?, or nightmare, for Bridges begins. His love is about to be suspected of murder as is he. About the title The Limping Man: The killer has a limp. I thought just calling the film "The Limp Man" might have made for a better title, but many would think the guy was some sexually sad off character. Who thought this title would bring people flocking to see it? Do not give up on this film and not see the very end. It's there where your head will be yanked and spun around in disbelief. It begins with a WWII veteran who goes back to England after the war only to discover that his wartime sweetheart has got mixed up with a dangerous spy ring. But thats NOT how it ends! See the entire film at: http://www.archive.org/details/TheLimpingMan I have never been so absolutely fooled (in a good way) by a film as this one. While it begins with lots of action and interest in the first third, it tapers to sleepy time and rather tedious romance unless you hang on every word. [BTW, the dialog could be a bit hard to understand once Scotland Yard and some theatrical people get involved. This detracted from the film for me, but shouldn't be a problem for natives of merry old England.] NOTES about the film: 1 The film was based on Anthony Verney's novel Death on the Tideway. 2 This was among many films in the U.K. which featured lead American actors. 3 One reviewer commented unflatteringly: " Decent British mystery. While the film does not fall into any predictable pattern of cliches, neither does it fit neatly together into the satisfying structure one expects of a good taut British mystery." (M. Rick: might I add the very end is a stunner) 4 The usual summations and reviews of this film fail to advise anyone of the ending. The whole movie turns on the ending! Cast Lloyd Bridges as Frank Prior Moira Lister as Pauline French Alan Wheatley as Inspector Braddock Leslie Phillips as Detective Cameron Hélène Cordet as Helene Castle André van Gyseghem as George, stage doorman (as himself) Rachel Roberts as the Barmaid Jean Marsh as the Landlady's daughter Directed by Cy Endfield Written by Ian Stuart Black Reginald LOng Anthony Verney (novel) Release date(s) 1953 Running time 76 min. Country U.K.
monsieur rick
Good crime mystery, nothing outstanding but it's well acted with a good story. Decent direction and cinematography. The short length is a plus.
James Higgins
A WW2 vet, Frank Prior (Bridges), travels to England to reunite with his wartime sweetheart (Lister). As he leaves the plane at the airport, a fellow passenger is gunned down. When the investigating Scotland Yard inspector (Wheatley) discovers a connection between Prior's sweetheart and the dead man, he becomes suspicious of both of them, so Prior sets about to uncover the truth. I have tried, but I am unable to think of another movie I've seen that is so utterly and completely ruined by an incompetent ending the way "The Limping Man" is destroyed. The ending here is so lame that it spoils whatever enjoyment the viewer may have been deriving from what seemed like an average thriller that was building toward a decent conclusion. The ending is so thoroughly botched--on every conceivable level--that I can't even say "stop the DVD player at THIS point, and you'll preserve what you liked about this film". The first sign of trouble is an illogical plot-twist that relates to the blackmail effort directed at Prior's thrill-seeking sweetheart. It's the sort of twist that makes you wonder if pehaps the filmmakers were in trouble as far as coming up with a good ending. This is confirmed when the second twist presents itself, and pretty much undoes the entire story. (I can't go into details without revealing the ending, but, believe me, it will ruin the film for you.) If there ever was a movie that could have been saved by a competent writer handling rewrites, "The Limping Man" is it. And if you've seen it, and if you know of another otherwise decent film so completely ruined by its ending, I'd love to hear about it. The Limping Man Starring: Lloyd Bridges, Moria Lister, Alan Wheatley, and Helene Cordet Director: Cy Endfield
Steve Miller
The Limping Man Quotes
There are no approved quotes yet for this movie.
Discussion Forum
Discuss The Limping Man on our Movie forum!