Linsanity
(2013)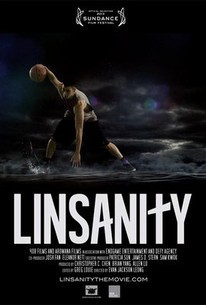 Movie Info
Jeremy Lin came from a humble background to make an unbelievable run in the NBA. State high school champion, all-Ivy League at Harvard, undrafted by the NBA and unwanted there: his story started long before he landed on Broadway. (c) Official Facebook
News & Interviews for Linsanity
Critic Reviews for Linsanity
Audience Reviews for Linsanity
½
Although imperfect, "Linsanity" is a fitting documentary putting to light Jeremy Lin's difficult journey to the NBA, even if it feels repetitive at times. Jeremy Lin made history by becoming the first Asian-American in the NBA. Throughout his unbelievable journey, the hardships he went through and the lessons he learned will come to light as his life story is put into one documentary. Now, although I recognize that documentaries are well loved, I myself have never been a huge documentary fan. However, I am an NBA fanatic, and Jeremy Lin has inspired me in countless ways. As a result, I was excited to view this film when I saw it on Netflix. It's difficult and new for me to write a review about a documentary, so here's how I felt about the film as a whole. The thing I liked most about this film was the star at the helm, Jeremy Lin. What this guy has done not only for basketball, but for Asians as a whole is unbelievable. Although racism and discrimination still exist, Asians in the United States are still heavily discriminated in their own right. Me being an Asian myself, there's still a lot of barriers that we have to face. Jeremy Lin has the tough job of being in the spotlight, but his personality and his virtues make this documentary more interesting. It's interesting to learn about him as a person and how he views life at this very moment, and I believe that many people should get to know his character better. The thing I didn't like was that the documentary felt kind of bland at times, and it relied to heavily on interviews and irrelevant home videos. Although interviews are a vital part of documentaries, I always had a problem with excessive interviews. Half the people they interview are from his childhood, and most shouldn't even remember a thing about him. Hearing from his "elementary rec league coach" not only feels fake, but unnecessary. They relied too much on the irrelevant home video clips rather than to tell the story through more interesting, real time action, which made the documentary feel bland at times. I do like that I got the sense that this film was less about how good Lin was, but rather how this is all one big life lesson. There's so much that you can take away from a story like this and this event really is inspirational to many. It also felt like the documentary spent so much time on irrelevant events in general, and it never felt like its ending justified the build up. It felt like they never knew where they shift their focus to, leading to pacing issues and scattered attention spans. In the end, I enjoyed this documentary for what it was, despite some noticeable flaws.
Christopher E
½
"Linsanity" chronicles the unlikely rise of Asian-American basketball star Jeremy Lin. In addition to tracing his love of basketball, the documentary examines the inspiration that Lin finds through his Christian faith. The film begins with a few moments from the Knicks vs. Nets game that determined whether Jeremy would make it in the NBA. This game is later highlighted in its entirety and becomes the climax of the film once we understand how he got to that point. Lin's story begins with his immigrant parents who raised him with the priorities of God, then academics, then sports. He was obviously an intellectual teenager because he was recruited by (and survived) Harvard University. This documentary also touches on possible racism in basketball with an argument that Lin would have been picked up by an elite college basketball program and drafted into the NBA if he was not Asian. Even after earning a spot on the Houston Rockets' practice squad and being signed by the Golden State Warriors, his path to basketball fame was a rough one full of ups and downs. And a pretty awesome indirect exchange with Kobe Bryant. "Linsanity" will inevitably make you into a fan of Jeremy Lin. He has lost some of his popularity since this documentary was made but his strong morals and impressive basketball skills make him a great role model.
Jonny Priano
I'm not a fan of sport documentaries, in fact, Linsanity is actually my first sport documentary. I watched it because my sister wanted me to, so I told her that I'll watch part of it, and if it gets interesting, then I would watch the whole movie, which I finished the whole movie as it is a very interesting documentary that I underestimate these types of films. In the beginning where it talks about his past is interesting and it makes sense of where Jeremy Lin got his skills from. However, I didn't find it that much investing which I wouldn't know how they can make the beginning more interesting. When it goes to when he's in the basketball games or when he rises from stardom, that's when it starts getting interesting. It really shows the struggles that he has to go through to get even in the NBA and it makes you feel bad for him also when the pressures get to him a lot. The games that he plays in are really exciting and I can see why people cheer a lot as I don't watch basketball at all. Linsanity is a great documentary that I'm glad that my sister wanted me to watch this.
Brandon White
Linsanity Quotes
There are no approved quotes yet for this movie.
Discussion Forum
Discuss Linsanity on our Movie forum!