Listen To Me Marlon
(2015)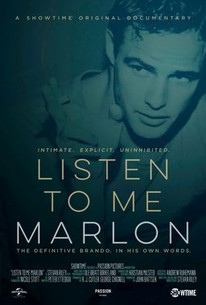 Listen To Me Marlon Videos
Listen To Me Marlon Photos
Movie Info
Unbeknownst to the public, Marlon Brando - a great star who remained deliberately mysterious to the press and the world at large for his entire professional life - created a vast archive of personal audio and visual materials over the course of his lifetime, often deeply confessional and completely without vanity or evasion. Now - for the first time ever - those recordings come to life in Riley's film. Charting his exceptional career as an actor and his extraordinary life away from the stage and screen, the film reveals the complexities and contradictions that were Marlon Brando by telling the story in his own words - and only his own words, revealing a man more humane and compelling than anyone ever could have imagined. (C) Showtime
News & Interviews for Listen To Me Marlon
Critic Reviews for Listen To Me Marlon
Audience Reviews for Listen To Me Marlon
A fascinating look into the life of Marlon Brando, made all the more compelling and unique through its use of Brando's own private audio and rare video recordings. If you're put off early on because it seems to be jumping around and/or it's hard to hear, stick with it. Aside from seeing many examples of Brando's absolutely brilliant acting, we see a complete view of his life, with all of its triumphs and difficulties. Brando had problems with relationships, children, poor part selections, and was often a pain in the behind to his directors. That may also put people off, but I have to say, this documentary also shows just how laser sharp the man was. The same blistering honesty he brought to his acting roles, he also brought to life. He saw that acting was a means to an end - that time was the true currency of man - and after he had 'made it', he made sure to enjoy his life. He was a pillar of moral rectitude during the Civil Rights movement, standing up for African-Americans and later also for Native Americans. He saw through the phoniness and profiteering in the world, and sought to live his life simply in Tahiti and elsewhere. He had a difficult childhood and relationship with his father, and yet reached a point of forgiveness, understanding that his dad was a product of his own upbringing, and so on, and so on. Despite the maelstrom of chaos and occasional controversy in his life, what emerges is the coherence of Brando's honesty and his moral code. He humiliated himself by taking parts that were ridiculous and which he later regretted, but if you put that into the context of his life and his priorities, you'll empathize with him, and will be far less prone to laughing at him. I was aware of all the elements of his story, but this documentary really brought it all together for me, and left me admiring the man even more. He was a true hero, a brilliant actor with a social conscience and an intellect that should is under-appreciated. In terms of the documentary, there are some elements that are less effective. The scenes showing his crude digitized likeness. The audio when it's hard to understand, and which would have been helped with subtitles (turning on close caption helps, even if you're not hearing impaired). The less than even storytelling, though it's always the case that a biographer must choose what to leave in, and what to leave out. With all of that said, director Stevan Riley delivers, and there will be things in this documentary for everyone, regardless of how much you come in knowing about Brando. Strong film.
Antonius Block
Super Reviewer
The Cleveland Institute of Art's Cinematheque opened their new state of the art facility with this documentary that is somewhere between a biography and an autobiography. Since it is directed, written, and edited by Stevan Riley piecing together the audio recordings, still shots, and video clips from Brando's life it is obviously constructed by Riley and the crew. However, there are no other interview subjects. It really feels like it is all from Brando's perspective with audio confessionals, self hypnosis tapes, and Brando himself speaking from beyond the grave in a way. It may sound kind of New Age, but Marlon Brando had his face digitally scanned in the later years of his life while he imparted wisdom that he wanted to pass on to future generations. Strangely this device works in the context of this doc. The digital outlines of his features look out from the screen and tell us directly about his acting career, his troubled family life, and in the process we learn about his philosophy of life. If all goes well, the audience is likely to engage in some self reflection as well.
Byron Brubaker
Super Reviewer
Some knucklehead lonely kid from Nebraska grows up to be the poster child for Method Acting, changing the movie industry and the acting profession entirely, but inside of him ... nothing but sadness and regret. Must see documentary introspective about the guy who made modern movies from the ground floor up, but is that enough for him?
Kevin M. Williams
Super Reviewer
Listen To Me Marlon Quotes
There are no approved quotes yet for this movie.