Little Chenier
(2008)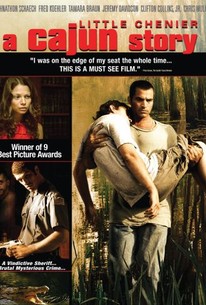 Movie Info
Two brothers are victimized by a weak and jealous man in this drama shot on location in Louisiana. Beaux Dupuis (Jonathan Schaech) lives on a houseboat with his brother Pemon (Fred Koehler) in the swamps of Cajun country. Beaux is a handsome and responsible man who supports his family by running a bait shop and looks after Pemon, who is mentally handicapped. Beaux used to love Mary-Louise (Tamara Braun), a dark-eyed beauty, but she's recently married local ne'er do well Carl Lebauve (Jeremy Davidson), who has a mean streak and a jealous nature. As it happens, Carl has reason to suspect Mary-Louise -- she still stops by the Dupuis home occasionally to bring snacks for Pemon, and is sometimes tempted into infidelity by Beaux. Carl's father is the local sheriff, and when he's killed in the line of duty, his son takes his place; it isn't long before Carl learns Mary-Louise has been having an affair with Beaux, and he uses his new authority to put Pemon behind bars on false change as a way of punishing his big brother. Little Chenier was directed by actress and filmmaker Bethany Ashton Wolf, who co-wrote the screenplay with Jace Johnson, whose short story provided the basis for the story.
Rating:
R (for brief violence)
Genre:
Directed By:
Written By:
In Theaters:
On DVD:
Box Office:
$44,370.00
Runtime:
Studio:
Critic Reviews for Little Chenier
Audience Reviews for Little Chenier
½
[font=Georgia][size=3][color=navy]Little Chenier is an independent, quality movie. Memorable scenes and a great twist at the end will keep the viewer's attention. Great job!!!:fresh: [/color][/size][/font]
J Scott See
:fresh: :fresh: :fresh: (out of four) [color=dimgray][QUOTE][color=dimgray]The beauty and mystery of the Louisiana Bayou takes center stage in this haunting and occassionally awkward drama.[/color][/QUOTE] [/color] [color=#696969]Johnathon Schaech in a dfferent type of role for him, stars as man who lives in a run-down bayou home and watches over his mentally handicapped brother. When a crime is committed, the local sheriff targets the brother as the criminal.[/color] [color=#696969]Not a lot happens in the film, but the it feels genuine and the performances are good. By the end, you feel the emotional impact intended and you actually care.[/color]
Steve Smith
The deliberate slow pacing works for this film. The acting is fine, great feel for the location the story took place. It dopesn't always convince, but there are enough good things about the film to overcome this.
James Higgins
Little Chenier Quotes
There are no approved quotes yet for this movie.
Discussion Forum
Discuss Little Chenier on our Movie forum!