Little Giants
(1994)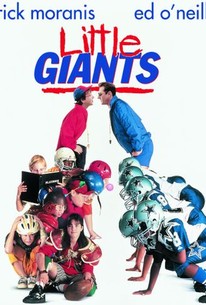 Movie Info
A successful retired jock and his geeky younger brother play out their sibling rivalry by coaching rival little league football teams in this family comedy. Ed O'Neill plays the older brother, Kevin O'Shea, a former Heisman Trophy winner whose gridiron exploits have made him a local hero in his small Illinois hometown. Kevin is the almost unanimous choice to head up the town's Pop Warner football team, and he happily builds an imposing team from the best local players. One of the few objectors is Kevin's young brother Danny (Rick Moranis), an awkward, bespectacled gas station owner who empathizes with the kids rejected from the team, including his own athletic daughter Becky (Shawna Waldron). As revenge, Danny starts his own competing team of misfits, taking on the coaching duties himself. Naturally, despite the total ineptitude of Danny and his players, they eventually find themselves major underdogs in a climactic battle against Kevin's well-trained juggernaut. Director Duwayne Dunham and a team of four screenwriters hit all the expected sports film conventions, throwing in a few innocent romantic subplots and cameos by real football players for good measure. ~ Judd Blaise, Rovi
Critic Reviews for Little Giants
Audience Reviews for Little Giants
½
Funny and cool movie, I still remember when I saw this movie for the first time in the movie theater. What a blast! In Urbania, Ohio, snobby ex-football star Kevin O'Shea conducts try-outs for the town's Peewee football team, the Urbania Cowboys, which will compete for a chance at the state Peewee football playoffs. Kevin slights his younger brother Danny O'Shea by rejecting Danny's daughter Becky "Icebox" O'Shea, who is a good player. Kevin rejected her simply because she's a girl. Becky and some of her friends, boys who were also rejected, get the idea to start up their own team, to be coached by Danny. After Kevin tries to put a stop to that plan, Danny gets Kevin to agree to a game to decide which team will represent Urbania, because each town is allowed only one team. Danny and Becky scour the town in search of willing players, and they gather a crew of kids who have limited skills and no team spirit. They luck out when Becky discovers Junior Floyd expertly passing rolls of toilet paper right into a shopping cart at the supermarket, as though he's passing a football. With Becky and Junior on board, the new team, the Giants, has a chance to make a good showing, and they begin their training. But low morale continually threatens to break up the team. A chance visit by former NFL football coach John Madden and four NFL football stars -- Steve Entman, Bruce Smith, Emmitt Smith, and Tim Brown -- leaves the team with several tips on how to create an advantage. Becky develops a crush on Junior Floyd, and she's jealous when her cheerleader cousin Debbie flirts with Junior. Becky decides to compete for Junior on equal terms, so she puts on make-up and a cheerleader outfit, joining the cheerleaders and abandoning the team. But the Cowboys will be coming into the game with a vicious new player named Spike Hammersmith. Will Becky be there for the team if they need her?
Childhood classics generally get 3 stars from me regardless if they hold up or not. Little Giants doesn't hold up like The Sandlot does but it's still a fun watch.
Lenny Muggsy
Super Reviewer
Movie about kids trying to make it in a football team.
Candy Rose
Super Reviewer
Little Giants Quotes
| | |
| --- | --- |
| Tad Simpson: | I should've gone to summer school! |
| | |
| --- | --- |
| Tad Simpson: | [to the referee while being chased by Kevin's Cowboys] Blow the whistle! Blow the whistle! Blow it, blow it! Blow the whistle! Blow the- [gets pummeled offscreen as the referee finally blows the whistle] |
| | |
| --- | --- |
| Tad Simpson: | [being chased by Kevin's Cowboys] I'm gonna die! I'm gonna die! |
| | |
| --- | --- |
| Jake Berman: | [about his helmet] I can't see with this thing on! |
Discussion Forum
Discuss Little Giants on our Movie forum!