Little Red Wagon
(2012)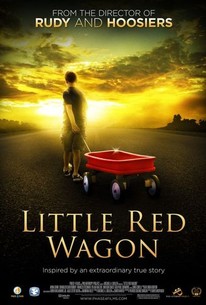 Little Red Wagon Videos
Little Red Wagon Photos
Movie Info
An 8-year-old boy dedicates his life to helping children rendered homeless by Hurricane Charley, and learns that you can't put a price tag on life's greatest gifts in this inspirational drama based on actual events. Dejected at the images of families whose lives were uprooted by the disaster, Zach Bonner uses his trusty wagon to collect essential items that will help them get back on their feet. When the media spotlight's Zach's benevolent endeavors, the selfless seizes the opportunity to launch his own charity, dubbed the Little Red Wagon Foundation. Later, Zach encounters a widow and her son who were rendered homeless by the story, and vows to draw attention to their plight by embarking on a cross country walk. Despite his mother's trepidations about the journey and his teenage sister's growing resentment over being stuck at the center of a media circus, Zach sets out on a journey that will transform not just his own life, but also the lives of everyone he encounters. ~ Jason Buchanan, Rovi
Rating:
PG (for thematic elements and some language)
Genre:
,
Directed By:
Written By:
In Theaters:
On DVD:
Runtime:
Studio:
Critic Reviews for Little Red Wagon
Audience Reviews for Little Red Wagon
In 2007, a young man named Zach Bonner started a nonprofit that helped homeless children who suffered from the devastation of Hurricane Charley. "The Little Red Wagon'' is the name of his organization, and also the name of this film based on this young man's story. It's directed by David Anspaugh, and stars Anna Gunn. The film follows Zach's journey. While watching the devastation of the hurricane on television, Zach finds himself wanting to help the victims. Zach's mother, played by Anna Gunn, helps Zach raise the money to start his nonprofit. Eventually, Zach--at the age of eight--walks from his home town of Tampa, Florida to Tallahassee, in order to raise money. He walks a total of 4,263 miles, eventually walking to Washington D.C. As a film, it's in no way perfect. I hesitate to label it a "Hallmark'' kind of movie, but it really is. However, there are plenty of positives. First of all, the story. It's undeniable that Zach's story is a inspiring one. In a speech he gave to his supporters, Zach outlines what it means to help his fellow human beings, something that adults struggle with. It's rather simple. He says, "the hurricane missed us. I saw how it affected those people, and how it could've been us in their shoes''. Humans have an incredible sense of empathy for one another. I loved how the film didn't have a religious prompt, which is common in these sort of films. It gave an honest reason why we should help those in need, not for selfish gain or for proselytizing our beliefs. Production wise, the film is decently made. It certainly wouldn't have been as good as it was if not for Anna Gunn. We all recognize her as the steadfast wife of Walter White on hit television show, Breaking Bad. She's won multiple awards for television, and she gives a solid performance here. She plays the mother of Zach and his sister Kelley (Daveigh Chase). By far, the worst character in the film is kelly. I understand the mother-daughter struggle, but the actress was just horrid. It should also be mentioned the writers did a bad job with her character. A couple of the characters in the film flip flop for no apparent reason. Moving on, the young actor playing Zach--Chandler Canterbury--does a good job for the most part. I'm always apprehensive of child actors, just because kid actors can ruin a movie sometimes. Director David Anspaugh does a reasonable job directing this film. He's best known for his films, Hoosiers, Rudy, and Hill Street Blues. Directing actors doesn't seem to be his expertise, but rather his eye for cinematography. The film is shot by Mihai MÃlaimare, Jr., but as you know, the director is often behind the camera setting up the shots. If nothing else, the film is very well filmed. The script is written by Patrick Sheane Duncan, winner of the CableACE Award for Writing for a Dramatic Series for Vietnam War Story: The Last Days, and a Christopher Award for Mr. Holland's Opus, which also garnered him a Golden Globe nomination. Therefore, the script is decent enough. The dialogue felt very stale and generic in my opinion, which is surprising coming from a so well praised writer. Before I close, the negatives must be presented. Yes, this is an inspiring story, but the filmmaking is a bit dull. There is a subplot in the film in which a women named Margaret (Frances O'Connor) and her young son become homeless due to financial reasons. I fully understand this addition to the film, but it did not ad one thing to it. The film is about Zach and his story, so I felt that this subplot held that main story down a bit. I must also mention that I'm not a big fan of Frances O'Connor, despite how attractive she is. As previously mentioned, Anna Gunn's character is struggling with her teenage daughter, played by Daveigh Chase. This women cannot act, and she comes off as an extremely annoying teen girl. Even when the conflict between she and her mother seems resolved, she continues to cause trouble at times when the film really needs to move along. "The Little Red Wagon'' follows the inspiring story of a young man who wants to change the world. Most people can overlook my qualms and enjoy this decently made family film. I think we should all strive to be like Zach; selfless, and willing to help our fellow creature. While the direction was solid, and Anna Gunn's performance was sincere, the writing was a bit generic. The film also is overlong, clocking in at nearly two hours! Despite the clunky subplots, generic dialogue, annoying characters, and an at times Hallmark feel, this is a film I'd totally recommend to families. It's just not as superb as it could have been in someone else's hands.
Alasdair Boswell
½
I'm not too sure why this film has poor ratings on here but I do not care. Whether many people think it is exploitation or too syrupy, I personally loved it. The true story of Zach Bonner and his little red wagon will inspire you and director David Anspaugh tells it in a way that makes it seem more of a docudrama rather than just a tearjerking drama. It is no nice to see Anna Gunn in something outside of 'Breaking Bad,' because this is the kind of film that will make you understand how excellent she is. In this film she plays the real-life mother to Zach Bonner which requires her to be kind but at moments strong-willed. Chandler Canterbury may be establishing himself as the next big thing. As Zach Bonner he displays perfect innocence, but also the extraordinary confidence that it takes to do an enormous charitable undertaking. Throughout the movie he displays some natural emotional range, which hits home at the end. Just remember, there is an extraordinary young man out there who really did raise a lot of money for hurricane victims and did walk across the country to help homeless children. This film is not exploitation. It was not just made to make audiences cry. Just watch and enjoy. I loved it. Special props to Frances O'Connor as well who is a struggling mom caring for her son. This side story reminds us just how amazing Zach's undertaking is and it teaches us not to take our lives for granted.
Ben Bartos
½
The homeless don't get a day off. A little boy in Tennessee is taken back by the number of homeless families and children he sees in his city. He takes up an effort to walk around the neighborhood and collect donations to make care packages for the homeless. He then starts writing letters to major companies until Build-a-Bear finally responds. The boy's efforts begin getting recognized and he ultimately becomes the youngest boy to lead a non-profit organization. "So far sixteen people are dead." David Anspaugh, director of Hoosiers, Rudy, WiseGirls, Moonlight and Valentino, The Game of their Lives, Fresh Horses, and Two against Time, delivers Little Red Wagon. The storyline for this picture is above average and has a great sister-brother dynamic. The primary premise was good and the subplot of the homeless family was also very interesting. The acting as solid and the cast includes Chandler Canterbury, Anna Gunn, Frances O'Connor, Deena Dill, Dylan Matzke, and Daveigh Chase. "Nice work, chick magnet." The Little Red Wagon is a movie I decided to sit down and watch with my daughter. She definitely enjoyed portions of this movie, especially the walking scenes with the boy; but overall, this was just an above average family drama. I recommend watching this once but I wouldn't add it to my DVD collection. "He makes me feel special." Grade: B-
Kevin Robbins
Discussion Forum
Discuss Little Red Wagon on our Movie forum!
News & Features