Little Sweetheart
(1990)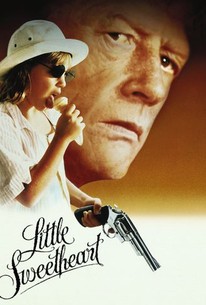 AUDIENCE SCORE
Critic Consensus: No consensus yet.
Movie Info
Una niña malvada de nueve años (Cassie Barasch) encuentra maneras extraordinarias para atormentar a unos adultos desventurados que se cruzan en su camino. Rose Parrah, John Hurt, Gary Basaraba, Barbara Bosson, Guy Boyd. Dirigida por Anthony Simmons.
Rating:
R
Genre:
Directed By:
Written By:
In Theaters:
On DVD:
Runtime:
Studio:
Nelson Entertainment
Critic Reviews for Little Sweetheart
There are no critic reviews yet for Little Sweetheart. Keep checking Rotten Tomatoes for updates!
Audience Reviews for Little Sweetheart
½
Less subversive than it thinks it is, with an all too obvious and simplistic message about the dangers of letting our children watch tv.
Lee Mayo
Summary: A story of a little girl who ruins many people's lives. The Good: Stays interesting and is funny in a dark way. The Bad: It's feels very low-budgety. Ratings: Acting: 7/10 Story: 7/10 Originalality: 7/10 Soundtrack: 5/10 Characters: 8/10 Overall: 8.1/10 Sexiness: (The following is my Review for the fappers 18+): Well there is one girl who is pretty good-looking but most of the film is centered around two very young girls. So unless you're a pedophile the fappers should pass on this one. Fap Rating: 1/10
Professor Wizenhymer
Super Reviewer
One of those films easy to dismiss as mild entertainment in the first half, don't be fooled. The last half is a killer. Crafty little girls on Florida coastline witness outlaw couple making love on the beach by a man (John Hurt) and his mistress. This is vividly done and one of the girls, Thelma, takes a picture. Watch this to the end, it's worth the wait. The blackmail begins. Hurt and mistress get natually upset despite the age of the girls, only 9 years old. Not really knowing that their new little friends on the coast are up to no good, the screws start to turn on their little hide-a-way beach cottage. The parents have no clue what is going on. Unsettling and hardly innocent film about mischievious girls and one, Thelma, who's as devious as hell and wicked. Hardly probable story, but supposedly possible about a little girl that watches violent shows on television. Well shot and acted, John Hurt (The Elephant Man) elevates the film even though his mistress is half his age. Both are on the run from from the law and thinking they're safe at a beach side cottage. The title? What could it mean? On discovering that Thelma is a habitual blackmailer from her brother, John Hurt says: "little sweetheart". Can all this happen, doubt it, but just don't give a camera to little girls. Watch this to the end as it ramps up to more than a lightweight movie as it appears in the beginning. The ending is a twist worth waiting for, just before the credits roll. And, oh yes, say CHEESE! Stars John Hurt, Karen Young, Cassie Barasch, Ellie Raab, Barbara Bosson, John McMartin, Guy Boyd, James Waterston, Jack Gilpin, Ann McDonough, Gary Basaraba, Claude Brooks, Gene Densmore, Rose Parra, Jimmy Williams, Phil Hunt, Jessica Saunders Director: Anthony Simmons Director: Anthony Simmons Studio: Nelson Entertainment
monsieur rick
Discussion Forum
Discuss Little Sweetheart on our Movie forum!