Liulian Piao Piao
(2000)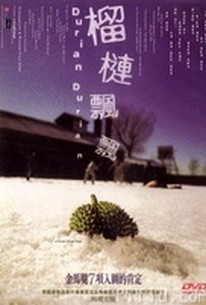 AUDIENCE SCORE
Critic Consensus: No consensus yet.
Movie Info
Fruit Chan's second feature of 2000 takes its title from the durian, a fruit whose large, ungainly exterior and delicious taste serve as a metaphor for the film's Hong Kong setting. Yan (Qin Hailu) and Fan (Mak Wai Fan) are neighbors in Hong Kong's Mong Kok district. Yan is a 21-year-old prostitute who works for a pimp and spends her off-hours watching TV in her miniscule apartment or hanging out with other prostitutes at a local cafe. She has come to Hong Kong from mainland China to make money and on her more profitable days services nearly 40 men. Fan, on the other hand, is just a child; like Yan, she is from the mainland and has moved to Hong Kong illegally, but she has come with her family so her disabled father can more easily make a living. Fan spends her days washing dishes with her mother in a restaurant, but she witnesses Yan's activities and the two eventually become friends. Midway through the film, Yan's permit expires and she returns to her home in the cold north. After cutting off her hair, she divorces her husband and thinks about returning to Hong Kong with her savings.
Critic Reviews for Liulian Piao Piao
There are no critic reviews yet for Liulian Piao Piao. Keep checking Rotten Tomatoes for updates!
Audience Reviews for Liulian Piao Piao
½
The first feature by Fruit Chan after he completed Hong Kong Trilogy which is made of "Made in Hong Kong" and the two other films (Chan's fifth feature). Although it features people from mainland China and mainly sets in the mainland, what Chan describes here is about Hong Kong, that is, he talks about Hong Kong through outsiders' view points in this film. Chan as a director gets really mature here comparing to his first few features. It is obvious from every shot, which is carefully composed to describes characters' mentality without a word, and the fact that the casts of the film are all amateurs. Storytelling skill is also clever - in the first half of the film, it sets in Hong Kong, and the heroin struggle to earn money bringing back home by prostitution. Here, she meets a family trying to immigrate to Hong Kong illegally and the king of fruit - durian. In the second half, it sets in her home town in the north east China, where is cold and snowing in winter. The contrast of the south and the north is very effective in telling us what is "the sounth" or "Hong Kong" for mainland Chinese people - it is a kind of "dreamland." There, however, is not many jobs other than prostitution or washing dishes for immigrants, and they are looked down by people there. The heroin, who knows the reality of the south, finally decides to settle down in where she is from, while people around her keep going down to seek for better life and job. Durian, which is sent by the girl of the family later in the film, is the symbol of "the south" and what people dream of about there. This is a must-watch modern Chinese movie, and I expect Fruit Chan to keep being based on his homeground and making this kind of film without going out to Hollywood (actually he is now doing it invited by Tarantino).
Naoya Kugimiya
Liulian Piao Piao Quotes
There are no approved quotes yet for this movie.
Discussion Forum
Discuss Liulian Piao Piao on our Movie forum!