Live Earth: The Concerts for a Climate in Crisis
(2007)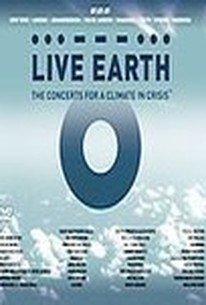 AUDIENCE SCORE
Critic Consensus: No consensus yet.
Movie Info
Rating:
NR
Genre:
On DVD:
Critic Reviews for Live Earth: The Concerts for a Climate in Crisis
There are no critic reviews yet for Live Earth: The Concerts for a Climate in Crisis. Keep checking Rotten Tomatoes for updates!
Audience Reviews for Live Earth: The Concerts for a Climate in Crisis
Something For Everyone Means Things You Don't Like It is difficult to put on a benefit show which balances actually talking about the issue the show is for with remaining entertaining. So much the more so if you're trying to cover the wide demographic of "everyone everywhere." Now, of course, there is the obvious solution of not worrying about putting out your message and just earning the money. This seems to be an unpopular option. In this case, I think it would be quite difficult. Since the point isn't really earning money anyway. We're not talking your "We Are the World." The point of this particular benefit was to get people to actually make a change in their lives, and you can't do that without actually talking about the change you want them to make. So you basically end up with Melissa Etheridge interrupting her own song for five minutes to talk about the environment. And, of course, there is the DVD summary. There were dozens of performances across, yes, seven continents--though the DVD collection and included DVD do not show any of the performance of Nunatak, the band which performed in Antarctica. You get some standards, some people you really couldn't do without. There's Madonna and Duran Duran, The Police (on a reunion tour that year) and Bon Jovi. Roger Waters and Metallica. You know, performers whose careers are older than some of my friends. Or, in the case of Roger Waters, than I am. There are a few newer standards. You got your, well, Melissa Etheridge, Dave Matthews Band, Foo Fighters, Smashing Pumpkins. Some new people; some people I've never heard of and couldn't place on a bet. Even, I think, an [i]American Idol[/i] winner. (That's why I'm supposed to have heard of Kelly Clarkson, right?) You've also got a few celebrity guests introducing the various performers, including much Al Gore. But for every "Hey, that's Madonna doing 'La Isla Bonita' with a bunch of Gypsies!" (she calls them Roma Gypsies, thereby pissing off a whole lot of people though not me), you have "Oh, please, not Lennie Kravitz again. Hasn't he gone away?" For every moment of delight that they do, after all, have a reunion performance from The Police, there's some guy I've never heard of butchering "What a Wonderful World." These are the hazards of anything which would go under "Various Artists." Especially, as I said, given that its intended audience was several billion people. I mean, I still don't think there's anyone in this entire collection who interests my mother, but she, having been born in 1944, is just a hair outside their demographic. However, if you are young enough to care at all about Pink Floyd, they want you to watch their concert and give money and devotion to their cause. Which, you know, I was into before it was cool. I feel as though I have spent my entire adult life, and probably a good chunk of my childhood, turning off lights behind people. Our electric bill when it was just me and Graham averaged about $40 or $50 even in the dead of winter, and it makes me twitch even when people who aren't paying for their own electricity don't turn off their lights. It's no excuse. Jimmy Carter was right, all those years ago. Better to put on a sweater. Turn down your heat a bit. Don't drive if you can walk or take the bus. I didn't need Leonardo di Caprio to tell me at great length how to save energy. I [i]know[/i]. And, yeah, so do most people. And there is an argument to be made that the sheer energy requirements of a concert like this--and let's not, in our calculations, forget that all those concertgoers--is not the most logical way to promote saving energy. But we in this country like people to make things cooler for us, and that's arguably the whole point of this set of concerts. I am myself torn, you see. It shouldn't take a concert like this to get people to realize they don't necessarily need to run the heated dry cycle of their dishwashers. (You people don't have towels?) So very much of what they tell us when it comes to energy savings is just basic logic. Even in this holiday season, the reason for something being called "lit up like Christmas." Heck, the Christmas tree lights you can get these days are a heck of a lot more energy-efficient than the ones my mom used to spend a half-hour untangling and checking for burned-out bulbs. And I'm not sure how much the people watching the concerts on TV really got convinced about global warming, and I have to tell you that I fast-forwarded through most of the talking bits, so I don't even know if it made it to the DVD. On the other hand, you know, I couldn't afford to go to the Police reunion tour. Sure, there's only the one song here, but that's more than I would have seen without it.
Edith Nelson