Live Forever (Live Forever: The Rise and Fall of Brit Pop)
(2003)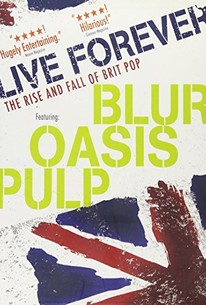 Live Forever (Live Forever: The Rise and Fall of Brit Pop) Videos
Live Forever (Live Forever: The Rise and Fall of Brit Pop) Photos
Movie Info
Documentarian John Dower turns his attention toward the 1990s British musical movement dubbed Brit-pop in his 2003 film, Live Forever. Going back to an early 1990 concert by the now-defunct band the Stone Roses, Dower traces the roots of the Brit-pop movement as originating from Britain's simultaneously discontented and disenfranchised youth, a residual outcome of the Conservative Party's decade-long stranglehold on Britain's political and cultural identity. As Prime Minister Margaret Thatcher departed from her office, the 1990 Roses concert seemed to indicate a new musical movement would soon follow. Within a couple of years, the rock groups Blur and Oasis would take the lead in the new anti-establishment, almost anti-American, style of music that briefly seemed to revitalize Britain's sense of musical identity. Included in Dower's film are numerous interviews with British rockers Damon Albarn, Noel Gallagher, and Liam Gallagher. ~ Ryan Shriver, Rovi
Critic Reviews for Live Forever (Live Forever: The Rise and Fall of Brit Pop)
All Critics (5) | Fresh (4) | Rotten (1) | DVD (3)
...a comprehensive rock 'n roll documentary detailing the rise and fall of the Britpop phenomenon in the 1990s...

Audience Reviews for Live Forever (Live Forever: The Rise and Fall of Brit Pop)
3/4, B+, 80%, or Fresh. Live Forever: The Rise and Fall of Britpop is a chronological story about the rise of British music in the early 90s to its ultimate demise in the late 90s. Britpop, more or less, is the backlash against the American grunge wave from generation Xers. With the rise of bands like Nirvana, many British bands in the early 90s started mimicking American music and culture. But with the death of Kurt Cobain in 1994 and the so-called 'xenophobic' attitudes British people had, wanting to return to national pride, they started listening to bands that resembled what was British invasion in the United States. Albums released during this time, including the Britpop epoch albums such as Parklife from Blur and (What's the Story) Morning Glory? by Oasis, lyrics centered towards British culture. For example, many songs on Parklife can only be described as British, for example Bank Holiday, which is a basic summary of the event that happens six times a year, Girls and Boys, which pokes fun of pan-sexuality and hedonistic attitudes the British culture had in the 90s, as well as adding in Phil Daniels, a popular British actor for the voice of the title track, and Clover Over Dover, which is a town in south east England. While Oasis wasn't as overly into alienating American audiences as Blur was, Wonderwall, their biggest hit, included the lyrics, "Backbeat, words on the street that your fire in your heart is out" and "Backbeat" was the nickname for George Harrison of The Beatles, the epoch of British bands. Album sales indicated this: Blur didn't even go gold until their eponymous release (more on that later) and the sales of Oasis' first two albums in the United States were a combined total of five million albums. Live Forever has interviews with various figurehands of the most popular Britpop bands, such as Damon Albarn of Blur, Noel and Liam Gallagher (although separate) of Oasis, Jarvis Crocker of Pulp (although Pulp could be summarized as a one-album wonder), and more. It also talks about the sweeping differences in politics in the 90s, going from the Conservative Party of Thatcherism to the Labour Party of Tony Blair and particularly how Blair and the Labour Party aligned themselves towards the youth of Britain by supporting the Britpop movement. However, later it was revealed that the politicians cared little about what they said and did it only for publicity. The height of Britpop, the summer of 1995, brought the heavyweights of Blur and Oasis to the table. Oasis was releasing their second single from their second album, (What's the Story) Morning Glory?, Roll With It, on August 14, 1995 and Blur was going to release their first single from their fourth album, The Great Escape, a week from that day, but Damon and the band was determined to potentially dethrone it from number one as, rumor had it, Liam Gallagher and Damon Albarn were at the same party and Liam screamed to Damon, "number one!" after their first single, Some Might Say, went to number one. So Damon pushed Country House to the same date as Roll With It. This was it. South Britain (Blur) verses North Britain (Oasis). Working class (Oasis) verses middle class (Blur). Urban (Blur) verses rural (Oasis). Blur "won the battle", selling 274,000 copies to Oasis' 216,000, and ironically would be Blur's first number one song in the United Kingdom, but Oasis "won the war", as they had two number one hits from the same album (the previously mentioned Some Might Say and the later released Don't Look Back in Anger, which features Noel on vocals), while Blur's other singles did fairly well in the United Kingdom, they did not leave the same impression that Oasis had left as Oasis sold over four million copies of (What's the Story) Morning Glory? in the United Kingdom alone, and Blur had only sold one million that same year, which wasn't even as many as their previous effort, Parklife. 1997 was the year Britpop declined. Oasis' third album expectations were so high I don't think it was humanly possible to even achieve it. They released Be Here Now, which critics often cite as the beginning of the end for Britpop. Touted as over-produced and with poor vocals and writing, Be Here Now didn't sell half of what (What's the Story) Morning Glory? did, however, they still managed to outsell Blur's most popular effort, Parklife. What the movie did not tell you was, that, while Britpop was in decline in 1997, it still did pretty well. The Verve had their third album, and their one-album wonder (in United States they were simply a one-hit wonder), in 1997 called Urban Hymns, with the massive hit in both United Kingdom and the United States, Bittersweet Symphony, which managed to go to number 2 in the UK and 12 in the US. And another thing: they never even mentioned Blur's shift to lo-fi in 1997, which would be a huge blow to Britpop. Blur's eponymous album, for the first time drawing influences from American music, would go on to sell more in the United States than in the United Kingdom, although all four singles would be in the top-20 in the United Kingdom and Blur, being only a two-hit wonder in the US, had their second hit Song 2 which went up to 55 in the Billboard Hot 100. But nonetheless, their music was certainly not Britpop anymore, and would not even come close to it until their reunion in 2008 as they released a single out in 2010, with only 1,000 vinyl copies in the UK and a free download on their official website, entitled Fools Day, which has an entirely new sound for Blur that is still reminiscent of their older work and relates to the British man more, with lyrics like, "Another day on this little island". And while this was released in 2003, they did not once mentioned the rise of post-Britpop in 2000 with the debut of Coldplay's first album, Parachutes, which made a huge impact on both sides of the ocean. I was kind of disappointed with that. I definitely don't think this is the definitive answer you are looking for, if you are looking for a movie that will explain everything past and present about Britpop, but it still does a decent job. If you like this movie, I recommend the CD Maximum Blur which documents Blur's beginning from before they were even Seymour to their sixth album, 13. Had it focused a little more instead of showing clips of music videos and given interviews with the cover band Wonderwall this would be a 90% or a 100%. But it didn't.
Ethan O'Reilly
An entertaining look at the rise and fall of Britpop.
Live Forever (Live Forever: The Rise and Fall of Brit Pop) Quotes
There are no approved quotes yet for this movie.
Discussion Forum
Discuss Live Forever (Live Forever: The Rise and Fall of Brit Pop) on our Movie forum!