Live Freaky! Die Freaky!
(2006)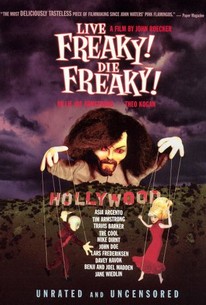 AUDIENCE SCORE
Critic Consensus: No consensus yet.
Live Freaky! Die Freaky! Videos
Live Freaky! Die Freaky! Photos
Movie Info
A futuristic nomad scouring for food in a sun-scorched landscape stumbles upon a book detailing the most notorious murders in American crime history in this Claymation take on the Manson murders featuring the voices of Billie Joe Armstrong and Asia Argento, and directed by filmmaker John Roecker. Left emotionally vulnerable following a bad L.S.D. trip, young hippie Hadie (Theo Kogan) soon falls prey to the charms of charismatic cult leader Charlie (Armstrong), whose paranoid clan of outcasts have moved to the desert in hopes of hatching a plan to take over the world. As the Hanson family prepares their nefarious takeover, glamorous film starlet Sharon Hate (Nelly Pozbourne) plunges into a decadent world of showbiz debauchery with a little help from her hairdresser friend Hay (Davey Havok). Soon after Sharon encounters members of the Hanson family digging for food in a nearby dumpster, cult leader Charlie begins receiving murderous messages disguised as harmless pop songs. After laying Sharon and her Hollywood friends to waste in a blood-soaked orgy of murder and mutilation, Charlie leads his followers on yet another murderous mission before stealthily disappearing into the night when local police show up on the scene. Though Charlie himself is eventually locked up behind bars as well, his word reaches more people than ever thanks to the tireless efforts of a sensationalistic media and an opportunistic prosecutor who transforms the lurid tale into a bestselling book. Now, in the year 3069, Charlie's word is about to become divine law, and a generation tenuously clinging to life on a barren planet is about to fall.
Critic Reviews for Live Freaky! Die Freaky!
There are no critic reviews yet for Live Freaky! Die Freaky!. Keep checking Rotten Tomatoes for updates!
Audience Reviews for Live Freaky! Die Freaky!
This is art, not everyone believes the Mona Lisa is the greatest painting ever and some may think this is the worst film ever. (I am not compairing The Mona Lisa to this film, just explaining the different types of are. This film is from a man who had an idea and a point and made exactly what he wanted. This film isnt for kids or those who arnt open minded. Also if you are grossed out by puppet sex maybe you should skip this. This should be up there with the great art films.
Joshua Wilburn
Super Reviewer
SPOILERS! SPOILERS! SPOILERS! A stop motion animated musical spoofing Charles Manson and his cult. With the voices of Billie Joe Armstrong, Travis Armstrong, Davey Havok, Benji Madden, and several other prominent rock/ alt/ pop-rock musicians, it's one of a kind. Writer/ director John Roecker has a great idea, and in his songs, which he penned the lyrics for, it's a lot of fun. Outside of that, it seems like he's shock and awe-ing his audience, which works to a point, but after awhile, you really want him to get back on track. Take, for example, the murdering scene. The high-strung, idiot actress (who previously sang "I'd Rather Kill A Tree"- second best song in the film) and her cohorts are sitting around, nude, having an orgy (don't ask). Then the cultists show up, and the gay hairstylist answers the door. His penis is promptly cut off, and then he is decapitated. A few more murders and stuff happen, and when we cut back to him, he's sucking his severed dick with his decapitated head. To this, I ask, why? The movie, when sticking with the satire and the amazing songs, is very good. The animation is excellent, with a very jagged and edged look that serves the mood well. But when it does diverge into things like the above (there are several more scenes that are just as ridiculous), it's hard to figure out what he's aiming to do. However, I guarantee you will never seen anything like this again.
Bobby LePire
½
Crazy freakin movie! Tim Armstrong was the producer and narrator so that was good! Davey Havok was funny. It was...an interesting movie. Good thing I had Matt to explain some of it.
Jessica Roberts
Live Freaky! Die Freaky! Quotes
There are no approved quotes yet for this movie.
Discussion Forum
Discuss Live Freaky! Die Freaky! on our Movie forum!