The Lives of a Bengal Lancer
(1935)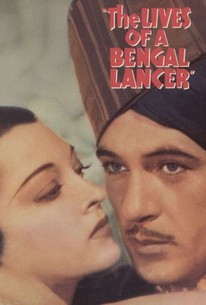 The Lives of a Bengal Lancer Videos
The Lives of a Bengal Lancer Photos
Movie Info
Gary Cooper stars in this rousing adventure saga of three British officers of the 41st Regiment of Bengal Lancers of India. The story begins as Lt. McGregor (Gary Cooper) accepts two new officers to his company -- the brash Lt. Fortesque (Franchot Tone) and Lt. Stone (Richard Cromwell), the son of the garrison's commander, Col. Stone (Guy Standing). In an effort not to show favoritism, Stone's father barely acknowledges his son during a parade of the new officers. Lt. Stone resents this treatment by his father and becomes embittered at both his dad and the British army. McGregor is ordered to search for a British spy, Lt. Barrett (Colin Tapley), who has infiltrated the army of crazed chieftain Mohammed Khan (Douglas Dumbrille). The three officers find Barrett, who tells them Khan is planning an uprising against the British, utilizing the mountain tribes for a massive assault. Lt. Stone finds himself captured by the rebels and is taken to Mohammed Khan's mountain fortress to be tortured. Stone's father refuses to send in the lancers to save his son, reasoning that his son was captured to lure the British forces to their doom. Disguising themselves as Indian peddlers, McGregror and Fortesque go off to rescue Stone. But they are soon discovered and taken to Mohammed Khan's lair to be tortured, with Khan telling McGregor, "We have ways of making men talk." Mohammed wants the soldiers to tell him where a shipment of ammunition will be delivered. McGregor and Fortesque withstand the torture without divulging the location, but Lt. Stone cracks and tells Khan what he wants to know. The three officers see the ammunition delivered to Khan's fortress, but then they hear Col. Stone and 300 lancers have arrived outside of Khan's gates.
Rating:
NR
Genre:
, ,
Directed By:
Written By:
In Theaters:
On DVD:
Runtime:
Studio:
Paramount Pictures
Critic Reviews for The Lives of a Bengal Lancer
All Critics (5) | Fresh (5) | Rotten (0)
One of the most exciting action-adventures of the 1930s (perhaps of all time), catapulting Gary Cooper to major stardom.


Ozus' World Movie Reviews
Pretty good, but it should have been great.

Mountain Xpress (Asheville, NC)
Audience Reviews for The Lives of a Bengal Lancer
The Lives of a Bengal Lancer (1935) Along the same lines as Gunga Din (1939) in British Imperial India only with other actors, Captain McGregor (Gary Cooper), and the new recruits who just arrived, Lt. John Forsythe (Franchot Tone) and Lt. Donald Stone (Richard Cromwell) who is the young son of the Commanding Officer, Colonel Stone (Guy Standing). There is humor, but this film lacks the comedy of Gunga Din. It deals more with serious maters of taming Northern India and interpersonal relations between the soldiers. Although it shows exotic Tania Volkanskaya (Kathleen Burke) who is sort of a spy, we really don't see much of her and it's mostly our gallant soldiers getting into mischief and doing some serious soldiering against the evil Hamzulla Kahn (Monte Blue) and his puppet Emir (Akim Tamiroff). And, I can't go without mentioning my favorite British stereotype, C. Aubrey Smith as Major Hamiiton. This film may have been doomed to the public domain but the DVD has been included in the Gary Cooper Collection box set.
Rick Rudge
Another tale of the heroic white guy in the midst of terrifying dark people. Not terribly great without the wooden Gary Cooper, pretty terrible with the block of wood.
John Ballantine
Super Reviewer
★★★1/2 (out of four) Gary Cooper, Franchot Tone, and Douglas Dumbrille star in this captivating 1935 film loosely based on thr 1930 book by Francis Yeats-Brown. The plot focuses on a group of British soldiers defending the borders of India against rebellious natives. Cooper plays Lt McGregor. He and his soldiers are given the task to find a British spy who has infiltrated the army of Mohammed Khan. They learn about a massice attack planned by Khan. Exciting and well made.A great early film from Gary Cooper. [IMG]http://img.photobucket.com/albums/v48/Zeppo1/LifeofaBengalLancer.jpg[/IMG]
Steve Smith
The Lives of a Bengal Lancer Quotes
There are no approved quotes yet for this movie.
Discussion Forum
Discuss The Lives of a Bengal Lancer on our Movie forum!