Livide (Livid)
(2012)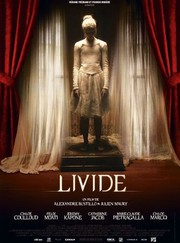 Tickets & Showtimes
Livide (Livid) Trailers & Photos
Movie Info
Inside co-directors Julien Maury and Alexandre Bustillo follow up their bloody and intense feature debut with this brooding, phantasmagorical horror film concerning three youths whose greed leads them into an inescapable nightmare. Young caregiver Lucie (Chloé Colloud) is still recovering from her mother's recent suicide when she joins her new boss Mrs. Wilson (Catherine Jacob) in making home visits to their elderly patients. Their last stop of the day is at a dark, labyrinthine mansion owned by Madame Jessel (Marie Claude-Pietragalla), a comatose, former ballet instructor with a stern reputation. After learning that Madame Jessel is rumored to have a priceless treasure hidden somewhere deep within the sprawling estate, Lucie is convinced by her boyfriend William (Félix Moati) and their waiter pal Ben (Jérémy Kapone) to stage a daring break-in on Halloween night, and steal the valuables under the shroud of darkness. But the deeper the trio journeys into the mansion the more they learn about Madame Jessel's malevolent past, including the bizarre death of her deaf daughter. By the time Lucy, William, and Ben have discovered Madame Jessel's darkest secret it's already too late, and they find themselves hopelessly caught in a twisted maze of unspeakable terror and supernatural torment. ~ Jason Buchanan, Rovi
more
Cast
News & Interviews for Livide (Livid)
Critic Reviews for Livide (Livid)
Audience Reviews for Livide (Livid)
½
Livide is a French horror film i the style of The Orphanage, in that it has just as much heart and fantasy as it does horror. A young woman begins working as a nurse and sees a number of elderly and sick patients. One in particular catches her eye, an old woman in a coma, who it is said, has a treasure hidden on the grounds. The young nurse and her boyfriend, along with a friend, decide to find the treasure. They break into the house but get more than they bargained for. The film builds up a meticulous but thoughtful pace, bringing us slowly into the world of this house at night. The fiilm keeps the horror at a distance at first, with loud noises from upstairs etc. Once it kicks off the gore is grotesque, but used sparingly, making it even more effective. Some of the visuals are of pure fantasy and even though they are at first horrifying, Maury and Bustillo soon use them poetically. A floating vampire girl in the sunlight, a wind-up corpse etc. All scary at first, become even more disturbing as they reach us on an emotional level. I felt the film tries to do too much in the third act. It tries to give us horror and fantasy, backstory in flashbacks, kills, and exposition, to the point it got a bit muddled. Kills were suddenly followed by long jumps into the past. The film does best when it shows its story visually, which thankfully, it chooses to do most of the time. Great performances, stunning visuals, a unique feel, and a mature handling of difficult themes makes this a worthwhile horror.
½
Livide is a 2011 French horror movie that was a pleasant surprise for I ended up liking the film better than I expected. Although, that's probably because I'm not a big fan of the horror genre in general.

Livide revolves around a young woman named Lucy who is beginning her training as an in-house caregiver. During her visit to an unattended old woman who is in a cerebral coma and living in an isolated, looming house, she discovers that years earlier she had allegedly placed a large treasure within one of the many locked rooms in which Lucy pursues to find to better her life. Plot wise it does tell a good story while avoiding the stereotype characters that plagues the genre. It is a bit slow in the beginning, but it does allow for some appropriate character development and motive for why the characters are doing what they're doing. Also, Lucy is the first female heroine I genuinely liked allot. Usually women (and even men) in these kind of movie would be too afraid to fight back against a supernatural being or killer of some-kind and just accept death. Lucy on the other hand fights back (in a literal term) and doesn't become a victim of the genre. She's actually interesting and well written character that's fascinating to follow. In terms of scares, it won't give anyone nightmares which will disappoint some. It does feature several cringe-worthy moment and some brutal deaths that make up for it. Even if it doesn't manage to scare the viewer as much they want, Livide still offers well written story that makes up for it.

I would recommend this film to horror fans for they might view it as a decent horror picture. There's not a whole lot of blood and gore here, but the very few moments when it does contain blood and gore are immensely satisfying. It doesn't go over board with a large body count and the special effects for the kills are brutally realistic. I do believe horror fans will find more to complain about as well. It does contain some elements that will annoy them (jump-scares for example) and a lack of clear explanation in some area, though you can't go wrong with Livide if your a huge fan of horror. Also, did not watch any trailers for it will spoil some elements from the film.

The cinematography is visually beautiful and rivals some it genre best films. Its imagery gives the plot depth allowing you to interpret certain scenes for yourself which adds to the experience. The score can be overused at times as some scenes would have worked better if they were silent, but the brooding score will at times make your heart pulse. Also, this film would have not been the same if were not for actress Chloe Coulloud in the leading role. Coulloud makes the character very likable and gives her plenty of emotional depth. She brings her character to life in a way that you become immerse in her character and seeing how in the film she fight against supernatural beings will make her one of the more memorable actresses in this genre. The supporting cast are also good, but not at the same level as the leading actress.

Livide is a beautifully filmed French horror film that delivers few brutal deaths with a well written plot that is fascinating to follow. Weather or not if you're big fan of the horror genre you will find something to like about in Livide even if doesn't scare you.
Caesar Mendez
Super Reviewer
Discussion Forum
Discuss Livide (Livid) on our Movie forum!
News & Features